The Brit is a champion again just nine months after starring into the abyss
16:00, 22 Oct 2019
I needed to have an end point because I was sort of playing with no idea when the pain was going to stop. I said to my team 'Look, I think I can get through this until Wimbledon.' That's where I'd like to stop playing, but I'm also not certain I'm able to do that.
As Andy Murray poured out his emotions in a harrowingly tearful press conference ahead of the Australian Open in January 2019, the tennis world held its breath then immediately feared the worst.
Was this the end of the line for the greatest British tennis player of the Open era? He looked a broken man, terrified by the prospect of not being able to do what had previously come so naturally to him on a tennis court.
Tributes poured in from players, coaches, pundits and fans alike. It was little surprise when he went on to lose his opening match to Roberto Bautista-Agut in Melbourne later that month. But what was a surprise was him being forced to watch a video of his career highlights, on the big screen of the show court for everyone to see. The type of video shown to reality TV contestants when they get voted off the show, the 'have a look at your best bits' moment. Or when somebody retires.
For all Murray knew right at that moment, he had just played the last match of his storied tennis career. But he left the arena offering hope, however slim, telling the crowd: 'Maybe I'll see you again. I'll do everything possible to try.'
That meant giving up on Wimbledon and undergoing surgery which had no guarantee of working. Having previously gone under the knife for a more minor procedure in 2018, this time he underwent hip resurfacing surgery which involved the placement of a metal rod directly into his joint.
As a course of action most common for providing more comfort and mobility for the elderly and infirm, it seemed little less than wishful thinking to suggest an elite tennis player like Murray could reach the top of his game once more following such invasive surgery.
Five months on, incredibly, another comeback began. And this one looked and felt different to his curtailed renaissance in 2018. The pain was gone and the smiles - although limited - were back. Murray's initial return was in the doubles, where he won the Queen's title with Feliciano Lopez. It was a slow start, with singles tennis put on the back-burner to begin with, but his progress soon became rapid.
It was during the Asian swing of the men's tour that Murray started to show glimmers of the form which had brought him a trio of Grand Slam titles between 2012 and 2016. In China he won four out of seven matches played across three tournaments, reaching the quarter-finals in Beijing. His most notable triumph was over world No.13 Matteo Berrettini, the first top-20 player he had beaten in 2019.
"Honestly, I'm not expecting to get back to my very best," the former world No.1 explained during an interview with AFP News. "I think it would be probably a bit naive and silly to think that would be the case.
"I do feel like tennis-wise I can still compete at the highest level in terms of my skill, it's just whether, physically, I can get to a high enough level to be competitive right at the top. I've still got quite a way to go in that respect, I don't know exactly where the end point is."
🎉🎉🎉💪😁🏆🎉🎉🎉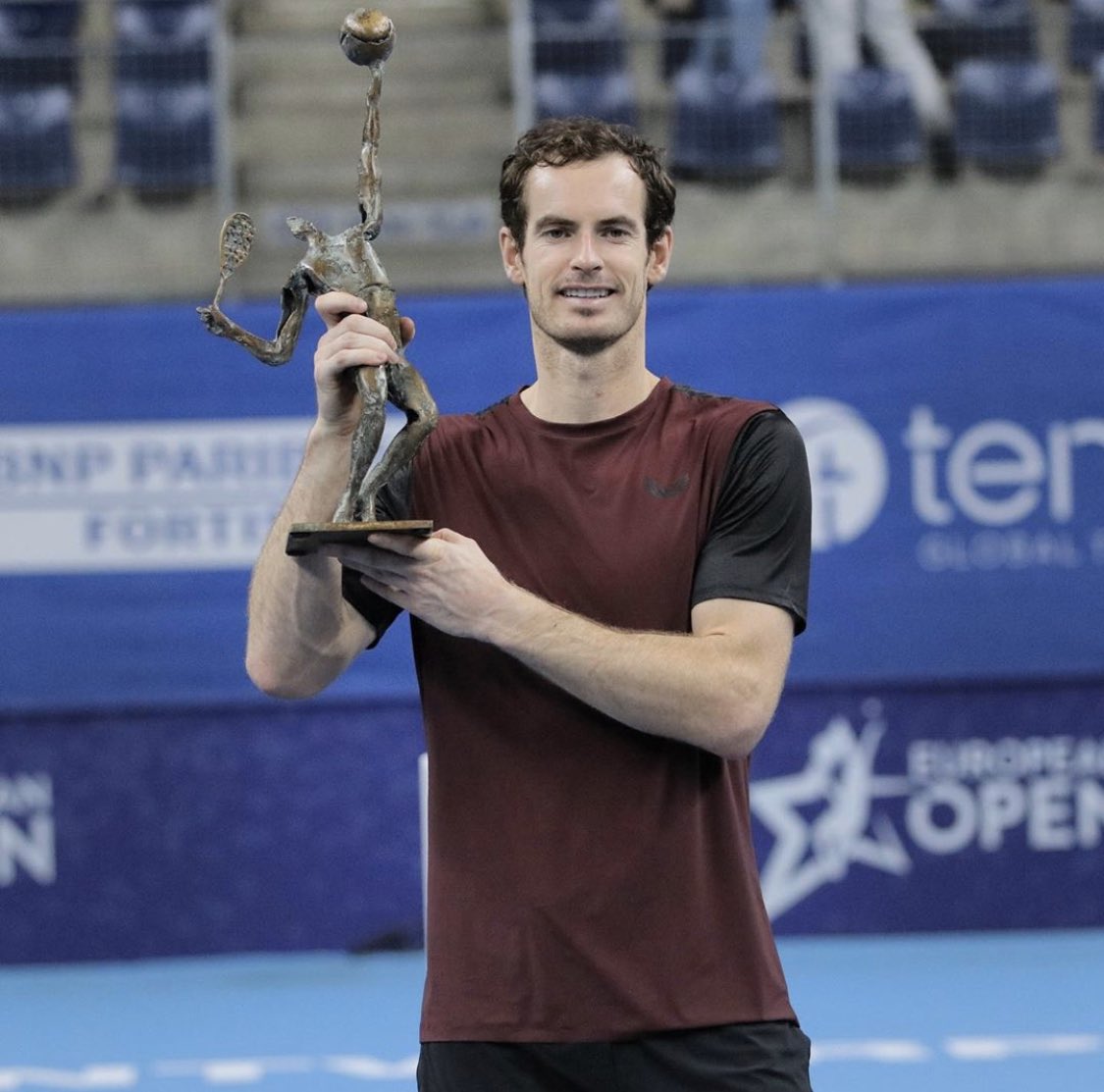 Grounded in his expectations, few predicted what happened next. In the Belgian city of Antwerp, Murray entered the European Open draw with the use of his protected ranking. The field consisted of four top-20 players but he battled his way to the final, enduring a duo of three-set marathons along the way. His adversary in the final was three-time Grand Slam champion Stan Wawrinka and the clash would demand every ounce of physical and mental fortitude Murray had.
He looked on his way out as he trailed by a set and a break, having to defend a couple more break points to boot. But as Wawrinka edged closer to the title, the Brit refused to go away. Fighting hard against the odds, Murray clawed his way back to snatch the second set before prevailing in the decider to win 3-6, 6-4, 6-4. It was an extraordinary turn of events to cap off an extraordinary comeback.
"I need to now start talking more about my future and I am certainly a lot more optimistic now," he told The Telegraph following his triumph on Sunday.
"When I spoke to my team before the trip to Asia, I was like: 'What are the goals here?' And I was like: 'I just want to be competitive. I want to feel that when I am on the court I am not getting smashed by guys.'
"This [title] has come as a surprise to me and my team."
Nine months ago, his career looked over. Now Andy Murray is a champion again. A heroic effort so soon after he was staring into the abyss. Sir Andy Murray, The Sportsman salutes you.