Des Buckingham has led the All Whites to the Olympics and has ambitions to go even further in the game
06:55, 14 Nov 2019
"You sit at home every four years watching it and you just don't get many opportunities in your life to become an Olympian," says Des Buckingham. "We're really excited about the event and it's a massive opportunity for us."
Having led New Zealand to the 2020 Tokyo Games and guided the All Whites into the last 16 of this summer's Under-20 World Cup, it could be said that Buckingham has played a huge part in revolutionising football in the country.
"Before, we were always a team out-possessed, out-passed, out-shot and out-scored but, coming out of [the U20 World Cup], we out-possessed and out-scored our opponents." he tells The Sportsman in an exclusive interview.
From working as a coach with Chris Wilder at Oxford United to helping Sadio Berahino at Stoke City, it has been an interesting journey to this point.
Buckingham's achievements have largely gone under the radar though thus far, with the English coach's story remaining far from well-known in his homeland.
However, he'll have the eyes of the world on him soon enough when he leads his young team at the Olympics.
"I'm still struggling to put it into words," he gushes with pride. "To go and qualify, it was more the manner in which we qualified, there was a culmination of 18 months' hard work and we became the most dominant men's team to ever go to Oceania and qualify.
"It was a really proud, pleasing moment, and to get the opportunity to lead this group of players is going to be so special. There are only 36 players who have gone before and this is only the third time New Zealand have qualified.
"I can't wait for the next nine months, planning and looking to build on what we've done.
"New Zealand have never won a game at the Olympics so that will be a real challenge but a task we'll set out to achieve."
Qualification to next years Olympic Games in Tokyo secured with some excellent team performances and results.
An unforgettable few weeks with a great set of players and staff, continuing to add to our environment, culture and playing style.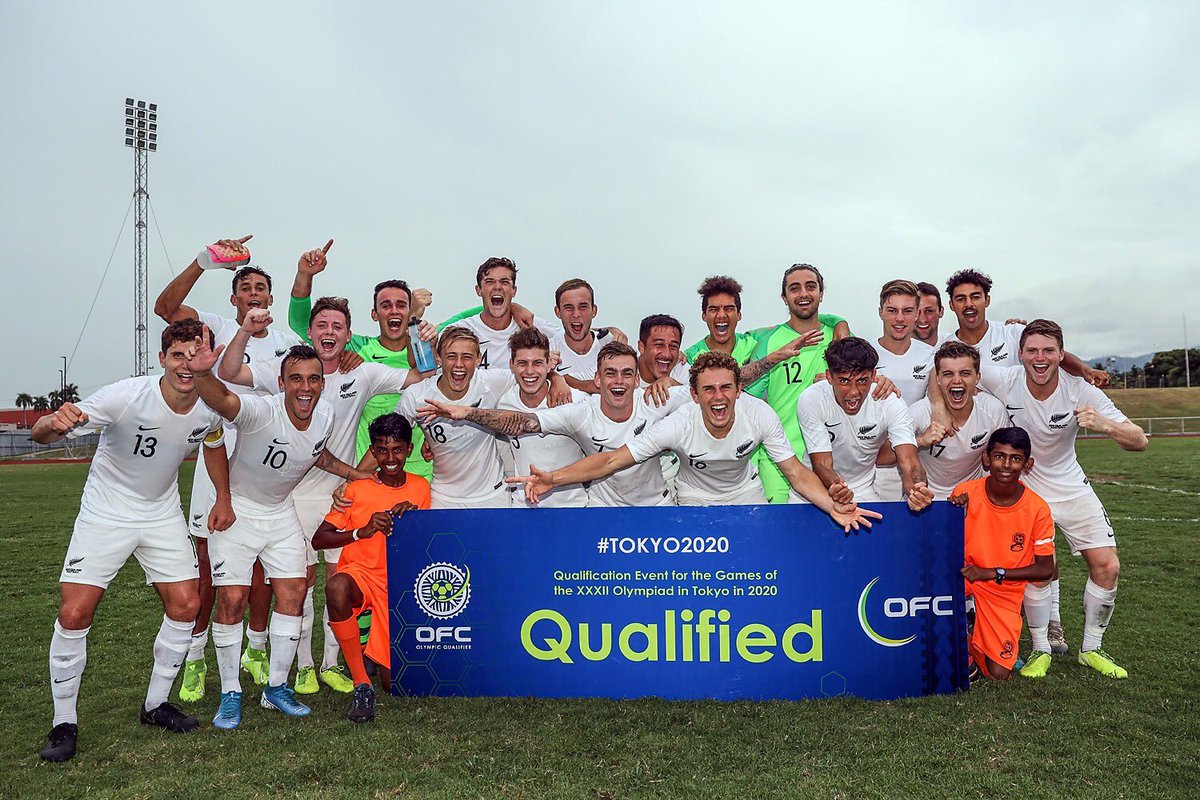 Buckingham speaks with a steely determination and he is focused but personable. He'll be confident, winning against the odds is nothing new for him and his charges.
Getting the better of Norway, who had beaten champions England, was a huge achievement on the back of hammering Honduras 5-0. So too was winning two games in four days, especially given that New Zealand had only won a total of two games in the previous decade. Buckingham's side recorded a best-ever finish at a World Cup.
So, can they pull off another huge win?
"That's the plan," he laughs. "We'll wait for the draw and the good thing now is that we've built it up - I've travelled substantially in New Zealand and around the world to engage with players and clubs, coaches, to build what is now a player pool of around 50 to 70 players that we can call upon.
"We're in a good space in terms of player depth but also the players know what we're about, how we play and what we do. They and the staff have been a huge part of it."
Buckingham has put in serious miles to ensure he is fully prepped ahead of the tournament.
"I think it's important, that face-to-face management of players, seeing where they are and how they are in their own environments and that's been a big part of the role, especially leading up to this point," he says.
"Flight-wise, I think it's 75 flights in 12 months and 250,000 kilometres travelled. It's so good to see them in their environment and engage with them, where they are, speak to their coaches, their clubs and show that you care."
Keeping up-to-date on the youngsters' progress for his Under-23 side, Buckingham will also cast an eye over some older players ahead of the Games.
"You're able to take three over-age players and we've got some good senior players around the world," he explains. "It will be interesting to see how the squad looks towards the end of the season.
"The 17s and 20s predominantly play their football in New Zealand. Then you've got senior players like Chris Wood at Burnley and Winston Reid at West Ham in England. We've got Marco Rojas in Europe and an under-20 who has signed for Bayern Munich on the back of his performances at the World Cup, Sarpreet Singh. There's a few guys in the MLS as well.
Wood and Reid would certainly boost New Zealand's chances of winning gold, and Buckingham is no stranger to coaching Premier League talent.
Two years ago, after a stint managing Wellington Phoenix which made him the youngest gaffer in A-League history, an opportunity to return to England arose at Stoke City. He grabbed the chance with both hands, and it proved to be another learning curve for Buckingham.
"Wade Elliott [the former Bournemouth and Bristol City winger] and Glyn Hodges were the coaches and that year five players made first-team debuts. It was the most in Stoke's history.
"I ended up working under two Premier League managers, Mark Hughes and Paul Lambert. That was amazing, to learn from two fantastic minds.
"We'd meet to discuss players, who may be needed, who may drop down.
"From Christmas onwards [when Lambert replaced Hughes], we had first-team players drop down pretty regularly - Kevin Wimmer, Sadio Berahino, Charlie Adam, those players who weren't getting the minutes they wanted."
Despite being born in the same year as Wayne Rooney, Buckingham has actually coached for half of his life.
"I finished playing at Oxford as a youth and reserve player and they were looking for coaches to help the academy," he explains. "It ended up being a 10-year stint, working across all of the age groups and finishing up in the first team."
That decade-long spell saw him work with Chris Wilder, who's impressed in the Premier League with Sheffield United. He's gone toe-to-toe with the big boys and the Blades sit in fifth.
Their four years together were vital to Buckingham's progress, and Wilder had a huge influence on him.
"It was an unbelievable learning opportunity," adds Buckingham. "Having someone of his football knowledge, but more so his man-management skills and how he related to people as well as implementing his knowledge on the group.
"He's had sustained success wherever he's been. The club went up with him and to see what he's gone on to do is not a surprise. The testament to his coaching is the number of players who want to play for him."
So, how did Buckingham end up on the other side of the world? Well, it all boiled down to a current Bristol City winger making his first-team debut.
"I sat on the bench and Callum O'Dowda, who's now playing for the Republic of Ireland, came on for his Oxford debut.
"I had started coaching Callum when he was nine in my first year of coaching, and as my career progressed, Callum's playing career also progressed.
"He'd gone on this playing journey, I was on the coaching journey. When he came on, it was a really nice moment but it also made me think: 'I've been here a long time'.
"I'd seen 24 youth players sign for the first team. I wasn't sure what I wanted to do next..
"I wanted to find opportunities - my CV was very coach-heavy but didn't include man-management, people, budgets, so I needed a job that would give me that access.
"I can't explain why but there was a role in New Zealand, with their FA as the football development manager, and it just ticked a lot of criteria. I applied, got it and headed over."
Having played a huge part in the development of New Zealand football, Buckingham has seen the popularity of the game soar.
"It's very rugby-orientated," he says of the culture. "Especially in the senior space with the All Blacks, but in the junior and youths we've now got more playing football than any other sport so it's growing and I'm starting to see similarities with how the game is played in England."
Buckingham has given New Zealand belief with his positive outlook and play. He's made changes and is reaping the rewards.
"I like to play attacking football, that's the football players enjoy," he insists. "You can talk about possession but I like to attack and in New Zealand we'd maybe given too much respect to the opposition before and worried too much about other teams and their players.
"We have a rule: it's 80% us, whether presentations, team meetings, on-field training sessions, and 20% opposition, because you do need to understand what you're up against."
Paul Simpson, the former England under-20s manager, was a huge help when Buckingham flew to meet him for advice and tips recently.
Pep Guardiola is also a big influence: "The way he has been able to sustain success at three top clubs, he is a real standout," says Buckingham, as is England boss Gareth Southgate, for his "manner, impact and working relationships with England". But does Buckingham see himself back coaching in Europe?
"After the World Cup I had opportunities to return to England in the Football League, but my life is very much here at the moment," he tells us.
"I'm so proud of what has been created and built over the last 18 months and I'm certainly not finished yet."
With the Olympics on the horizon and plenty of years on his side, this is only the start for Des Buckingham.