A look at the players who've made it onto album covers
14:00, 09 Aug 2020
It's often said that football and music are intrinsically linked, and who would disagree? Both offer a sense of release, purpose and enjoyment to millions in equal measure.
But every now and then these two worlds collide, coming together to form a perfect chemistry of visual as well as audio stimulation; a cross pollination of all the things that are so important to millions of us.
So here is a look at those occasions where our footballing heroes have featured on the artwork of some of our favourite artists' albums and singles down the years. Rock and roll football, you could say.
The Beatles: Sgt. Pepper's Lonely Hearts Club Band - Albert Stubbins
Sgt. Pepper's Lonely Hearts Club Band was the Beatles' best-selling album and boasted an array of characters on its iconic cover, including Oscar Wilde, H.G. Wells and Marilyn Monroe to name just a few.
But only one footballer made the now legendary sleeve and rather than stars of the time such as Ian St John, George Best or Jimmy Greaves, the Beatles, who were not the biggest of football fans, opted for the lesser known Liverpool striker Albert Stubbins.
Though Stubbins was scoring regularly for his club during the Beatles formative years, he was not chosen primarily for his ability on the pitch, but rather because of his name with John Lennon in particular enjoying the phonetic qualities of Stubbins' name. The man himself was unaware of his inclusion until an LP arrived at his door signed by all four Beatles saying: "Well done, Albert, for all those glorious years of football. Long may you bob and weave."
Oasis: Definitely Maybe - Rodney Marsh
It's often said that Oasis were heavily influenced by the Beatles, though that is usually an accusation aimed at their music rather than their artwork. But with their 1994 release, 'Definitely Maybe,' the Mancunian motormouths certainly channelled their inner Fab Four.
As with their heroes back in 1967, there was a subtle nod to a footballing great on the cover of their multi-million selling album; but like Sgt. Pepper, you'd have to look pretty hard to spot it.
The carefully-placed framed picture of former City player Rodney Marsh in front of the fireplace is not the only football reference on this iconic artwork though. Not only is a picture of George Best - a hero of Manchester United-supporting guitarist Bonehead - visible on the windowsill but Leicester's Steve Walsh is also seen on the back page of the sleeve, celebrating his side's win in the 1994 play-off final against Derby County.
The Wedding Present: George Best - George Best
So iconic is Best that it's no surprise his picture has been used on an album cover. But, not content with just an image of the bearded wonder on their sleeve, guitar pop band The Wedding Present even named their 1987 debut album after the United star.
The band sought and received permission to name the album after the Northern Irish football legend, who was so flattered at the request he even agreed to appear on a number of promotional shots with the band.
The only real question is why David Gedge and co decided on the image that they did, a rather jaded and forlorn looking figure from the early 1970s as his career was about to go south. To be fair, the cover is still regarded as one of the most recognisable of any indie album from the time.
On this day in 1987
The Wedding Present released their debut album : George Best
What's your favourite track on the album??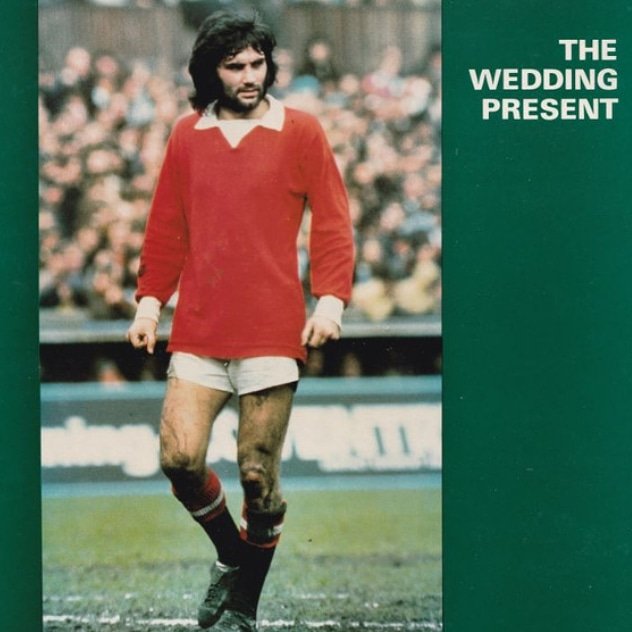 Super Furry Animals: The Man Don't Give a F*** - Robin Friday
Despite never playing at the highest level, Robin Friday is still regarded by many as the ultimate football maverick thanks to a lifestyle of booze, drugs, women and crime and that legendary status has shifted beyond the boundaries of football.
Such was his reputation that former Oasis bassist Paul McGuigan co-wrote a book championing the anti-hero's antics entitled: "The Greatest Footballer You Never Saw", while Welsh rockers Super Furry Animals also offered their own unique tribute to the former Reading and Cardiff striker who died in 1990.
For the cover of their 1996 release: "The Man Don't Give a F***", they used the iconic image of Friday flicking the V-sign at Luton Town's Milija Aleksic having left the goalkeeper in a heap and slipped the ball into the net. And if that wasn't enough, the Cardiff outfit also dedicated the record to a man whose appeal still goes far beyond the beautiful game.
Morrissey: Dagenham Dave - Terry Venables
Morrissey has always been cagey when it comes to his footballing allegiances, stating in his autobiography that he grew up in awe watching George Best when going to Manchester United games at Old Trafford as a youngster, yet in later years he took to the stage in West Ham and Millwall shirts.
What is certain though is that Moz has always been partial to a bit of nostalgia and the cover of his 1995 single Dagenham Dave is certainly a nod to the past as it features a young Terry Venables taken some time in the early 1960s.
Famed for his classic and often cryptic record sleeves with The Smiths, this was the second Morrissey solo single not to include an image of himself on the cover, instead featuring a black and white image of the England football coach and former Chelsea, Spurs and QPR player sticking out his tongue.
This article first appeared in The Sportsman on 19/10/19