Taiwan coach Louis Lancaster hopes to follow in esteemed footsteps with success abroad
06:55, 04 Nov 2019
Having nurtured Jadon Sancho's talents, Louis Lancaster is now attempting to do the same for the footballers of Taiwan.
Compared to most British coaches, Lancaster has trodden an unfamiliar path and taken some difficult decisions on the way to becoming Taiwan's national team boss.
The 38-year-old coached Sancho when the now-Borussia Dortmund and England star was at Watford's academy, but has since taken the bold decision to move more than 6,000 miles from home to grab an opportunity which few could dream of.
His football roots go back far. His parents ran a grassroots football club, where he would study coaches and their methods. A spell playing semi-pro petered out before he landed a job coaching Arsenal Ladies' youth team in 2009.
Lancaster tells The Sportsman: "It was a really good introduction into coaching for me. The ladies' game is slower, so it enabled me to pick things up quicker, whereas if I'd have gone straight into the men's game, I may have missed certain things."
It was while with the Gunners that Lancaster, along with 15 others, was selected for the FA's Elite Coaches Award. Lancaster believes that while it is the same level of qualification as the UEFA Pro License – which he also holds - the FA variant allows each coach to harness their creativity.
He moved on to coaching Portsmouth's youth team before working for three years at Watford. It was there that he first came across Sancho, who later signed for Manchester City.
Lancaster says of the England attacker: "I was wowed with my first impression of him. He just seemed to find it all so effortless.
"I am a big believer that the best players develop themselves. Jadon was driven, hardworking and just wanted to be the best.
"People have asked me if I helped make him the player he is and my answer to that is that I facilitated it in some way.
"That is different to teaching, but if he called me to thank me, I'd say thank you to him because he challenged me to be a better coach."
Louis believes his job is about more than just teaching skills on the training pitch.
"I've realised just how far coaching is down the list," Hertfordshire-raised Lancaster explains. "You have to be a good person, otherwise you won't get the best out of people, and you have to be a good communicator, too.
"It's alright telling one of your players where to put a pass, but I also want to know about their lives; about their families, girlfriends or wives."
Lancaster was part of predecessor Gary White's coaching team which helped Taiwan reach the nation's highest ever FIFA ranking of 121st. He succeeded White in January and secured his first win as head coach in beating Hong Kong 2-0 in June.
Taiwan have never picked up a single point in any World Cup qualifying campaign and lost 7-1 to Australia in their group game earlier this month. But Lancaster has belief in his players, most of whom play in the country's semi-professional league.
He has also dipped into the Taiwanese diaspora, calling up the Canadian-born striker Emilio Estevez and Brit Will Donkin, who recently signed for Stabaek in Norway.
Former Wigan Athletic midfielder Tim Chow, now at China's Henan Jianye, made his last Taiwan appearance two years ago but Lancaster is hopeful he will return to the international fold.
He says: "I tell the boys that it is okay to lose a game of football, but that we cannot lose to ourselves and to remember our values.
"We were up against some world-class players when we played Australia.
"Our boys are mostly semi-pro, and one of them was marking Aaron Mooy, who is in the Premier League.
"That, for me, is also what winning looks like; competing on the same field against players like that.
"We don't have a massive pool of players, but what we do have is chemistry, which is something money can't buy."
Another challenge for Lancaster is learning Mandarin. He reckons he is "25 per cent there" and even spoke the language during a recent press conference.
He explains: "I found out there are only 4,000 words in Mandarin, which I thought was a good thing, but then I learned that each of those words has a different tone to them."
Lancaster initially decided to pursue pastures new when he was appointed assistant manager at Chinese side Shanghai Shenxin under White.
His move there, however, was tinged with immense sadness as his father died not long after he arrived in the Far East.
"He had cancer and was on the cusp of deteriorating when the opportunity to go to China came round," Lancaster explains.
"He came to see me and I told him if I went I might not see him again and asked what should I do, but he told me he didn't want to hold me back.
"I left for China on July 12 and dad died on August 2. We had a game against Wuhan and, afterwards, one of our players told me I didn't have to suffer alone and that we were all family. Because of the humidity, all of them were dripping in sweat and they all wrung their shirts and said the win was for my dad."
The married father of two was back in England when he decided to apply for the Taiwan national team job.
Words will never truly reveal how incredible proud I am of our team 🔴⚪️🔵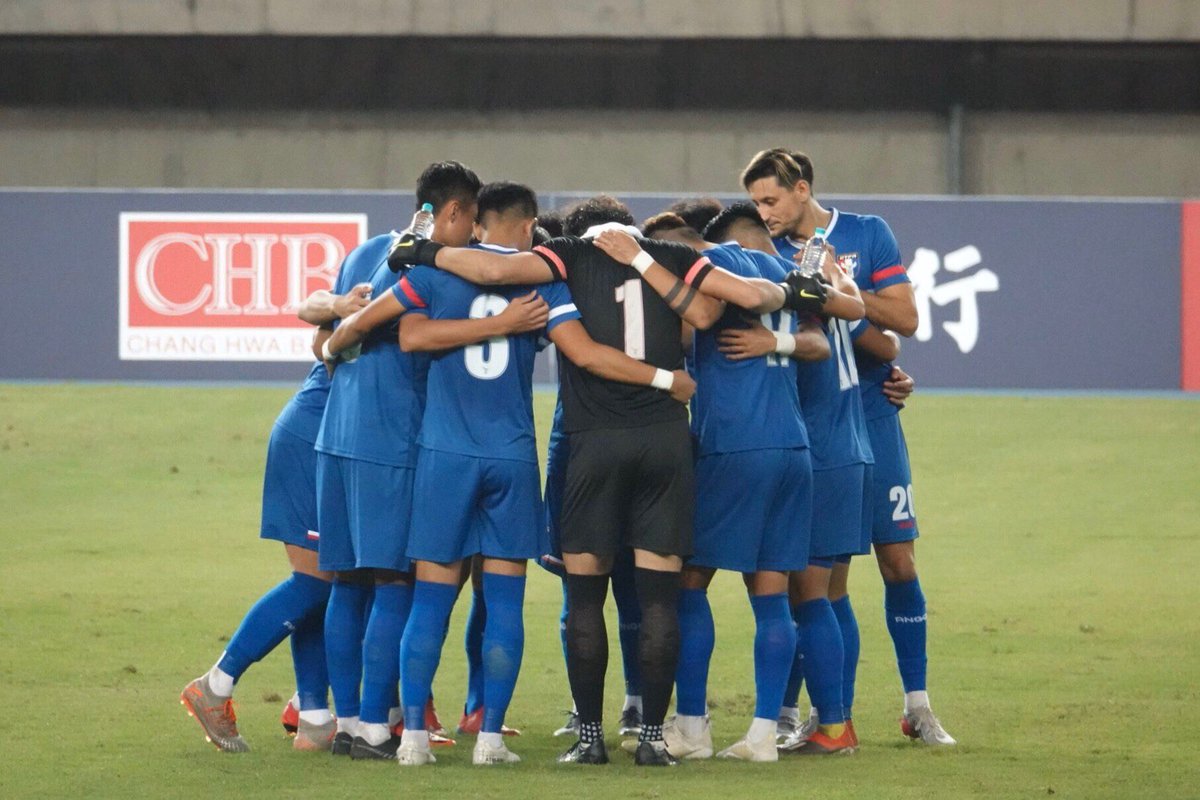 Lancaster, whose backroom staff includes fellow Brit Jamie Chessington, says: "It is about making sacrifices. I had to pay £1,400 for my flights to Taiwan and would not have been reimbursed if I hadn't got the job.
"If it wasn't for technology like Skype, I couldn't have taken it because I would never have seen my wife or kids. Some friends have said it is selfish to work so far away from home, but I am thinking long-term.
"Family comes first, so I am here for them.
"I am passionate about development and trying to inspire people. I've much more invested in coaching than just coaching and am fascinated by learning."
Louis' aim is to secure a coaching job in the UK. Just as the likes of Roy Hodgson and Graham Potter have made their names abroad before landing Premier League gigs, Lancaster could be the next manager to make the scenic route to the English top flight.
With immense passion and a steely determination to succeed, it may not be too long before he is back on these shores.