"The Cup has its own rules"
11:57, 12 Aug 2019
Waldhof Mannheim 3-5 Eintracht Frankfurt
Mannheim, Germany. "Der SVW ist wieder da!" chanted the supporters inside the Carl-Benz-Stadion in Mannheim - "SVW are back again!"
For the first time since their relegation from the second division in 2003, SV Waldhof Mannheim are back playing professional football this season, currently ninth in Germany's third tier after an unbeaten start.
After finally winning promotion from the south-western regional league at the fourth attempt this summer, the traditional club finally has something to celebrate. However, it wasn't the Mannheim fans who had started the chant during Sunday's cup tie but the visiting Eintracht Frankfurt supporters.
Since 2006, a friendship has existed between the two sets of fans, their cities separated by only 85 kilometres but, in recent times, several footballing divisions. Since their last meeting in that fateful summer of 2003, the two clubs have taken completely different trajectories.
While Frankfurt established themselves in the Bundesliga, winning the German Cup in 2018 and reaching the semi-finals of the Europa League in 2019, Mannheim plummeted down the pyramid, even dropping as low as the fifth tier in 2010 and on the brink of financial ruin. Now, nine years later, their friends from Frankfurt were happy to see them back in business as the two sides met in the first round of the German Cup, the DFB Pokal.
Waldhof Mannheim 3-5 Eintracht Frankfurt
2018 winners
#Frankfurt
come from 0-2 and 2-3 down to knock out third-division
#Mannheim
and avoid a repeat of last year's first-round exit.
#svwsge
#dfbpokal
🇩🇪
"The friendship's over!"
But the sentiment didn't last long. When the smoke from the Eintracht fans' pre-match pyrotechnics cleared, Mannheim raced into a 2-0 lead inside 11 minutes, Valmir Sulejmani with a brace as Frankfurt's lumbering back three were caught napping.
The away end was stunned. "The friendship's over!" shouted one fan. They weren't praising Waldhof anymore; after last season's first-round exit against fourth-division SSV Ulm (as cup holders, no less) Frankfurt were staring another cup humiliation in the face.
It wouldn't have been the first this weekend either. "Der Pokal hat seine eigenen Gesetze," goes the German saying: "The cup has its own rules." Just ask Bundesliga sides Mainz and Augsburg, who were both beaten by lower-league opposition on Saturday, Mainz by bitter derby rivals Kaiserslautern of division three and Augsburg by SC Verl of the regional fourth tier.
Elsewhere, Freiburg had needed extra-time to scrape past Magdeburg, relegated from Bundesliga 2 last season, while Fortuna Düsseldorf needed 30 additional minutes to overcome ten-man amateurs Villingen of division five. And on Sunday evening, Cologne and Hamburg were taken to penalties by Wiesbaden and Chemnitz respectively.
🇩🇪 Waldhof Mannheim vs Eintracht Frankurt 11/08/2019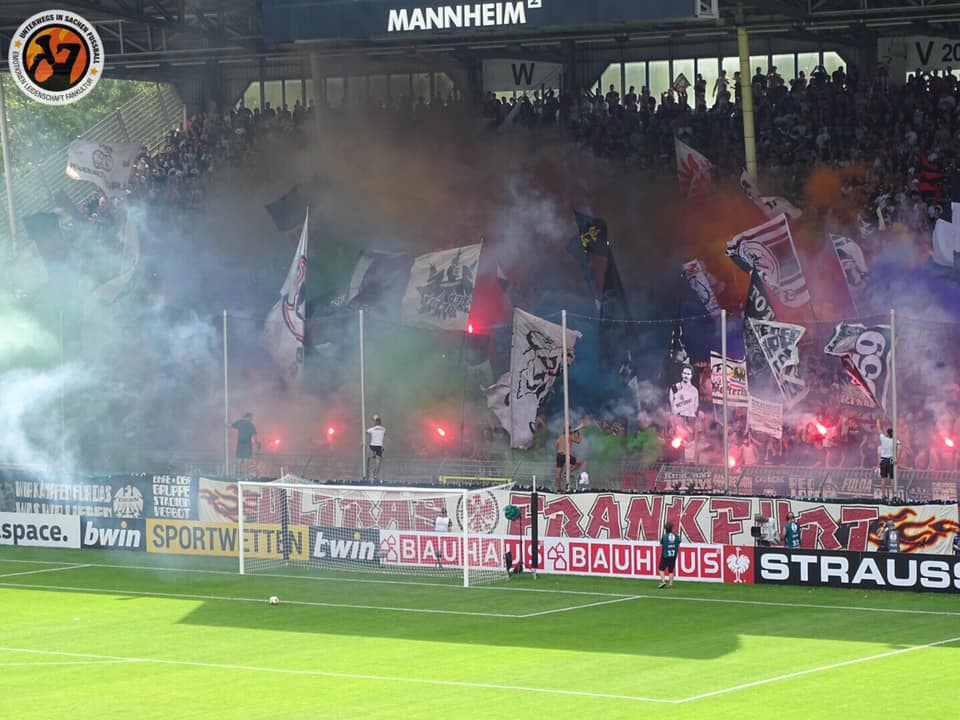 Ante Rebic leads the fightback
Waldhof Mannheim wanted to add their name to that list of "Pokalschrecke" or "cup horrors" but appeared to have committed that classic cup tie error of scoring too early and, by half-time, goals from Daichi Kamada and Filip Kostic had drawn Frankfurt level.
As the second half began, both sets of ultras displayed matching banners celebrating their special relationship, and the friendship was back on - at least until Jan Hendrik Marx fired Mannheim back into the lead with a stunning long-range effort.
Who would Frankfurt turn to this time? In Luka Jovic (Real Madrid) and Sébastien Haller (West Ham United), Eintracht have lost two of their best strikers from last season. Fortunately for them, the third strand of that particular triumvirate is still around: Ante Rebic.
The Croatian had had a quiet first half but he came alive now when his team needed him most. Within 16 minutes of Marx's rocket hitting the net, Rebic had scored three times at the other end to put Frankfurt 5-3 up – a 12-minute hat-trick.
With a two-goal cushion finally established and the rain pouring down, the two sets of fans turned their attention back to their friendship in the closing minutes. Or rather, their common enemies. "Scheiß Kaiserslautern!" they sang before exchanging more chants of "F*** Kaiserslautern!" across the length of the pitch to each other.
Mannheim will renew hostilities with Kaiserslautern home and away in the third division this season while Eintracht Frankfurt could yet be drawn against Germany's "Red Devils" in the cup.
Whatever happens on those occasions, both will be able to rely on support from their friends.