The former F1 driver is bidding to complete the Triple Crown of Motorsport at the Indy 500
06:55, 28 Feb 2020
Only one person in history has claimed the Triple Crown of Motorsport, the unrivalled feat of winning the 24 Hours of Le Mans, the Monaco Grand Prix, and the Indianapolis 500. It could have been two in 2019 but for a ridiculous series of events which undermined Fernando Alonso's tilt at making it three from three.
Several others have come close, with Jochen Rindt, Bruce McLaren, A.J. Foyt and Juan Pablo Montoya among those to have won two of the three events. But Graham Hill, the racing legend who didn't learn to drive until he was 24 years old, remains alone in winning all three.
Two-time Formula One champion Alonso has long been vying to share that throne with Hill though, and the 38-year-old will be having a go at the last piece of the puzzle once more this year after a couple of aborted attempts.
The 24 Hours at Le Mans was the 'easy' part - he has emerged as winner twice, in 2018 and 2019. Monaco he had chalked off by winning with Renault in 2006 on the way to claiming his second Formula One Drivers' Championship, then defended his Monte Carlo title the year after while at McLaren-Mercedes.
But 2020 will mark Alonso's third attempt at completing the treble at the Indianapolis 500, having attempted to do so last year and previously in 2017. The relationship he shared with McLaren during their three years on the F1 circuit has endured, though it was in danger of being soured after their catastrophic attempt in 2019. He has returned to compete with them in the Indiana state capital once again though. "I have a special place with McLaren, we've been through a lot together and that creates a bond, a loyalty that is strong," he explained to reporters recently.
Ahead of his third time of asking, the Spaniard's desire is still very real and revved up. "I am a racer and the Indy 500 is the greatest race in the world," Alonso declared. "I have maximum respect for this race and everyone who competes in it and all I want to do is race against them and give my best, as always."
What a shambles -
@McLarenIndy
who couldn't get Alonso through Indy 500 qualifying. Worse, they were socked with a good old sucker punch by the little known and underfunded Juncos team. Total embarrassment for the once all conquering McLaren team.
#Indy500
Alonso's first attempt at the Indy came in 2017 - in the middle of the penultimate year of his F1 career - with Andretti Autosport, and he finished fifth in qualifying. But, come raceday, his Honda engine failed him as he led just 21 laps from the finish of the 200-lap event and he was consequently granted 29th position.
His experience last year was altogether more calamitous as he teamed up with McLaren, who decided to run a one-car campaign. The signs were ominous when they weren't able to produce a steering wheel in time for testing. Then, when it finally did turn up, Alonso crashed in practice, though that did little to abate his enthusiasm. 'I hit an Indy wall!' he was reported as exclaiming.
He was set to soldier on with the back-up car but as it was wheeled out McLaren bosses realised it was painted the wrong shade of orange. More burnt orange than the papaya associated with the brand's Indy cars. It's the small details that count! Desperate to avoid their ridiculous mistake being noticed by the assembled press photographers, McLaren bigwigs ordered Alonso off the track. As a result, the Spaniard lost two full days of testing. Shocking.
But it doesn't stop there. He went to suffer a puncture on his first qualifying attempt and the team was late to practice the next morning. And then, yes there's still more, a team member incorrectly converted settings when switching inches to the metric system the English team used. It caused the car to scrape and spark on the very first lap, costing the driver time.
After this catalogue of errors Alonso, not unsurprisingly, missed out on 30th place and the guaranteed qualification spot that came with it, by 0.02mph to Pippa Mann. The final session, which sees only three cars through to make the field of 33, saw a superb performance by 23-year part-time driver Kyle Kaiser send Alonso packing, thanks to an even closer time 0.019mph.
On May 24, Alonso will be racing in the third car with McLaren sending out the youngest IndyCar lineup in history with Indy Lights champion Oliver Askew and Patricio O'Ward, aged 23 and 21 respectively.
F1 champion 🏆
Le Mans winner 🏆
Indy 500 ⏳
Fernando Alonso is aiming to complete the 'triple crown' of motor racing.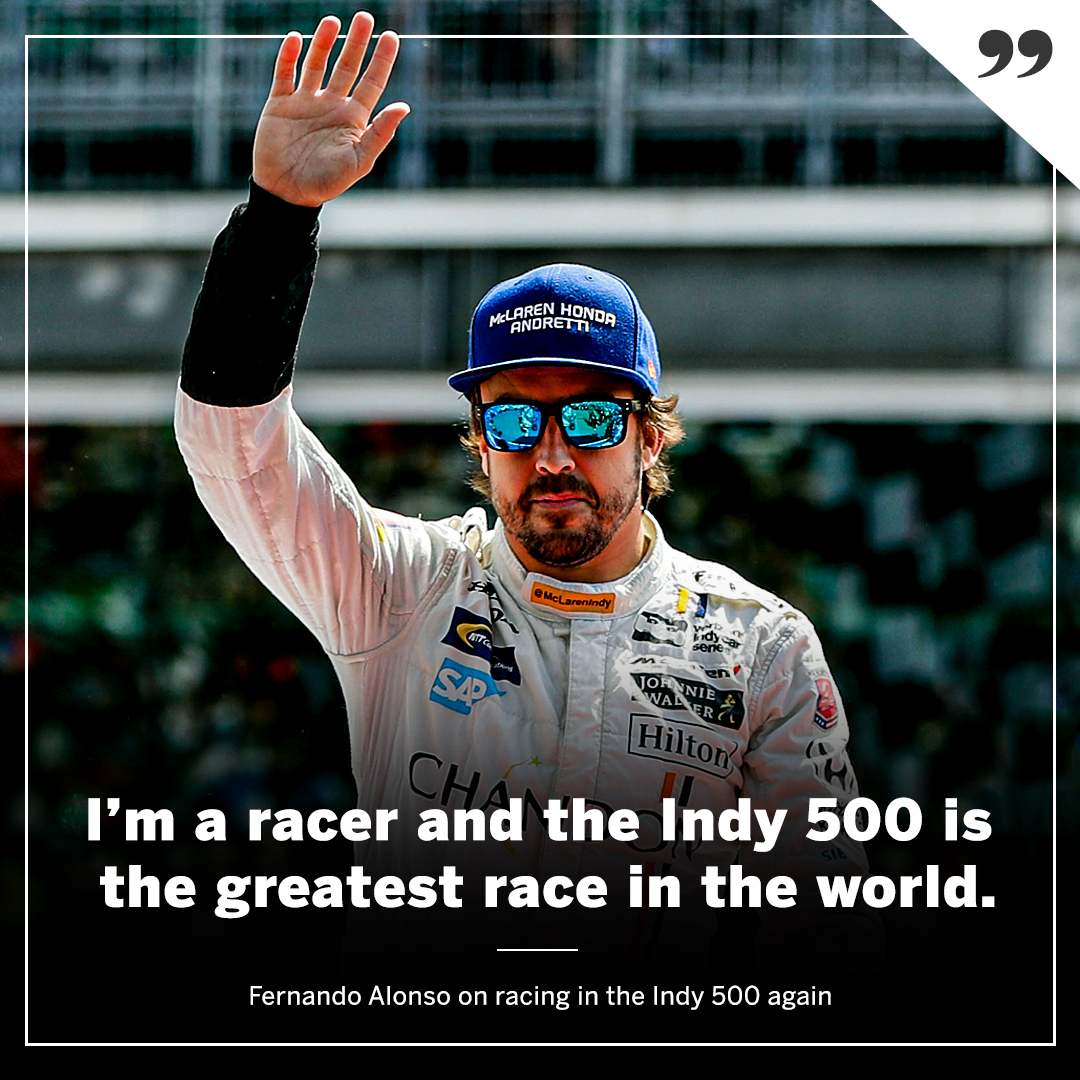 Former Indy Racing League driver and Arrow McLaren team boss Sam Schmidt told Autosport of having Alonso back on the roster, "The truth is, he's an amazing talent and I think more than anything, the fans of IndyCar racing deserve and need to see Fernando Alonso in the Indy 500.
"I want to see that as a fan of IndyCar myself and the guy proved in 2017 that clearly he can win the race if given the right equipment."
Alonso has said that he is "focused and excited" about the third time around at the Indy 500. With the potential to become just the second man in history to achieve the Triple Crown still a real possibility it's obvious to see why. He could also achieve the feat far sooner than Hill, with the late former world F1 champion having completed the final leg in Le Mans in 1972 at the age of 43.
But McLaren will need to exorcise the ghost of their horrendous 2019 attempt if Alonso is to have a chance to rewrite history.