On This Day in 1888, John Reid introduced golf to the US
06:55, 22 Feb 2020
It took a handful of imported clubs, a couple of balls, three hastily-landscaped holes, and a cowfield.
On this day 132 years ago, the United States' love of golf began thanks to Scotsman John Reid. His is a fabled tale which helped to catch the imagination stateside as Reid showed his new, adopted country how to play the sport for the first time.
While King James IV of Scotland granted golf royal approval in 1502 (386 years prior to Reid in the States, quick maths) the ability to pinpoint the exact origins of golf is unclear. But it is Reid who is uniformly regarded as having brought golf across the Atlantic. However, it's the United States' dominance of the sport into and beyond the 20th century that helps to romanticise this particular origin stateside.
Reid - an immigrant from Dunfermline - was the first president of St. Andrews Golf Club, then in Yonkers, New York, which is the oldest golf club in the US and is named for the historic venue of the same name in Fife.
The Links in Scotland can be dated to around 1400 (50 years before being banned by James II because it annoyingly interfered with archery practice, apparently) with the Old Course recognised worldwide as the 'Home of Golf'. The area of land had even been involved in a turf war between avid golfers and irritated rabbit farmers for a good period of the early 19th Century.
2/22/1888: Scottish immigrant John Reid demonstrated golf on a Yonkers cow pasture to friends.
http://t.co/13qJ6UyKkb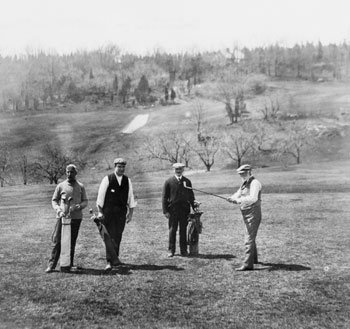 But back to the East Coast. Then aged 48 and having lived in the US for a considerable number of years, Reid took several friends out onto a patch of cowfield and demonstrated putting with a couple of gutta percha balls in three makeshift cut holes - they weren't even Reid's clubs, borrowed from his Dunfermline friend Robert Lockhart who had returned from their homeland. Following the success of the trial, months later, Reid and his cohorts decided on forming a club. On November 14th, The Saint Andrew's Club was born with Reid duly elected president. Today the institution proudly proclaims itself as being 'First in Golf since 1888' and 'Revered as the Cradle of Golf in America'.
It is also one of the five founding members of the United States Golf Association (USGA), which was created in 1984. John Reid himself has commonly been found to be referred to as the "Father of American Golf". However his most notable success as a professional golfer was finishing 10th at the first-ever US Open in 1895, and he has endured far more reverence for being mythologised as having had a significant influence in the instigated of the '19th Hole' ritual; to have a tipple after a game. Indeed, Saint Andrews proclaims that their first 'clubhouse' was "an old apple tree from whose gnarled branches they hung their coats and obligatory flasks of fine scotch whisky", with Reid and his fellow founding fathers referred to as the first 'Apple Tree Gang'.
Having first been introduced to the sport by Reid in 1888, the US has gone on to have unrivalled success throughout the subsequent years. Twelve years after its introduction, at the turn of the century, more than 1000 golf clubs had formed throughout the United States, and in 1900 in Paris, Saint Andrew's member Charles E. Sands became the first and so far only male American Olympic golf champion. Skip forward more than a century and, in 2019, three of the four Majors were won by Americans. Only the anomaly of Shane Lowry dared go against the grain to stop a Yankee clean sweep, the Irishman winning The Open at Royal St. George.
Ahead of the 2020 season, a total of 273 Majors have been won by 130 American players, with Ohio's finest Jack Nicklaus leading the pack with a historic 18, three ahead of compatriot Tiger Woods. Only two players in the top 12 most successful men's major championship winners, Gary Player and Harry Vardon, haven't been from the USA. Nicklaus himself refurbished the Saint Andrews golf course in 1983, almost a century after Reid's history-making moment. The club crest features a Scottish saltire in respect of its origins. Scotland, meanwhile, has contributed an admirable 55 majors courtesy of 31 players.
John Reid died in 1916, aged 75, and the Saint Andrew's club and course has been moved from that original cowfield - since 1897 its location has been Hastings-on-Hudson. But thanks to Reid, and those loaned golf clubs from Dunfermline, the United States continues to profit from possibly its greatest ever sporting import.