Manchester United have finally got their man
15:57, 05 Aug 2019
Manchester United finally have their man as England centre-back Harry Maguire joins the club in a deal worth £80m, making him the most expensive defender of all time.
Ole Gunnar Solskjaer has got hold of the defensive reinforcements that Jose Mourinho required twelve months ago and the English acquisitions are sure to improve United's defensive frailties from last term.
But how does Maguire compare to some of the top centre-backs in world football? We have gathered data from across the careers of three of his rivals. Liverpool's Virgil Van Dijk is the leading centre-back in world football at this present moment so offers a good marker on where he would like to get to.
John Stones is Maguire's international teammate and is a good competitor from across Manchester and finally Matthijs De Ligt, the man that United were also linked with over the summer is the standout young defender in the world.
For aerial duels, Maguire matches up well. His career win percentage of 70.4% is higher than Stones (65.9%) and De Ligt (63.4%) but perhaps unsurprisingly behind VVD, who boasts a remarkable aerial duel success of 73.9%.
In terms of clearances, Maguire again comes second to the Dutchman but fans may be surprised to learn that throughout his career, the Englishman has made the fewest blocks per game out of the four central defenders. While heading and tackling appear to be his strengths it may also come as a surprise to Manchester United fans that he has the lowest tackle success rate out of the quartet.
Van Dijk tops that statistic with a mind-blowing 90.3%, Stones is second with 78.3%, De Ligt third with 75.3% and Maguire last with 73.2%. This is no criticism of Maguire by any stretch of the imagination; he has clearly developed over the past two seasons to become one of the dominant players in the Premier League and worth £80m to Manchester United.
In terms of being dribbled past, Maguire also falls just short of these three. The 26-year-old, who has agreed a six-year deal at Old Trafford, is dribbled past 0.55 times per game on average. De Ligt is beaten 0.37 times per games, Stones 0.32 and VVD 0.16.
Thanks to everyone who has supported me and played a part in my career.
I'm proud and honoured to join
@ManUtd
. What an incredible football journey it's been so far ⚽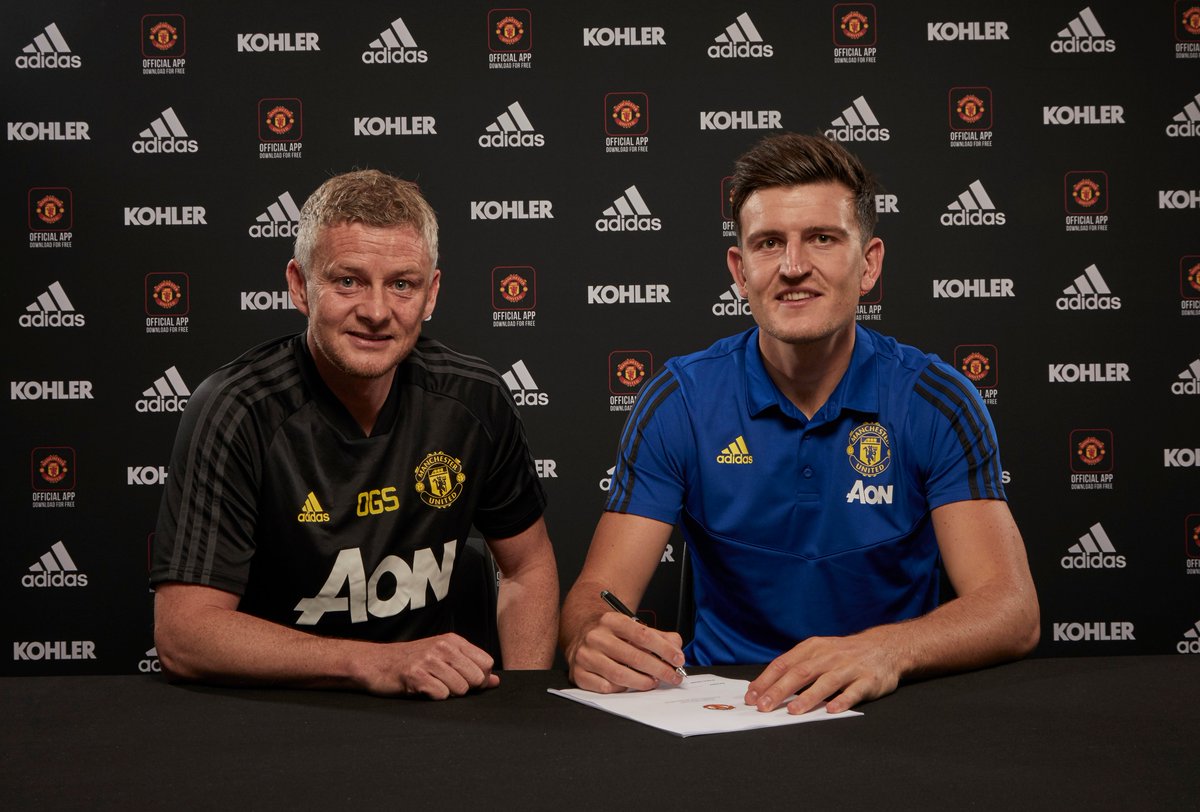 Maguire's long pass accuracy is behind the rest and his short pass accuracy is below 85% whereas the others are up in the 90s. He does lead one statistic though, head and shoulders above the rest - unfortunately some may not see it as a positive one. Maguire makes more fouls per 90 minutes than the rest of the top defenders, 0.95 per game. For comparison, De Ligt makes 0.67 fouls per game, Van Dijk 0.62 and Stones 0.27. That's impressive from his compatriot on the other side of Manchester but that is to be expected given how dominant Manchester City have been over the past two years.
Of course, these players we are comparing Maguire to are the best of the best, but that is the company he will now be assessed against, given his enormous price tag. It is another step up for the centre-back but having excelled at League One, Championship and now Premier League level this move follows the natural progression of his career.
The extra pressure will hopefully not hamper the loveable aerial presence known as 'Slabhead' and as he showed for his country at the last World Cup, he can play a pivotal part in the success of a team, be that with his defensive solidity or his aerial prowess from set pieces.
Manchester United have signed the perfect defender for their back line but we will have to be patient to see whether he can join this elite group of central defenders. His price-tag will put him under additional scrutiny during the opening few games but he must organise and improve the Red Devils defence to make it into the top bracket.