The former goalkeeper suffered a 9-1 loss with Wigan and will never forget how it felt
12:52, 29 Oct 2019
"It lives with you forever. Ninety minutes feels like ninety hours. Some players are crying."
Chris Kirkland is reflecting on one of the worst experiences of his career, in goal as Wigan Athletic shipped in nine at Tottenham Hotspur to suffer one of the worst defeats in Premier League history.
On Friday, Southampton joined the Latics in the Hall of Shame, losing 9-0 at home to Leicester City to equal the Premier League record defeat first set by Ipswich Town when they were hammered by Manchester United in March 1995.
The forlorn look on the face of Southampton goalkeeper Angus Gunn as he was consoled by a Foxes side who had nearly slotted double figures past him will remain one of the images of the season.
Kirkland knows exactly how he will be feeling. But for Paul Scharner's consolation goal, the Latics would have suffered the same scoreline at White Hart Lane in 2009, but the 9-1 reverse remains one of the more ignominious moments in Wigan's eight-year stay in the top flight.
And almost a decade on from that night the game is still clear in Kirkland's mind. Speaking exclusively to The Sportsman, he explains: "You just can't wait for the final whistle to go. The whistle and the time just seem to freeze, 90 minutes feels like 90 hours. It's a horrendous experience."
Finally off the pitch and out of the spotlight, the confines of the dressing room are swamped with dejection. The players know full well that their performances are being analysed and even giggled at by football fans, the scoreline raising eyebrows everywhere.
"I was just numb," Kirkland, now 38 and retired, tells us. "Some players are angry, some players just sit there in disbelief.
"Some players will be shouting, some are quiet, some are crying. It's horrible.
"You don't think it's just happened and it doesn't really sink in to start with. It's not until you get on the bus and it's then a long journey home from London back up to Wigan.
"Your mind is racing, you're embarrassed, you don't want to take any phone calls. You don't look at the news because it's plastered all over there. You just want to shut yourself off.
"It lives with you forever, you don't forget things like that but it happens in football. We saw it on Friday and I'm sure we'll see it again in the future. You've just got to try and get on with it, but it was really tough times."
The week after was a sombre one as the club came to terms with the defeat. Such a scoreline makes all of the back pages, it dominates everybody's text messages and, in 2019, social media is awash with footage of every goal.
Even in November 2009 it was everywhere though, and while Kirkland was hurting he was determined not to let it affect him too much. He got on with life, all the while focusing on working hard and putting things right.
"You do get comments made from people," he reveals. "Where I lived was a little bit out of Wigan, I wasn't actually in the town centre, but yeah, you get people saying bits and bobs but you carry on. You can either shy away from it or you can face up to it.
"I still did the pick-up from school in the playground and stuff. At the end of the day we knew we were going to be in the public eye again on the Saturday anyway."
No more talking. No more messages.
#SaintsFC
manager Ralph Hasenhüttl says the only suitable response now can come via his team's actions: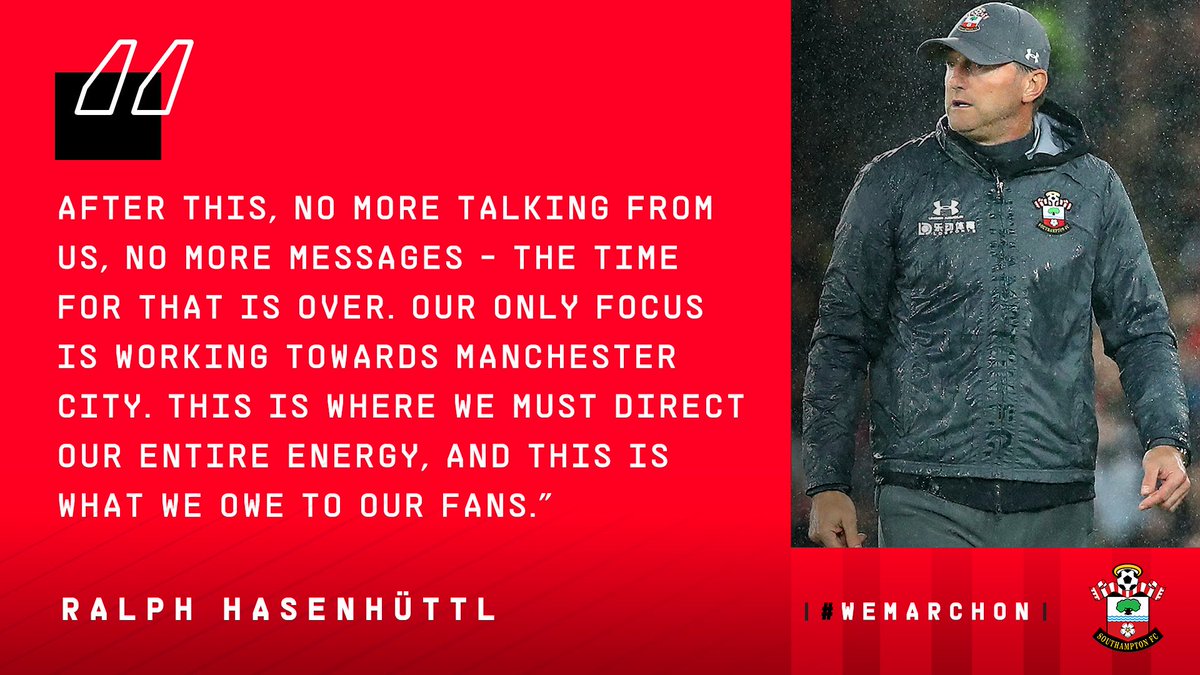 Roberto Martinez's men worked noon and night out on the training pitch, ensuring the horrors of Tottenham would never be repeated. Kirkland believes the experience even brought the squad closer together.
"We were in every day that week, morning and afternoon, and rightly so," Kirkland remembers. "We doubled efforts in training. We worked our socks off. Everyone was still hurting.
"It was a quiet first couple of days. We played on the Sunday, and the Monday, Tuesday and Wednesday were very quiet. But then we realised we had the game on Saturday where we could put things right.
"You have to try to turn negative things into positives. We got together, had a lot of meetings that week and it did bring us closer, making sure that something like that never happened again."
Then came matchday.
"I was nervous, but the Wigan fans were superb. Obviously they were hurting a lot but we all pulled together on that Saturday and managed to get a great win, beat Sunderland 1-0 which, while it didn't repair the damage, made it feel a hell of a lot better!"
Kirkland feels for fellow shot-stopper Gunn and knows how he would have felt as each ball was cannoned in by hat-trick hero Jamie Vardy and Co.
"It's just one of those games," he says. "I don't think there's a lot he could have done... maybe a couple. It was the same when I played, there were goals I could have done better with but when the ball goes in you're just demoralised."
It's now up to Southampton manager Ralph Hassenhuttl to lift his players off the floor and inject belief into a damaged team.
Latics boss Roberto Martinez was obviously distraught but fronted up to lead his players and give them direction.
"He was very calm, Roberto," continues Kirkland. "He was hurting deeply, but as manager of the club you've got to set an example and he did that.
"He was reassuring, always open, but you could tell he was extremely hurt as well."
They say a week is a long time in football but one saving grace for the Saints is that they have only had to wait four days to get back out on the pitch, a League Cup last-16 tie next on the fixture list.
However, they face free-scoring champions Manchester City... away from home. If that wasn't bad enough, they face them in the league too on Saturday. Pep Guardiola's men boast 32 goals in 10 Premier League games so far.
While supporters will no doubt be shaking with fear at the prospect, Kirkland reckons Southampton will be desperate to get a ball at their feet, compete and restore some pride in the badge.
"The first couple of days are tough and they'll probably have chatted to each other about the result," he says. "You have to go through it as a professional footballer.
"Sometimes the best thing is to get out and play, so I'm sure they'll be happy they've got a game so quick.
"I'm sure they can't wait to get out there. They'll be nervous, they'll be angry, but they have to channel that in the right way and try to get a result.
"Each team reacts differently, each individual player reacts differently. I'm sure the Southampton players will be hurting but they'll be desperate to put things right in the next game."
Wigan bounced back to avenge their own defeat in the next game, so, what advice can Kirkland offer Southampton ahead of this week's double header against City?
"Just go out, run harder, run faster, work and put it right. Do it for the fans, but also do it for yourself and your team."