Forget the bubbly, we look at bizarre awards won by top performers
12:31, 14 Sep 2019
Man of the Match (MOTM) awards are always pretty standard - a nice bottle of bubbly and a gong to go on the mantlepiece. Or so we thought. It turns out there's a whole world of weird and wonderful prizes that have been handed out over the years.
Our interest was tweaked when we read about Saveli Kononov, the Russian Ice Hockey goalkeeper who was handed an AK47 for his man of the match performance. That's right, an actual AK47.
And it wasn't done discreetly either. Oh no. The weapon was handed out in the middle of the dressing room, in front of all his teammates after Kononov had stopped 36 out of 38 shots.
Here's some of the more bizarre prizes awarded to top performers, thankfully the AK47 appears to have been a one-off...
Winning a cup final and being named MOTM was a career highlight for Scottish midfielder Stephen Glass, something he'll never forget. But something he'd probably rather forget is the rather odd prize he won for his outstanding performance on the day, back in 1995.
Now the host of The Great British Bake Off, Sandi Toksvig, presented the 19-year-old with a mountain bike courtesy of sponsors Coca-Cola. Of course, he then had to get on the bike and pose for photos in his full kit, including boots! This award was also handed out to Neil McCann the following year who was visibly upset given his side had lost in a 4-3 thriller to Rangers. The bike unsurprisingly didn't soften the blow.
Photo: SNS (via The Herald)
Africa is the home of some brilliant MOTM awards from crates of beer to rice, but our personal favourite is the 5GB of mobile data sponsors Telkom gave out to Memelodi Sundowns player Hlompho Kekana last year.
Back in the good old days when footballers were not celebrities, Charlton striker Carl Leaburn went to collect his MOTM award the following day, from his local Rumbelows shop. The sponsors of the competition had chosen him as the winner of the award back in 1993 and luckily for us there is video evidence of this beautiful moment. Imagine Sergio Aguero wheeling a new plasma TV out of Currys nowadays...
When Carl Leaburn picked up his Rumbelows Cup MOTM award.
A 21-inch colour television. 😂
This one is made by the fact that Lanus striker Lautaro Acosta seems genuinely delighted with his prize. Something you are more likely to see on Catchphrase than a football pitch, in 2017 he picked up a BBQ Grill and a personalised apron to go with it, thanks to sponsors Burger King.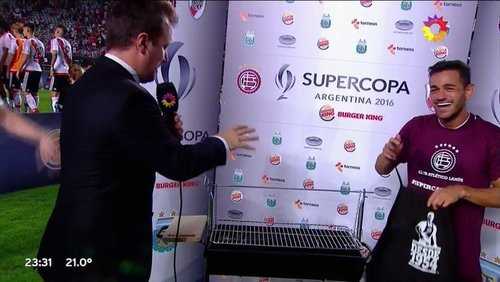 Goal bonuses and appearance bonuses are common in football but for some reason, a MOTM bonus seems strange, especially when presented in this format. Lebogang Manyama of Ajax Cape Town was presented with a card loaded with 2000 rand (approximately £110) after his midfield masterclass against Orlando Pirates in 2012.
Raul is one of the most iconic and successful footballers of his generation, winning three Champions Leagues and six La Liga titles so, by comparison, this was certainly a low point of his career. When playing for the New York Cosmos in 2015 he won MOTM and was then presented with a tacky model of a Fly Emirates aeroplane, which he seemed unsure about. Just pop that one alongside your Champions League medals mate...
Arsenal Ladies' Emma Byrne had a corker of a game against Gothenburg in the Champions League in 2012, and was rewarded for her glittering performance with a lovely bunch of flowers. To be honest it would have been absolutely fine if they'd have left it there but then, inexplicably they also gave her a cool box!?
It looks like it cost about £15 and is verging on degrading, although she made the best of a bad situation.
Well done, you've won MOTM! Here's a live chicken. The strange thing about this one is that it is not a one-off, this happens every single week at Polish club Gornik Zabrze. This is thanks to one loyal fan, Stanislaw Setkowski, a chicken breeder who brings one of his prized possessions along to every game.
adidas' Condivo template is the gift that keeps on giving.... not that different from herpes, except uglier. This is the away kit for Polish club Górnik Zabrze, and no, we don't know why they award their man of the match with a live chicken.....