Honest, brave and hopeful, the ex-striker opens up about devastating impact a scooter crash had on his career
08:14, 16 Sep 2019
"I'd never seen my dad cry. He always said I'd see it when I pulled on a senior England shirt for the first time. It was fate that it was never meant to be."
Fate. That word has played a huge part in Matt Jansen's life. He was destined for football greatness. Gliding across the pitch, so light of feet, so clever on the ball, he was going to play at the very top. Manchester United, Arsenal, even Juventus; they all wanted him.
Banging in the goals for Blackburn, he was playing in the Premier League and gearing up to play at the World Cup for England.
However, a horrendous chain of catastrophic events changed everything.
Jansen suffered a trauma so great, he went from feeling invincible as a striker to fearing even standing on a football pitch.
Admitting he was always shy and more a 'glass half empty kind of person', the game turned him into a world-beater. Full of swagger and skill, he could take on anyone.
However, a scooter accident in Rome in 2002 brought him back down, and he never reached those previous heights. He couldn't and had no choice.
As The Sportsman sits with him in the Alderley Edge Hotel, not far from the home he shares with his wife and three children, to discuss his new autobiography 'What Was, What is and What Might Have Been', he admits he was blown away by so many of the heartwarming things friends, family and former colleagues have written about him for the book.
"Graeme Souness, my manager at Blackburn, people ask did we ever come to blows but he always said I was son-in law material.
"He's written something for my book. Him, Sam Allardyce, Steve Peters, Sven-Goran Eriksson, they all write in the book. What they said was so touching, so supportive".
We see for ourselves just how loved he is as, at the start of the interview, a hotel worker approaches to give him a big hug, clearly delighted to see him again. "He's my friend," she gestures with pride.
At 24, everything was going according to plan. Having appeared for England's Under 21s, he was finally set to reach the pinnacle and play for his country at the World Cup.
Jansen was on Merseyside as Blackburn faced Liverpool in the penultimate game of the Premier League season.
"Sven-Goran Eriksson was in the crowd and he said to Souey: Don't tell Matt but make sure he doesn't get injured, because he's going to be named in the World Cup squad," he recalls.
Jansen played well, scoring as Rovers lost 4-3 in the last minute. Despite the defeat, he knew he'd done enough.
When the squad announcement happened to be delayed, he had no reason to worry.
"I'd already got my suit fitted, I was invited to David Beckham's pre-launch World Cup party, my girlfriend Lucy, she'd been given permission to miss her finals at Manchester University because the team and their wives were going away before going on to Japan and South Korea. I was going to the World Cup."
However, the wait grew longer.
"I waited and waited, then on the way home from training, I heard it in the car on the radio and my name wasn't announced."
Eriksson's assistant Tord Grip had attended Arsenal's 1-0 victory over Manchester United at Old Trafford. The pair shared a car back to London and, after a chat, decided to opt for safety. They dropped their striker Jansen, instead taking an extra defender in Martin Keown. The Gunners centre-back didn't play a minute at the tournament.
Such a giant disappointment, Jansen was obviously devastated but knew his time would come.
"I was 24, I'd just won the League Cup, been involved with England, I'd scored 16 goals in the Premier League that season.
"My peak years were in front of me - it was going to happen. Sven said they'd be watching me next season and I'd be part of England going forward."
Now with a free summer ahead, he needed to go on holiday for a bit. It was yet another sliding door moment as fate decided to build a solid brick wall on the path to his football dreams he was so destined for.
"We went to Rome. Lucy had to concentrate on her finals again, but we agreed to go away for a few days and then she'd come back to do more studying. I'd just finished the season and needed to get away."
Jansen noticed just how chaotic the traffic was in Italy during a 'horrific' taxi journey from the airport. "You toot the horn and have right of way but then you see another car and it's 'Woah s***!' It's frightening."
It proved to be a prescient observation.
Ready to enjoy their getaway, Jansen and his girlfriend decided to rent a scooter. "Everyone was riding them so we thought nothing of it."
The Colosseum, Pantheon, Spanish Steps - they zipped around all of the italian capital's famous landmarks.
"We chucked a coin in the Trevi Fountain as it's meant to bring you luck… but it didn't bring me any luck."
After nearly 3 years in the making my book is finally out on the 5th September. Highs, lows and finding myself finally after some very dark times.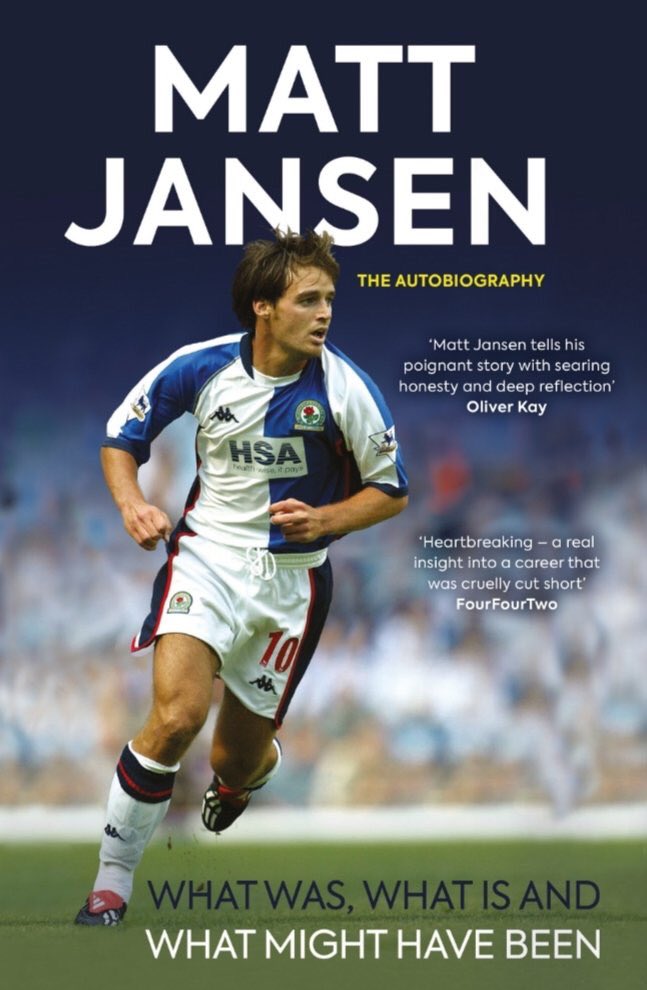 As they journeyed home on their scooter, Lucy's helmet flew off. Matt offered her his. Fortunately she declined and with police permission, the pair made their way back to the hotel, just 600 metres down the road.
That is when disaster struck. Edging out at a crossroads, a taxi smashed into the pair. Lucy was thrown from the bike while Jansen, thankfully still wearing his helmet, was hit on the head, leaving him unconscious on the ground.
Remarkably Lucy was relatively unscathed but thought she had lost her boyfriend in the accident.
"I was in a pool of blood, 'dead'. She thought I was dead." He would spend the next six days in a coma.
From everything being perfect, Jansen's career would never be the same.
"The neurosurgeons doubted that I'd play again when they first saw me and if I ever did return, it wouldn't be for a very long time.
"My memory was sporadic. I was doing neurological tests. They were for four and five-year-olds and I was getting them wrong, constantly."
Miraculously, by October, he was back playing and scoring in January. However, he knew he was still a million miles away from being ok, let alone back to his best. The game had always come so natural to him, now it was an arduous strain.
"I had to think about everything," he tells us. "I was nowhere near what I was. Ever since the accident I've never been anywhere near that level because I wasn't ready.
"On the pitch, I had to think about every step and you don't have time to do that. It had to be instinctive and subconscious, it has to be natural."
Jansen believes he returned to action far too soon. On the outside, his head injury was invisible and he was selected to play. Had his leg been in a cast, he'd have been allowed time to recuperate.
"It was a unique injury, once the bruising had gone, I would appear fine but I was far from it," he said.
"I liken it to someone whose done their cruciate and going to have twelve months out, they wouldn't dream of playing someone after four months. But I had a cruciate in my head, for example, and they were playing me, so can you imagine the untold damage that could do to a cruciate?
"Nobody really knew and they should have listened to the neurosurgeon. It didn't matter how I appeared, they said I'd need at least 12 months, 'He's had a haemorrhage. He's been in a coma, his head won't have settled."
He was adamant in his own head that he was still brain-damaged and the turmoil he was going through took its toll on his well-being.
He'd find the back of the net like he always did and so everyone assumed he'd recovered. Privately, he was going through hell.
"The more I did the worse I got. I knew I wasn't right, I was brain damaged. Whenever I did anything good they'd say 'oh he's back' - I'd give a wry smile and then at home I'd be in tears thinking 'I'm not back. I don't know what's wrong with me. I can't do this'. I was living a lie."
The emotional trauma was starting to change Jansen's personality. Once so confident on a football field, he shrunk, frightened to even play the game he once excelled in.
"I used to love going training, we had such a laugh. I then hated going in, fearing it, worried I wasn't going to be myself and wouldn't be confident. I'd be scared of getting on the ball."
With all the will in the world, Blackburn desperately wanted to help their player, but, back then, football clubs were perhaps naive. Looking for help, they were still fielding him at Ewood Park every week.
"I had the support from the club and they only wanted the best for me but they probably didn't know what the best was. They didn't realise the resources until later or too late.
"I was a player they wanted to get back playing as well. I was an asset but playing did untold damage, I believe. I know it's hypothetical, I wasn't ready, rushed back in four months."
Eventually, they found renowned sports psychologist Steve Peters who had a massive impact. While he didn't exorcise Jansen's demons, he solved some of the problems in his mind.
"He helped me hugely; not as a footballer but as a person. I'd go and see him, ask a million questions, and he'd explain things logically.
"He'd inflate me and I'd feel really positive. Slowly but surely at the end of the week though, I'd be back on the floor. So he'd inflate me up again, and I'd be back on the floor and it was like that for 18 months. He really helped me get by but it was no miracle fix."
While today, in 2019, society has taken giant leaps in tackling the stigma around mental health, things weren't quite so clear at the turn of the century.
"Mental health back in those days was frowned upon," he says. "You were weak or mad. I didn't want to own up that 'I'm struggling guys, I'm down - I really can't do this.'
"It's now becoming more accepted. Now, looking back and understanding it more, so many people have struggles and it's an umbrella of a number of struggles.
"Football has changed as well. It used to rule by fear where managers would rant and rave. Nowadays players have to be looked after."
So, was he worried about what his team-mates would say about him seeing a psychologist?
"I wasn't nervous to tell them as they knew what I'd been through and the doc explained to them that I needed help. I was more nervous when Steve Peters went into Blackburn Rovers and gave a talk about me to the players at training and I was in a different room with the club doctor.
"He explained what I'd need, what could help. Then that made me feel a bit awkward. Apparently some of the players were virtually in tears. It was incredible.
"When I started at Carlisle, if anyone needed a psychologist, I'd think what do you need that for? I was invincible. Then, after, it couldn't have been further from the truth."
While his club sought help, did the FA offer their services?
"No." he answered, looking a little lost for what to say next. He pauses for a few seconds and collects his thoughts, "I didn't ask for it," he decides.
"I was just working with Blackburn and Blackburn were helping me - they found sport psychiatrists, Steve Peters and they were really my help.
"The PFA weren't involved in mental health at that stage I don't think. I mean America were years ahead - Tiger Woods had a sports psychologist they say since he was four or five years old.
"America is still ahead but I think because more and more people have had the balls to open up in this country, they can't turn a blind eye to it anymore".
Through it all, his wife has been a tower of strength. Having sat on the same scooter as the traumatic accident unfolded, she has been there every step of the way. He always knew she was 'the one'.
"My wife will have taken the brunt of it. Closest to home. I ended up drinking too much, to numb it and forget about it. But then you have Groundhog Day and have to do it all again. She was as good as gold but must have got pretty p***** off with me.
"In Rome, she saw everything, then came to the hospital and she felt guilt. So there was that emotion as well that she had to deal with but, after six or seven years of real hard times, we've come through it and out the other end.
"I always wanted to settle down. I was 24 and I wanted to get the right one and I thought when we were in Rome that she was it.
"She was great. Her and her family, she's an only child, supported me and my family through my recovery the best way they thought.
"Now, it's a life experience. I would never wish it on anybody but I find it's helped me understand people better."
In the book, Lucy herself looks back on the difficulties they faced together and says: "Physically, Matt recovered quickly after the accident, but I don't think anybody realised how big a stumbling block the mental side was going to be. The early years after the accident were tough. At one point in his life I think he thought he was going to be the best footballer in the world. I think, to some degree, they all have to think like that to reach the heights they do. The flipside is that, when everything is taken away, it casts a huge shadow.
"A lot of time has passed since our lives changed dramatically. For a long time after it happened, I'd wake up with a gasp.
"Sometimes, when I meet someone for the first time and we have the usual conversations about our lives, what our husbands do and so forth, I say it all quite flippantly: 'Oh, he used to play football . . . Blackburn . . . we went to Rome and came off a scooter.'
"So many years on, I rarely stop and consider what a big deal it is. But when I do reflect, I end up thinking that we're really lucky to have come through it together and survived".
Having spent this month publicising his brilliant autobiography, which he worked on with Jon Colman, a journalist from Jansen's hometown of Carlisle, it's allowed him to take stock.
"It's weird now looking back," seventeen years on and a few before his 42nd birthday. "Fate, getting a ridiculous illness (Jansen was struck down with Gastroenteritis and forced to miss an England warm-up match ahead of the World Cup), and then the crash.
"If I hadn't had gastroenteritis I'd have played that game and would have probably gone to the World Cup. There's loads of sliding door moments where it could not have happened but it did.
"For the past three years we've been working on the book. As we delved deeper I realised this is a hell of a story. People have messaged in support that they love it's not a football autobiography, yeah, there's football in it but it's emotion in different ways other than just sport and hopefully it resonates."
When the time came to leave Blackburn in 2006, he joined Bolton on a temporary deal. While the football remained a huge challenge, the help handed to him by manager Sam Allardyce will always be appreciated and remembered by Jansen.
"He was very good for me and ahead of his time," he said of the future England boss. "I really admire Sam. He already had two psychologists at Bolton, he had acupuncturists, thermostatic icebaths - any fraction to get better and he explored it.
"You spent 20 minutes each with the two psychologists a week, whether you wanted to or not, just to discuss things; they were good but I still had the same demons.
"The damage that had been done from maybe playing too early had set then. I could never repair my 'cruciate'," he says pointing to his head.
After four years of struggle, he'd had enough, the game had given him so much but then taken it all away.
"I fell out of love with it for what it had done to me. That doesn't mean to say that I didn't like football but I couldn't deal with what it was doing to me - it was crucifying me. It was destroying me, I was depressed, anxious, frightened - because of football.
"I'd got to the stage where I was done with football and what it had done to me. I thought the grass was greener, 'I'm out of football now' and I felt happy.
However, a few weeks and months went by and he had itchy feet again.
That yearning took him to non-League, linking up with former team-mate and friend Gary Flitcroft as a player-coach.
"Going to Leigh Genesis with Flitty and then Chorley, it showed I had the passion for it. I didn't have to be the showman now and it was a new chapter."
Spending eight years at Chorley, Jansen managed the side for three seasons before leaving in 2018. He's open to returning to the sidelines in the near future.
"Football is what I know. Whether it's helping others with my experience, management, coaching, even scouting, I'll be doing something in football. I enjoy learning and if the right opportunity comes..."
For now though, he's promoting his new book and will revisit Blackburn on September 27 for 'An Evening With Matt Jansen'.
Packed with tales of his playing days, it also documents how he turned down Sir Alex Ferguson, not once but twice, during his formative years.
Beginning his career with hometown club Carlisle, Jansen actually spent five days with the Red Devils. Looked after by former Old Trafford prodigy Ben Thornley, who was tipped to be as good as Ryan Giggs and Beckham before injury curtailed his career, Jansen also remembers dining out with the Neville brothers at Manchester's famous San Carlo restaurant.
Another anecdote he learned of years later came from a physio, who informed him Roy Keane had come in for a massage and said: 'Who's the f****** kid? He's brilliant!' after a young Jansen had trained with the Red Devils. All these years on, you can tell he is still chuffed to have received such a compliment from such a player.
However, despite impressing, so grounded was Jansen and determined to take the right path, he turned down United and elected to join Crystal Palace, thinking first-team opportunities would be more readily available at Selhurst Park.
His dad insisted he then had to do the decent thing and ring Alex Ferguson to inform him.
Jansen jokingly makes the sound of following through, such was his apprehension, before explaining the conversation: "I was nervous as hell. Then he answered: 'Who's speaking? Oh, hello Matt Jansen, Hello Matty…'
"I'm sorry but I'm going to be letting you down here," he told one of the greatest managers that's ever lived. "I've been given an ultimatum to choose between yourselves and Palace and I've opted for Crystal Palace, I think it's the best step right now for my career."
"Well, I can't say I agree with you," replied Ferguson, "But I do wish you all the best, son and I'm sure our paths will cross again in the future."
We soon discover that their paths have indeed crossed since.
After an hour in the hotel, we head to his home to get some pictures for the article.
The leafy area of Manchester's rich and famous, Alderley Edge is the haunt and home of so many United stars past and present. It's pointed out to Jansen that this likely would have been his base had he eventually made it to Old Trafford (he has heard rumours since that Ferguson was ready to activate his £15m release clause during that fateful summer)
"Sir Alex is always in here, this hotel" he says as we sit in the decadent bar.
"I play regularly on his golf days every year, too. Whenever he sees me, he says: "You ya b****r, you're the one who didn't sign for me!" then he jokes, "You only missed out on 19 trophies…"
Jansen's story is full of what might have beens. Silverware with Manchester United, England caps, World Cup appearances - so cruelly robbed from him.
However, though he sits in the knowledge the ability to realise his football dreams was taken from him, he doesn't appear bitter at all and one senses that he is contented at this juncture of his life.
"Yes, it was difficult and a bumpy road but finally coming out the other end and, with three healthy kids now, my life's not too bad," he smiled.
His dad, and everyone around Jansen, will be immensely proud of him. Whether or not he pulled on an England shirt is irrelevant, through such adversity, he's achieved so much.