The Argentina bagged his first hat-trick since 2018 in PSG's win over Saint-Étienne this week
17:00, 09 Jan 2020
"We didn't think he was going to be as good."
That was Marco Verratti's assessment of on-loan Paris Saint-Germain teammate Mauro Icardi in the wake of a three-goal contribution as PSG pursue yet another piece of silverware.
In the 6-1 drubbing of Ligue 1 rivals AS Saint-Étienne in the Coupe de la Ligue last eight on Wednesday, Icardi registered four shots, three of them on target, and netted a first hat-trick for Les Parisiens. He also threw in an assist for Kylian Mbappé for good measure. It was the first time Icardi had scored at least three goals in a single match since March 2018, last doing so for Inter Milan, who remain his parent club, against Sampdoria.
Icardi has now scored an impressive 17 goals in 19 appearances for PSG since his surprising loan move at the beginning of September, settling in well nestled amongst an intimidating frontline, and adjusting to life quite nicely in la République.
His presence has also forced the club's all-time record goalscorer Edinson Cavani to seek a new club, the Uruguayan being reduced to a single league start since Icardi's arrival with his contract expiring in June.
Icardi's révolution française is a new exciting chapter in a career narrative that has proven to be consistently intriguing and presented a character who is compelling but controversial.
02' ⚽️
49' ⚽️
57' ⚽️
Mauro Icardi has his first hat-trick for PSG!
17 goals in 19 games so far 🎯
Icardi lost a lot of fans, particularly in his native Argentina, with his involvement with Wanda Nara, the former wife of Maxi Lopez, Icardi's teammate at Sampdoria. A persistent rumour suggests that compatriot and six-time Ballon d'Or winner Lionel Messi has retained the authority to deliberately exclude Icardi in La Albiceleste set-up due to his own friendship with Lopez. Icardi has made just eight appearances for the Argentina senior side since his debut in 2013. He does, though, now have two children with Nara, whom he married in May 2014. She also operates as his agent.
The 26-year-old Icardi arrived at the Parc des Princes at the tail-end of last summer after the complete capitulation of his relationship with Inter and the Nerazzurri's ultra fanbase, a problem that had bubbled and seethed under the surface despite his proficiency on the pitch. Icardi registered 124 goals in over 200 appearances for Inter, for whom he was made captain at the age of 19.
The souring of the affections of the Inter supporters reached its nadir with the release of his (somewhat premature) autobiography Sempre Avanti ('Always Ahead') in 2016 when he was just 23 years old. Icardi recounted an incident from the 2014/15 season in which he confronted an ultra in the Curva Nord - the hotbed of Inter's passionate fanbase - after a 3-1 defeat to Sassuolo.
"I'm ready to face them one by one. Maybe they don't know that I grew up in one of the South American neighbourhoods with the highest rates of crime and people killed in the street.
"How many of them are there? Fifty? A hundred? Two hundred? OK, record my message and let them hear it. I will bring 100 criminals from Argentina who will kill them on the spot."
Subsequently, banners denouncing the skipper became commonplace. It seems you piss off one ultra, you piss off them all.
'Icardi: you're the b*st*rd, making s**t up to sell more copies. You heinous mercenary."
"You're not a man … you're not a captain … you're just a cowardly piece of s**t."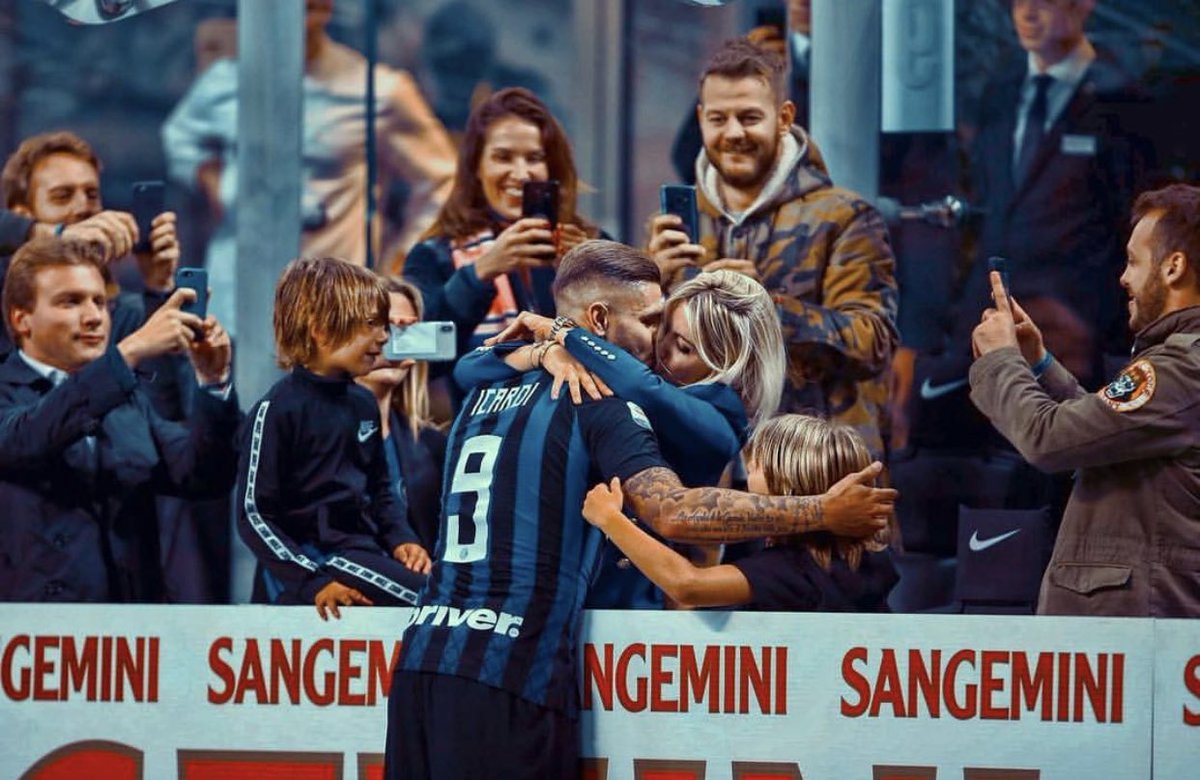 Despite the burgeoning animosity between he who plays and they who pay, Icardi finished as Inter's top goalscorer for the next three seasons to make it five in a row, and added a second Capocannoniere to his name in 2018 (after a first in 2015) as he helped them qualify for European competition. He left for France as Inter's eighth-highest goalscorer in the club's history.
"Mauro? He may not touch the ball, he knows the ball will reach him and he will score, he is always ready," Verratti told Canal+ after Icardi's latest extravagances against Saint-Étienne.
"This is Mauro's main characteristic. We didn't think he was going to be so good. The first six months are always difficult, but he is incredible and we hope he will continue like this."
Icardi completes a furious foursome which includes the world's two most expensive players, the £198m Neymar, and the £116m Mbappé being supplied by Angel di Maria on the right.
However, a permanent place in Paris may not necessarily be on the cards.
"It's his decision, but nothing's certain yet. We'll see," wife and agent Wanda recently told La Gazzetta dello Sport.
"Certainly, me travelling between Paris, Milan and Rome is easier to say than to do, but I'm able to.
"He's doing very well in France and I'm very happy about it, plus we've met many friends, so we'll see…"
Though collecting a historic Quadruple remains a real possibility, Icardi will be 27 years old at the time his short-term contract with PSG is scheduled to end, and about to enter what is generally regarded as the prime period for a forward. Regardless of the outcome of talks between PSG and Inter, the striker is sure to have his fair share of suitors across the continent.