Friday should have played for England but is best known for his wild antics
07:35, 12 Oct 2019
He kissed policemen, danced naked in nightclubs, got married at 16, retired at 25 and was dead at the age of 38. Forget George Best and Paul Gascoigne, the greatest footballing maverick of all time was Robin Friday, a player most people have never even heard of.
As a striker for Reading and Cardiff City, Friday provided an intoxicating mix of untamed aggression and sublime skill, while off the pitch his life was a concoction of women, drinking and drug-taking, not to mention numerous brushes with the law.
Born in Acton in 1952 to parents Alf and Sheila, the young Robin faced a stark choice in life, one that his twin brother Tony later revealed in a book about the star co-written by ex-Oasis bassist Paul McGuigan: "You could either have a giggle, or die." Quite simply, Friday did both.
Robin and his twin brother would enjoy a kick-about in the park as youngsters, and although it was Tony who first made the team at Rothschild Infant School it quickly became clear that Robin was a prodigious talent even at an early age.
By just 13, he had joined the Crystal Palace Sports Club before going on to continue his footballing education at Chelsea and QPR, eventually joining Reading in 1974 for a fee of £750. But he nearly didn't make it as a player at all.
While he was still plying his trade for non-league Hayes, Friday continued to work as an asphalter and, in the summer of 1972, he narrowly escaped death when he fell from a scaffolding tower. The forward landed on a metal spike which pierced his buttock and stomach and just missed his lung. Not only did the accident nearly cost him his life, he would be out of the game for three months.
After joining Reading, Friday set about kicking as many of the first-team players as he could in his first training session with the club, later claiming: "On the pitch I hate all opponents. I don't give a damn about anyone. People think I'm mad, a lunatic. I am a winner."
Such was his competitive and hard-tackling style he would often be dragged off the training field due to the constant risk he posed, not to his opponents, but to his teammates. It wasn't long, though, before he was handed his big chance in the first team.
Fourth Division Reading were struggling at the time and manager Charlie Hurley saw Friday as the perfect opportunity to inject a little creativity into his stagnant side with the Royals on a terrible run of two wins in 14 matches.
In just his second game for the club, Friday scored away at Barnsley to earn his team, who had not won on the road for four months, a precious point. "I was thinking of chesting it down and backheeling it in, but I thought I'd better not muck about," he said after the match.
He would finish his first full professional season as Player of the Year and top goalscorer with 20 in all competitions, becoming an instant hero among the fans at Reading's old Elm Park ground.
In his second season Friday's Royals ended a 50-year hoodoo in style, embarking on a club-record-breaking run of 13 consecutive home victories which ran from the opening weekend right into the New Year. It was a streak which would help to ensure the club's first promotion since 1926.
Not surprisingly his exploits quickly caught the eye of a number of top clubs, with Arsenal, Aston Villa, Manchester City, Liverpool and Leeds United all reportedly watching his every move. But, with those clubs perhaps put off by his somewhat awful disciplinary record, Friday eventually joined Cardiff City for £30,000 in 1976.
As only Robin Friday could, following a heavy session in London the night before, he caught the train to Cardiff to put pen-to-paper but had only purchased a platform ticket, leading him to be arrested. Only after his new manager, Jimmy Andrews, had bailed him out could he finally sign the contract to become a Bluebirds player.
He made his Cardiff debut on New Year's Day against Fulham, somewhat worse for wear having once again been out in London the previous night. But that didn't stop him running the Cottagers' defence ragged, scoring two goals in a 3-0 win and also grabbing England's World Cup-winning skipper Bobby Moore by the testicles.
Friday eventually finished his first season at Ninian Park with seven goals to his name, but one of those - in a league game against Luton Town - caught particular attention thanks to the celebration which followed his strike.
Having clashed repeatedly with goalkeeper Milija Aleksic, Friday celebrated scoring against the Hatters by jogging past the stricken custodian and flicking two fingers in his direction. It was an image which Welsh band Super Furry Animals would later use on the cover of their 1996 release 'The Man Don't Give A F***', a record they dedicated to Friday.
It was also as a Cardiff player that Friday got into one of his more famous altercations, clashing with Brighton defender Mark Lawrenson in 1977. Having seen red for kicking the future TV pundit in the face, the disgruntled striker broke into the Albion dressing room and left what can best be described as an unwanted deposit in Lawro's kit bag.
A reminder we have two very special mascots today - Libby and Louis, grandchildren of Robin Friday.
http://t.co/WhpZ5GiaeV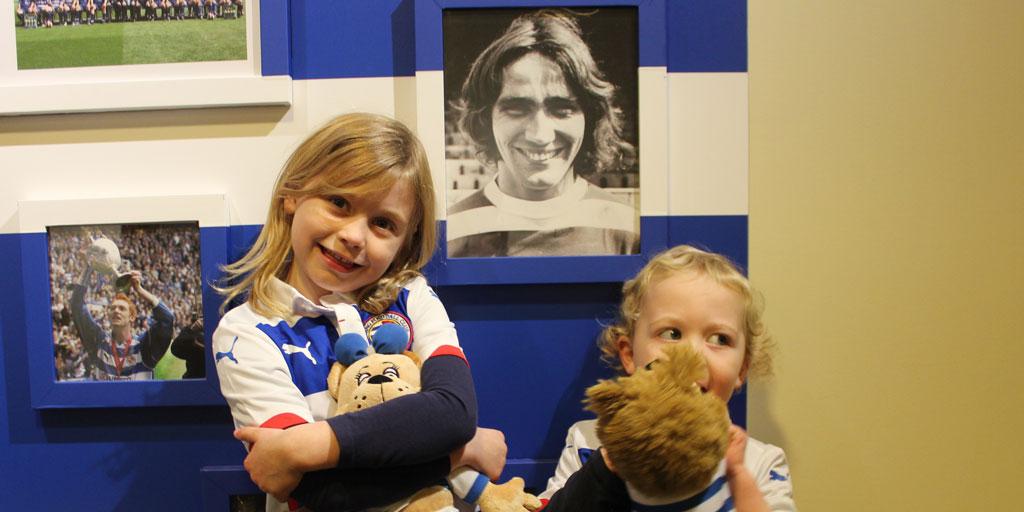 While he was happy to be regarded as a wayward warrior on the pitch, humiliating defenders and scoring dazzling goals for fun, Friday led an equally bizarre and incident-packed life off the field.
Having left school at 15, he started taking speed and methadone while attending rock concerts around London and at just 16 he was sent to borstal for robbing a toyshop and impersonating a police officer by wearing a child's helmet.
Friday made a habit out of travelling without a ticket on his train journeys between London and Cardiff following drinking binges. He would even go to the trouble of knocking on locked toilet doors, pretending to be a conductor and demanding that tickets be passed out for inspection. He would then promptly make off to another carriage with the ticket.
Following his first season at Reading, Friday spent the summer at a hippie commune in Cornwall and eventually returned to training with tattoos covering all of his fingers. They then needed to be surgically removed, meaning he had to wear a cast for a month.
He frequently shocked those he knew with outrageous acts such as carrying a swan into a hotel bar and stealing statues from a graveyard while an X-rated dance he regularly performed saw him barred from a number of bars and clubs.
Following a last-gasp goal for Reading against Rochdale during the 1974/75 season he celebrated by kissing a policeman behind the goal, claiming: "He looked so cold and fed up standing there that I decided to cheer him up a bit."
Friday's private life was almost as eventful as his public one. At the age of 17 he married long-term girlfriend Maxine Doughan, who was also the mother to their daughter Nicola.
However, the interracial relationship came with its own problems at the time, with the pair often abused and sworn at in public while Robin's father, Alf, even refused to attend the wedding ceremony.
After drifting their separate ways, Friday and Doughan divorced and in 1975 he married again, this time to Liza Deimel, a Reading-born university graduate. The high-profile wedding was covered by Southern Television.
In front of the cameras Friday, wearing a tiger-skin-pattern shirt, brown velvet suit and snakeskin boots, sat on the steps of the church and rolled a joint while guests drank, took drugs and fought with each other. Perhaps unsurprisingly, the marriage didn't last.
None of this appeared to impact on his playing ability and he often obeyed orders not to drink 48 hours before a game, instead taking LSD and staying up all night listening to heavy-metal music in order to prepare for the match.
But in December 1977 Friday fell out of love with the game which had been his life from childhood, announcing his retirement at the age of 25 and moving back to live with his parents to work as a decorator. But without the focus of football in his life, Friday's world spiralled into chaos.
He married again in 1980 but divorced for a third time three years later, seeking solace, as he so often did, by hitting the bottle. On December 22, 1990, Friday was found dead at his West London Housing Association flat having suffered a massive heart attack, thought to have been brought on by a heroin overdose. He was just 38 years of age.
Friday lived fast and died young while, as a footballer, his career lasted a mere four years. Even so, he was voted Reading's 'Player of the Millennium' in 1999 and remains a cult hero among Cardiff fans.
Soon after Friday had quit the game, Reading manager Maurice Evans was presented with a petition signed by 3,000 supporters. It requested that he attempt to re-sign Friday and pleaded with the attacker: "If you would just settle down for three or four years, you could play for England."
When Evans approached the player about a potential return, Friday replied: "How old are you?" After the Reading boss had responded, Friday told him: "I'm half your age and I've lived twice your life."
He was probably right.