How is the Leicester talisman better than ever at almost 33 years old?
16:20, 09 Dec 2019
33 years old.
The age at which Liverpool legend and former Ballon d'Or winner Kevin Keegan retired. France's first World Cup-winning captain Didier Deschamps had already called it a day at that point in his life. Dutch behemoths Frank Rijkaard and Marco van Basten had stopped even younger, at 32 and 31 respectively, the latter having not played for the previous two years after being beset by injury. Manchester United King Eric Cantona? Forget about it, the Frenchman had already packed it in by that point.
Leicester City's Jamie Vardy though?
A month away from turning 33, he is far and away the Premier League's top goalscorer in 2019/20 with 16 goals in 16 matches, five more than Chelsea's Tammy Abraham (a player 10 years his junior). He is one of the driving forces behind the Foxes' best run of form since their title-winning campaign of 2015/16.
When Leicester won their first-ever top-division crown four years ago, Vardy's 24 goals saw him finish just one shy of sharing the Premier League Golden Boot with Harry Kane. In the same season, a stunning streak saw Vardy surpass Ruud van Nistelrooy's long-standing record for scoring in the most consecutive Premier League games, breaking the Dutchman's mark with an 11th successive scoring appearance against Manchester United in November 2015.
Quite impressive for a forward who unabashedly revealed that he existed on a pre-match diet of fags, Red Bull, and Port from a Lucozade bottle.
"I can't say why it started, because I genuinely don't know, but I decided to drink a glass of port on the eve of every game in the 2015–16 season," Vardy stated in his autobiography in the aftermath of that title triumph, "I fill a small plastic water or Lucozade bottle to halfway and just sip the Port while watching television.
"My diet is not unorthodox. I just eat like anyone else - that's just how I am."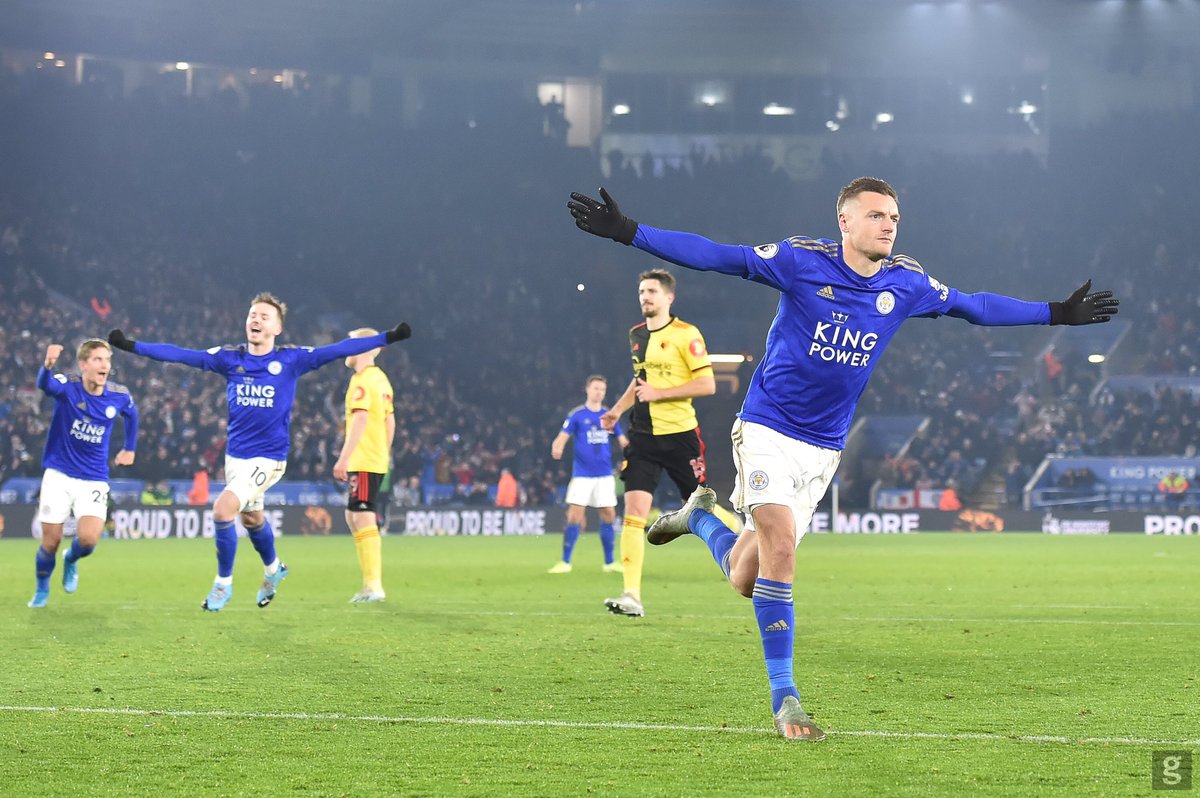 But is it how he still is? To many Vardy is a changed man under Brendan Rodgers, with the Red Bull and Port believed to be a thing of the past. But on the field he's different too, he has become a different style of forward to the one peeling off the shoulder of defenders for Claudio Ranieri's historic title-winners, and is scoring at an even greater rate now.
With his brace in a 4-1 win at Aston Villa, Vardy became just the second player in Premier League history to score in eight successive games on two separate occasions, after Van Nistelrooy did so with the Red Devils in January 2002 and August 2003. He's the first to hit the mark since he did it himself with than 11-game run in the Ranieri era.
It is the adaptation of his game that is most striking though. Once upon a time he relied on pace, sneaking in behind the lines to take advantage of the high lines of the opposition, latching onto acute balls from Riyad Mahrez, Danny Drinkwater and the ilk.
Now he plays in a forward line which sees pressure provided by younger teammates Kelechi Iheanacho and Ayoze Perez, Vardy embodying 'evolve or die', and being more talismanic than ever as a result. He is truly making the most of a superb supply from Youri Tielemans, Harvey Barnes and James Maddison, with the focus on more intricate, swift, aesthetically pleasing movement under Brendan Rodgers.
With every passing week, the Foxes are convincing more and more people that they are the most viable candidates to deny Liverpool their first-ever Premier League title. Jurgen Klopp's Reds are currently undefeated and sitting pretty snug at the summit, leading the way by eight points.
Since a controversial narrow defeat to the leaders at Anfield, Leicester have galloped to eight league victories on the bounce. Not only do their put the rest of the top tier's defences to shame (they a league best seven clean sheets so far, with Liverpool the only side to score more than one goal against them), but they're being spearheaded by an evergreen Vardy.
Proving people wrong is his speciality.
Whilst players such as Mahrez, Drinkwater, and N'Golo Kanté jumped ship after bathing in the glow of the most surprising of title victories, Vardy resisted the overtures of Arsenal, a decision that has looked more and more sensible as this particular season has progressed.
After their next game at the King Power against struggling Norwich City, two mouthwatering heavyweight clashes with champions Manchester City and apparent champions-elect Liverpool await for second-placed Leicester.
Vardy is in such a thick vein of form that he is a clear favourite to finally claim that Golden Boot come the end of the season, but Leicester should have full confidence in facing the sides they're coming up against thanks to their mercurial number nine. Who better to certify that that 15/16 season wasn't an anomaly than the man who is adept at proving it about himself.
Red Bull or no Red Bull, Vardy has given Leicester their wings this season.