Jennie Gow was in Melbourne as the planned Grand Prix unravelled
14:00, 19 Mar 2020
The beginning of a season is normally a time of high excitement as we wait to see which teams have hit the jackpot and which are far from the best.
Getting on a plane to Australia for the first race of the season, I have to say, I was filled with a certain amount of trepidation. Coronavirus was starting to close down the motorsport world, with MotoGP and Formula E losing events at an alarming rate. Yet, here was I jumping on board a 24-hour flight to go to the other side of the world and into a paddock where there was a likelihood that someone would have the virus.
However, if F1 said it was going racing then it's my job to go racing too, whatever misgivings I may have had.
As soon as I landed, the situation had changed already, with the first members of a team having been tested and quarantined. One McLaren and two Haas crew were put into isolation.
It was a glorious day in Melbourne, a city known to give four seasons in one day, but the Thursday of Grand Prix week was a delicious summer affair.
The media centre had all the usual faces sitting in front of their laptops and notebooks, and apart from the additional hand sanitisers on desks and notices to remind us to wash our hands, it felt like a perfectly normal press day.
Thursdays are all about speaking to teams and drivers and getting the low-down ahead of the race weekend. But drivers started to speak from behind barriers – a throng of media tightly packed behind asking questions.
Broadcasters were asked to respect the drivers and not get too close, but there was a sense of unease around the paddock and all anyone wanted to talk about was the virus and whether we should have come to Australia.
About 200 press and photographers packed in to a small meeting room in the media centre to hear from Daniel Ricciardo, Williams' debutant Nicolas Latifi, Sebastian Vettel and Lewis Hamilton in the F1 Press Conference. One of the first questions was 'Should we be racing in Australia?'
Lewis Hamilton stuck his head above the parapet and answered bluntly, "I am really very, very surprised that we're here…for me it's shocking."
He went on, when asked why he thought we were all in Australia in spite of the coronavirus outbreak, to say, "Cash is King". They were a remarkable set of quotes from a man who transcends Formula One and is a global superstar.
After those interviews we all piled out of the room and the 5 Live team recorded our usual podcast, but rather than doing it in the middle of the paddock we made the decision to leave the area and make our way to the beach. It seemed less risky there than being in a location where we knew people were being quarantined.
That night, climbing into bed for the first time since Monday, my phone pinged – a message from McLaren saying one team member had tested positive for Covid-19.
Surely, I thought, it was only a matter of time before the FIA and F1 would announce the GP was off. The McLaren announcement was at 10.30pm. F1 issued a holding statement acknowledging the situation but then there was nothing.
We waited all night as news was expected but nothing came. It was excruciating, and speaking to team members there was confusion. Were they meant to be sending their teams to the track in the morning? The clock ticked on and still no word.
BBC sources told our Chief F1 writer, Andrew Benson, that the race was definitely off but, with no official statement, there was very little we could do.
I grabbed a quick one-hour nap – it was now 6am and after speaking to more teams very few people knew what was going on. Marshals were heading in to the track, as were fans, and you could hear in the distance the two-seater Minardi starting to drive around the circuit. It felt like business as usual but we knew the race was off. In fact, we had team personnel contacting us to see if we could give them more information.
If the race was to go ahead it would be 'behind closed doors' according to Daniel Andrew, the state premier. Yet no word had been sent to the thousands of fans expecting to watch the Friday action. They gathered together at the gates and just two minutes before they were due to be opened, fans were told by loud speaker that there was a delay
Formula One fans are reeling this morning following the shock announcement that spectators will not be allowed to attend this weekend's Grand Prix in Melbourne.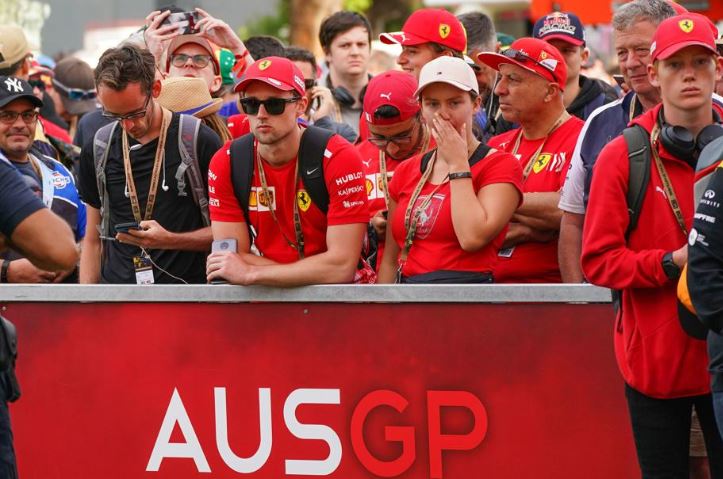 Still there was silence from F1 and the FIA but the big boss, Chase Carey, had just landed from Vietnam so maybe we'd hear something soon? Nope, the next news was a leaked travel itinerary saying that Sebastian Vettel and his former teammate Kimi Raikkonen had both flown out of Australia already. As it turned out, a vote between the teams overnight, in which they decided they needed to take control of the situation, meant Ferrari would not take to the track whatever the organisers decided.
In the other corner, Red Bull wanted to carry on and race – seeing the decision as one that should be made by those in charge and not the teams.
Mercedes were next to move, critically. They issued a statement requesting the cancellation of the Australian Grand Prix and two minutes later, finally, the FIA and F1 made the call and announced the race was cancelled.
It seemed like the longest decision-making process ever. Legal wrangling had slowed the announcement down but many were left with a very bitter taste in their mouths. How could F1 have got it so wrong?
Wearily, the paddock started packing down to come home, flights were changed. More team members were put into isolation and left in Australia while others hurried to get back before more borders were closed.
It was one of the most surreal sporting weekends of my life. Bahrain, Vietnam and China are also off, with more races set to be slashed as the world tries to tackle the coronavirus pandemic. At a time like this F1 seems like a trivial issue but decisions need to be made, personnel need to be cared for and somehow racing needs to find a way to continue after this has all finished. The future is very uncertain.