Rob Pope has ran across the United States of America a total of five times
06:55, 13 Mar 2020
Rob Pope is a 42-year-old vet from Liverpool who describes himself as "your average talkative Scouser, who manages to go for the odd very long run".
These "long runs" Rob is referring to include running across the United States of America.
Five times.
Australian marathon champion in 2015, top Brit in the Marathon des Sables - dubbed the hardest race on Planet Earth - and the only recorded person to have run across the United States of America three times in a year.
For the latter, that's 15,607 miles in 422 days, or as Rob likes to describe "a distance equivalent to running from the North Pole to the South Pole, and about a third of the way back".
Fittingly, for the man who loves the odd mammoth jog, he adopts Forrest Gump as his role model, and has gained attention for going the full Daniel Day-Lewis as he made his way across the US. Covering roughly 40 miles a day in the exact get-up adorned by Tom Hanks in the 1994 film - "My research was almost a challenge in itself, my hair and beard were freakily identical at the end of the same space of time" - and raising money for WWF and Peace Direct.
The reason for these two specific charities comes from a direct quote from the movie, where reporters ask Forrest whether he was running for women's rights, world peace, the homeless, animals or the environment. The two charities umbrella all the aforementioned.
Having finally returned to Britain to be with his wife and daughter, Rob is now the new host of Red Bull's first UK adventure podcast 'How to Be Superhuman', a weekly series where he interviews people with their own incredibles personal tales of extraordinary feats.
In regards to the more bombastic element of the title of the show, Rob has a more down-to-earth approach, particularly when it comes to himself being the face - or more appropriately the voice - of the podcast as a man who has transversed the US by foot more than any other.
"I think people look at it and see that not everyone is going out and running 15,000 miles so they'll think 'he's superhuman'," Rob tells The Sportsman. "But ultimately we all set our limits a little bit and there's a very pre-subscribed idea as to what you're meant to do, not to rock the boat, go to work, do your job, have the 2.4 children.
"Of course, psychology has proven that some people are mentally stronger than others but we know so little about the capacity of the human brain and what it can make us do. People have proven to do superhuman things when they've been thrust into extraordinary situations so maybe we should place ourselves more into extraordinary situations and see what we're capable of."
Rob insists that running is just "his thing". It's just a very normal part of his life. "I'm not one of the ones to wax lyrical about it being my favourite thing, it is just 'my thing', it's just such an integral part of me," he says.
"I did a lot of running when I was at school, but then I would just find myself going on these longer runs. When I was at university, there were two campuses about 15 miles apart and I would just find myself running between the pair of them instead of hanging around for the train.
"I've found it a good way to lose yourself for a bit.
"I just know that I am worse off if I don't have it. It's an essential. When I was coming back from injuries from the gradual wear and tear of doing that epic run, and I couldn't run, I noticed that I was a lot more stressed. The lack of running became the aggravating factor."
There is of course always the danger that he may be pushing himself too hard. "I know biomechanically I definitely changed on the run and I suffered for that afterwards in terms of not being able to run normally and it's taken quite a lot of rehab to do that.
"If I had had a support crew or a physio that might not have been the case, but I was just having fun. It was an adventure and maybe I was playing fast and loose with things. I was definitely lucky to pull it off. I wasn't going to give up when I still had the motivation to do it and I could continue.
"The mental pressures were there, whether I was being supported at the time or not. The mental side of things I definitely found harder than the physical. I definitely could have gone for more miles each day. When I was really in the groove and I was pushing 50 miles a day I knew I could do even more, but it just wouldn't have been fun."
Across the miles and miles of the States, across a variety of terrain, deserts, mountains, cities, Rob's general process whilst putting one foot in front of the other was basically thinking about where the next meal was coming from, and where he was going to be staying next.
"I did try and listen to a couple of podcasts but because I always had stuff to think about I was just getting frustrated and not concentrating on what I was listening to. It was however a great opportunity to listen to music, running through the desert and listening to the likes of Neil Young, as it was a one-man road trip, travelling in slow-motion.
"Overall the ability to see what I saw just on my own two feet was more than a once in a lifetime experience."
Rob Pope presenting his brand new podcast 'How To Be Superhuman'
Like any mortal there were days on the road of the 2,680 mile-long of the mainland of the country where Rob just didn't feel like getting out of bed. The feat was ultimately accomplished by making the harder decisions than the easier ones.
"It was having the mentality of 'Well, you did it yesterday, you did it the day before' so you just crack on. Basically, think about waking up on a Tuesday morning and you don't want to go into work and you say to yourself 'If I don't go into work, my boss will go mental' so I basically just became my own boss. I always said to myself, if I had seven bad days in a row, I'd quit."
Rob concedes to having a slight breakdown about 400 miles into his first leg after a major injury that left him, in his words, "sobbing in the arms of a gas station attendant".
"Gradually I composed myself and got across Texas. When I got my next injury, I didn't care because I had already run across Texas. That then became the foundation for carrying on."
Rob needed quite a high calorie count to keep himself going per day, around 6000kcal. "I loved getting the calories in. Other people complained about the high intake but I'm ten stone and 5 ft 7. The only time I really struggled was at the start when it was really hot, and at one point I had just ham salad sandwiches with catalina dressing for about four months."
It's estimated that 1% of the world's population will attempt a marathon in their lifetime, and it's an experience Rob is certainly no stranger to, completing his first London marathon in 2002 .
Beginning a trans-continental run creates something different internally, Rob explains. "Fear is often about the partial unknown i.e. the chances of getting eaten by a shark by swimming in the ocean. The thing was that it was the complete unknown, and because I literally knew nothing about it, I couldn't have any fear. It was just a bit of a jolly, 'let's get going'.
"When I get to the end of a trans-con, I get the feeling of what I imagine an Olympian would feel like, knowing you want to get to the next Olympics but that's four years away."
Across the multiple journeys, there was one particular location that Rob specifically looked forward to crossing. "Reaching the Mississippi was always special because it's one of the great cultural and geographical locations in America. For me and my journey it was almost like a net on a tennis court, cross the Mississippi, hit an ace and turn around."
Furthermore, in the film Forrest Gump Forrest only came to the attention of the public when he ran across the Mississippi for the fourth time. The expedition wasn't just about trying to emulate Forrest Gump's feat, however. It was also using inspiration from the sheer personality of the character.
"There is a universal love for the film," Rob elaborates, "You can't go through a town without someone mentioning that they saw it on television the night before. But it's also the way the character went about his business. He never judges anybody, he was always kind, and did what he could do in the best way possible. I think he was just a man for everyone.
"If everyone was a bit more like Forrest then the world would be a better place."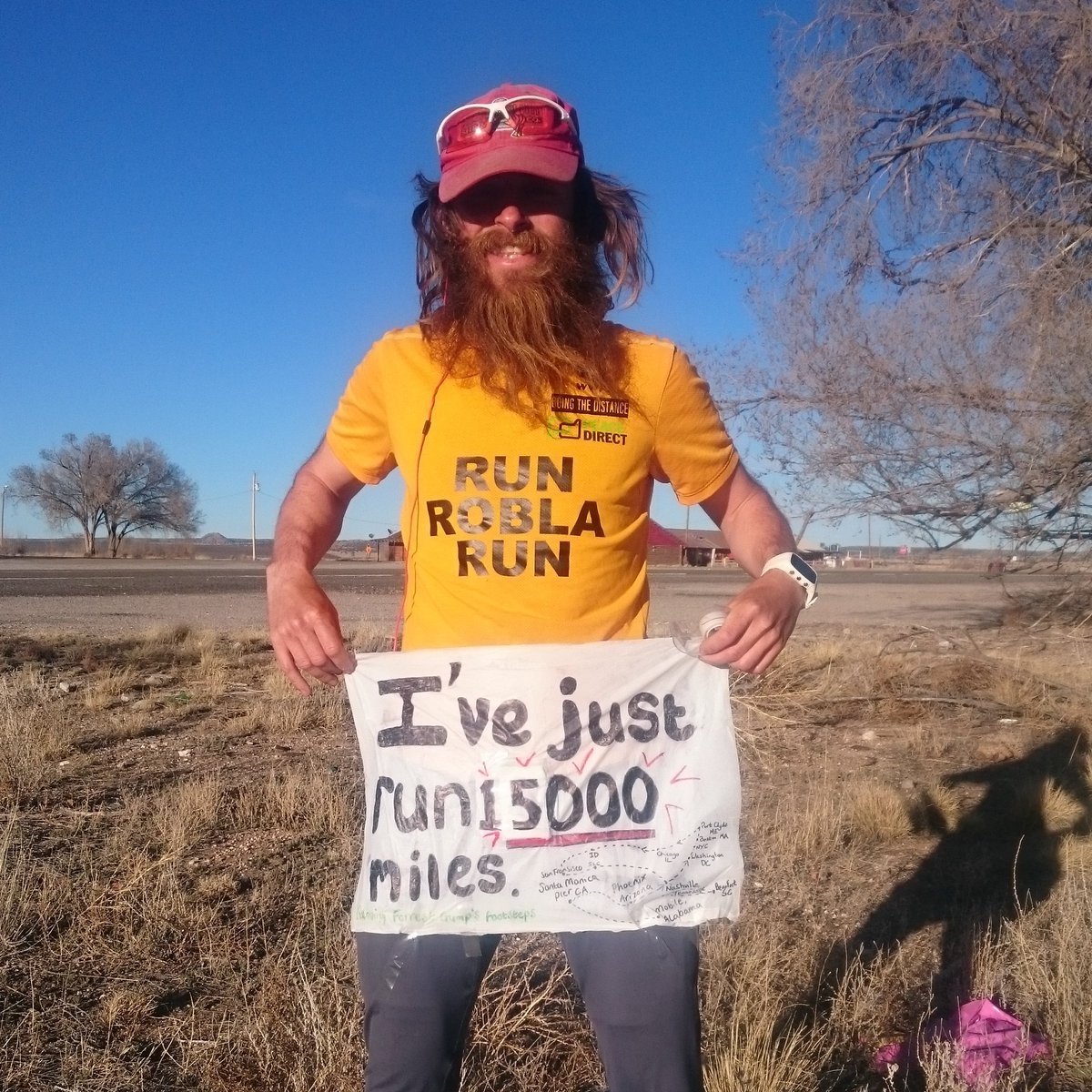 This lack of fear - and specifically not letting fear create limitations - permeates into Rob's podcast.
"There are athletes that you speak to and they are supremely confident in what they do," says Rob, "For someone like myself, I'm not trying to downplay what I've done but there was certainly no 'grand-plan'. It may be more of a case that all of us have the ability to do something like this and I was the proof in the pudding."
There is a diaspora of guests listeners expect to hear regale their own exceptional feats, with individual stories ready to resonate. "Ed Jackson broke his neck diving into a pool and was paralysed from the arms down and was told that he would never walk again," says Rob, "He's now climbed Snowden and he's aiming to become the first paralysed athlete to get to the top of Everest.
"We've also got Mollie Hughes who's climbed two routes of Everest. She's just returned from skiing to the South Pole. Diana Nyad, the first lady to swim from Florida to Cuba at the age of 64. Yusra Mardini, a Syrian refugee who had an RPG hit her training pool and had to flee the country, her and her sister Sara pulled a boat of 20 other refugees to safety.
"Tim Don is the world's Ironman record champion. He set that before he broke his neck but he broke it before he was meant to compete in the World Championships in a training ride, with his neck being stabilised by attaching a titanium carbon fibre frame into his skull."
Six months later, Don ran a marathon in a time of 2 hours 49 minutes.
"There's a theme that runs through them," Rob continues. "I don't think any of them would have ever accepted not trying and giving their absolute best. You could go gladly into any competition alongside these people knowing that they have your back and they would give everything of themselves to succeed.
"I think a lot of the stories are still to be written. We're hoping that some of the people who listen to this podcast will become guests in the future. Why not? The whole point of this podcast isn't to give guests a pat on the back, they would probably feel uncomfortable about getting one.
"We're trying to create a constant stream of incredible achievements which people can be inspired by in years to come."
To listen to the first two episodes of 'How to be Superhuman', head to: www.redbull.com/superhuman