It's another Boxing Day match-up between the Red Devils and the Magpies
12:00, 26 Dec 2019
For the third and final time of the 2010s, the Boxing Day Premier League fixture list brings us Manchester United versus Newcastle United.
The last meeting between the two, at the beginning of October, saw a surprise win for Newcastle at St. James' Park when the Magpies were languishing one place off the foot of the table, with just a single win in their opening seven matches. It also meant Steve Bruce recorded his first win over Manchester United in 23 attempts as manager.
There have been some classic matches between the two Uniteds over the years, and The Sportsman has selected six of the best.
Newcastle 0-1 Manchester United: March 1996
Those mind games didn't half work, right?
The story is age-old now but one Manchester United fans - and indeed Premier League observers of the 90s - love recalling; Newcastle had steamed 12 points clear by Christmas under Kevin Keegan, who was seemingly marching his side to their first Premier League title, and what would have been their first top-tier championship in nearly 70 years.
But a series of poor performances beginning in February saw Newcastle tally just one win in five, with the tide firmly beginning to change with this Man Utd victory in Newcastle's yard. Talisman 'King' Eric Cantona produced the decisive goal and reduced the deficit to a single point, latching on to a Phil Neville cross at the back post. It might not have been the prettiest, but few goals were so imperative.
Sir Alex Ferguson's men had fought a tough battle, and a Newcastle loss to Liverpool and one memorable rant by Keegan later, Manchester United were champions once again.
#OnThisDay
in 1996, Eric Cantona scored the all-important winner as
@ManUtd
beat title rivals Newcastle on their way to
#PL
glory
Newcastle 5-0 Manchester United: October 1996
Revenge was sweet on Tyneside mere months after seeing the title slip through their fingers and, boy, were Keegan's side with cutthroat.
Almost everyone in black and white got on the scoresheet (forgive the hyperbole). Questions about Darren Peacock's first goal crossing the line led to remonstrations by Man Utd's Peter Schmeichel and Denis Irwin, but it certainly gave Newcastle the impetus to push on. One failed penalty shout from the visitors later, David Ginola dealt further damage, allowing the Toon to take a 2-0 lead into the break with a simply stunning effort. Les Ferdinand and Alan Shearer produced the goods on the other side, before Philippe Albert's aesthetically-pleasing chip produced the icing on the cake.
Few Newcastle fans will forget this day...
On this day in 1996, they hammered Man Utd 5-0.
Philippe Albert 👌
#NUFC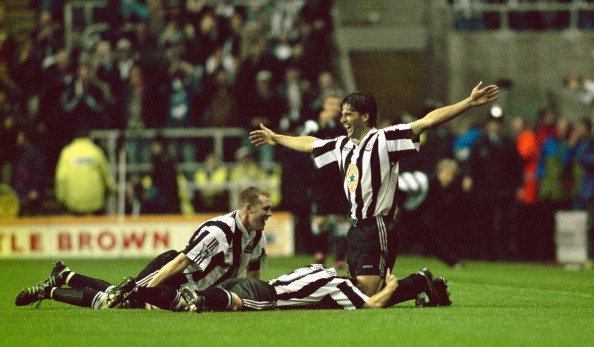 Newcastle 2-6 Manchester United: April 2003
One of the last times the Magpies were truly worthy of considering among the challengers at the summit and double-dealing with European contention. Though they finished in their highest position in the 21st Century, Manchester United put them to the sword with a 6-2 riot before the season was up, the second of a dire three-match series of defeats for Sir Bobby Robson's side that once again saw them slip from title contention late in the campaign. Newcastle took the lead through Jermaine Jenas, but then it was simply champagne football from Manchester United, with Ole Gunnar Solskjaer and Ryan Giggs contributing in the first half to complement a Paul Scholes brace, with three of those goals coming in the space of five minutes. This game had everything. Scholes made it a hat-trick, there were bruises and battles, and it even had Titus Bramble giving away another penalty, which Ruud van Nistelrooy tucked away.
One last Paul Scholes tweet.🇾🇪
This Hat-trick vs Newcastle. Masterclass 👌🔥

Manchester United 6-0 Newcastle United: January 2008
This was Man Utd in their pomp, Sir Alex Ferguson's last great team absolutely loving life when they could certifiably claim to be one of the best sides in Europe. Cristiano Ronaldo was ripping up the Premier League in his penultimate season at United, forming a devastating, thunderous triumvirate with Wayne Rooney and Carlos Tevez. CR7 claimed his first hat-trick for the Red Devils in this demolition.
Incredibly, despite numerous penalty shouts, the first half ended in a 0-0 stalemate. After the break, though, it was a different story, and impervious centre-back Rio Ferdinand even got in on the action with a thunderous volley from a pristine Rooney cross. But the day belonged How Manchester United fans now clammer for days like this to return!
.@Cristiano fires in his second en route to a hat-trick v Newcastle in 2008.
#MUFC
Manchester United 4-3 Newcastle United: December 2012
A Boxing Day bonanza against which the upcoming fixture will be judged. Right-back James Perch scored an early goal for the visitors before another defender, Jonny Evans, responded with a peach to give the hosts an equal footing. And then he went and scored at the other end mere minutes later to unintentionally restore the Magpies lead going into the interval.
Patrice Evra retaliated after the break, before Newcastle broke ahead yet again through Papiss Cissé. The season's stand-out star Robin van Persie pulled United back into it, then it was up to 'Little Pea' Javier Hernández to claim all three points from an exquisite Michael Carrick cross to send the Stretford End into raptures.
Happy Christmas!
@CH14_
netted the winner in a dramatic Boxing Day clash vs Newcastle in 2012. The game finished 4-3.
http://t.co/3ARF3Ipfdt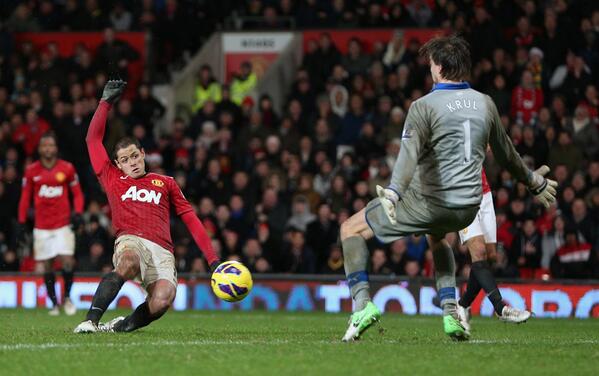 Manchester United 0 -1 Newcastle United: December 2013
Far from an actual classic but its inclusion is significant for its location. Yohan Cabaye scored just after the hour mark to record Newcastle's only victory in their last 34 league visits to Old Trafford.
This was additionally notable as it arrived during the ill-fated David Moyes era for the Red Devils, when rival clubs, registering that the Theatre of Dreams wasn't the impenetrable fortress once thought, started defying records willy-nilly.
#OnThisDay
in 2⃣0⃣1⃣3⃣
Newcastle United beat Manchester United 1-0 at Old Trafford, with Yohan Cabaye scoring this memorable winner. ⚽ 🙌