Hull KR are preparing for their huge encounter with Catalans Dragons on Thursday and we caught up with the boss
21:05, 29 Sep 2021
When Tony Smith took the Hull KR in 2019, I'll confess, there was part of me that was asking; why?
If there's one coach in Rugby League whose CV leaves him with nothing to prove, certainly in the Northern Hemisphere, It's Smith. The former England and Great Britain coach lifted the Betfred Super League title with Leeds, and lead Warrington to a resurgence, which saw them lift the Betfred Challenge Cup three times from 2009-2012.
When he left the Wire in 2016, Smith had the look of a man ready for a break from the game, and he said as much himself, hinting that his next job might not be in Rugby League and admitting to being disillusioned with parts of the game.
If we were to see him back in the Super League, I felt like it would be at one of the traditional big clubs, a club that would be regularly challenging for silverware, which made the move to Rovers an even bigger surprise. Two years on from being promoted back to the top flight, KR had plateaued and it looked as if Smith was signing himself up for annual relegation battles at Craven Park.
The journey they have been on together since then, has been remarkable. Smith steered the Robins to safety in 2019, before receiving something of a reprieve in 2020 when relegation was scrapped due to the pandemic, and the withdrawal of Toronto Wolfpack.
Despite finishing bottom of the pile, the signs were there that Smith was starting to build something at the Rovers. They had turned into the Betfred Super League's great entertainers, the neutral's favourites, and it felt like they were just a few pieces of the puzzle away from really challenging.
Now, the Robins are just 80 minutes away from Old Trafford, and Smith admits that his time at Rovers has re-ignited his love for the job.
"I've fallen in love with coaching again," he tells me with a glint in his eye. "I've got a great bunch of people, and that makes a huge difference. When you enjoy the people you're working with as a coach that makes it pleasurable."
It's telling that Smith has attributed his enjoyment at Hull KR to the people around him. The joy of watching this Rovers side, even as a neutral, has been watching players come from way off the radar announcing themselves on the scene.
Jordan Abdull was 100/1 to win the Steve Prescott Man of Steel award at the beginning of the season. Last week he was confirmed as one of the five shortlisted players.
Mikey Lewis was sent on loan to Betfred Championship side York earlier on in the season, yet he made the Warrington defence look foolish.
There's countless other examples, Ben Crooks has gone through a renaissance at Craven Park, Ryan Hall has flourished again after a frustrating time in the NRL. Jez Litten, Dean Hadley, and George King have had a huge part to play in the clubs rise in the last 12 months. I could list plenty more.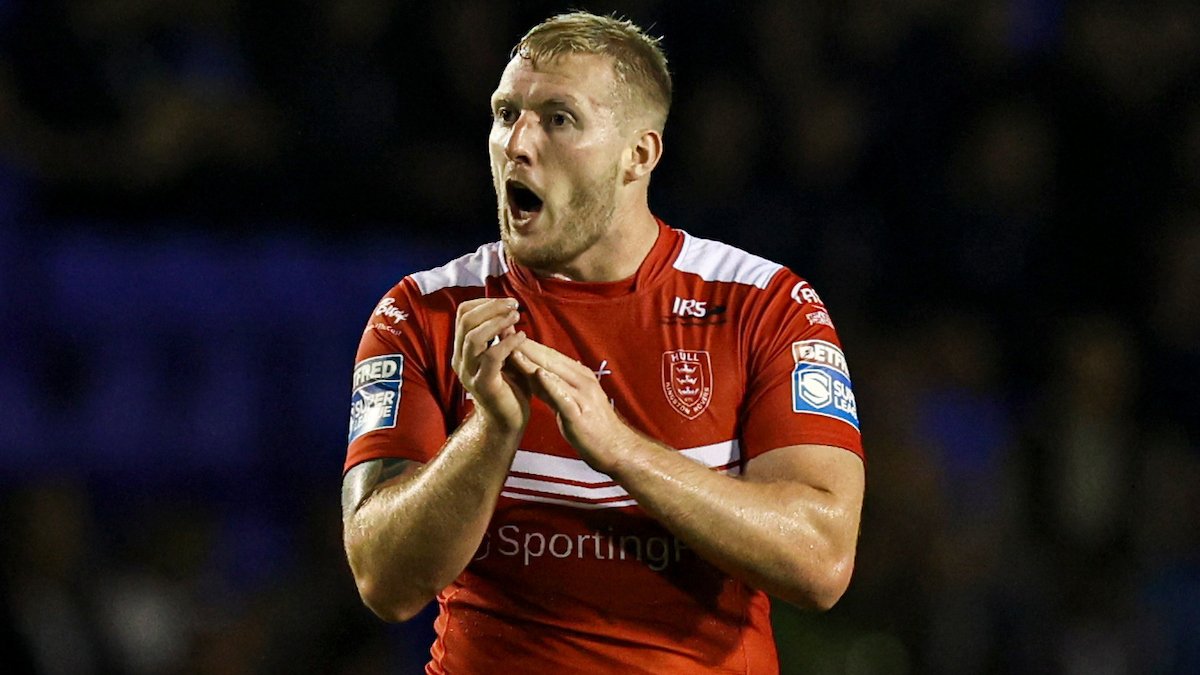 The effect that Tony Smith has had on these careers is clear for the eye to see, and the pleasure that he has taken from watching this development is evident.
"I love watching young players develop," he explains. "I still love watching the old players do what they're good at, but what Mikey Lewis did last week, I absolutely love it. Making a safe environment for young players and old players to try things and back themselves, but also get them to understand when the right time is, I love all that."
It's not all been plain sailing for Rovers up until this point. Throughout the season they've probably been the club most affected by the pandemic, going weeks between games at time and losing key players to positive tests and isolation. They've hit rough patches of form at times, and have an injury list that no club will envy.
Despite all this, they've bounced back from every bump in the road, and there seems to be a resolve, a stubbornness and will to win about this side that makes them a difficult proposition for any opponent, as Warrington found out to their peril last week, and Smith is quick to praise his players for this resilience.
"We've had our ups and downs in that respect. Overall I put our season down to being reasonably consistent in terms of effort. It is difficult when your season is disrupted," he says.
"We felt that we were just starting to get on a roll before we had our covid breakout, but that's only a guess, we could have gone into a slump. It was difficult coming out of it, but we did, and that shows the character of players that we've got here and the leadership in the group."
Of course, there is still a sizable obstacle between them and a place at the Old Trafford in a week and a half's time.
Catalans Dragons have been outstanding this season. Inspired by Sam Tomkins and James Maloney, the French side were worthy winners of the Betfred Super League Leaders Shield, and where in previous seasons there have been questions about the mentality and steel of Le Dracs, this group feels different. They have the look of winners about them.
They face that Rovers will have to make the trip to the South of France, to a packed out Stade Gilbert Brutus makes the assignment even tougher, but in many ways this is a free hit for Tony Smith's side. Nothing to lose, and everything to gain. It's an opportunity that Smith says his side working hard to make the most of.
"I hope we put in a spirited effort, and that will give us a chance. As much as you want to be able to replicate certain performances, every week is different week. We're over there and we've got a day of travel, so we're going to do best we can, and hopefully that will be good enough."
It's easy to get bogged down into the mechanics of a game of rugby league. We're probably all guilty at times of being too technical, and focusing on individual players or moments, but ultimately I think every single sports fan is a little bit of a romantic.
Whatever happens on Thursday night, Smith will only be replicating what he has he has already achieved with previous clubs, but yet there is something about this story, and this group of players that makes it feel like this season will always stand out with distinction in his career and even if he doesn't make another final, or lift another trophy, Smith will also look back on this year with particular fondness.
"I'm really enjoying it, and I keep saying it but this group of people, they make it or break it," he says. "It's the people, it's not whether we win a trophy or not, it's the people. Whatever happens it's been great, and it's right up there for me in terms of enjoyment."
Indeed, that word; "people" came up a lot in our conversation, and there's one person who has been at the centre of the Hull KR story, despite not being able to take the field; Mose Masoe.
The former Rovers captain suffered serious spinal injuries in a preseason game in 2020, and the Rugby League world has watched on in shock and awe throughout his recovery process, learning to walk again, living life to full, and smiling throughout, and Smith says that the Samoan international has still played an important role in the Robins revival:
"It's not a 'lets do this for somebody' it's not about that. He's one of us. He might not have a number on his back, running out onto the field, but he's part of our team. He inspires us, still does, comes to training regularly to hang out and give support. He motivates us, we love him. Does it help our players and bring out the best in them? Absolutely."
Hull KR are underdogs on Thursday, and rightfully so. They won't mind that, they've been underdogs all year, so what.
But as Tony Smith will tell you himself, this story is not really about Rugby League, it's about people, and at the centre of it is a person who has fallen in love with that this great game can do to you again.
Whatever happens, the Betfred Super League has been a much brighter place for Smith and his Hull KR side.