The heavyweight is gearing up to fight Andy Ruiz Jr in Saudi Arabia and has plenty of support in his corner
07:01, 30 Nov 2019
Anthony Joshua is gunning for revenge.
He takes on Andy Ruiz Jr in Saudi Arabia on December 7 with the sole aim of taking back the titles he lost to the Mexican-American at Madison Square Garden in June.
Ruiz Jr dropped the British heavyweight four times in the first meeting, but AJ will be ready for battle in Diriyah after months of preparation with a massive team behind him.
But he isn't just getting help in the ring. The Sportsman takes you through the trusted lieutenants helping him prepare for the clash.
Leon Skinner - The Actor
Skinner is always there in the weeks leading to Joshua's fights. Without having a specific remit, he is the man AJ can turn to at any time of the day. His right-hand man.
The former actor once appeared on the big screen alongside Dame Judi Dench and Cate Blanchett in 'Notes On A Scandal'.He also played Jevon in 'Fill Me In', which was a Sundance Film Festival nominee.
Skinner co-founded The Hangout in 2014 and now works as a director for the social events brand.
A bit of a 'Jack of all trades', then.
Ben Ileyemi - The Cousin
Ileyemi is Joshua's cousin but that didn't stop them having 'wars' back in the day.
The relatives would often spar together but Ileyemi is now essentially Joshua's bodyguard, attending every event with him.
AJ owes, in some small part, his success to Ileyemi as it was his cousin who urged him to become a boxer at the age of 18. Turns out it was the best bit of advice the former champ could ever have received.
Gang Gang! What's good Saudi! We heaayyyy 💯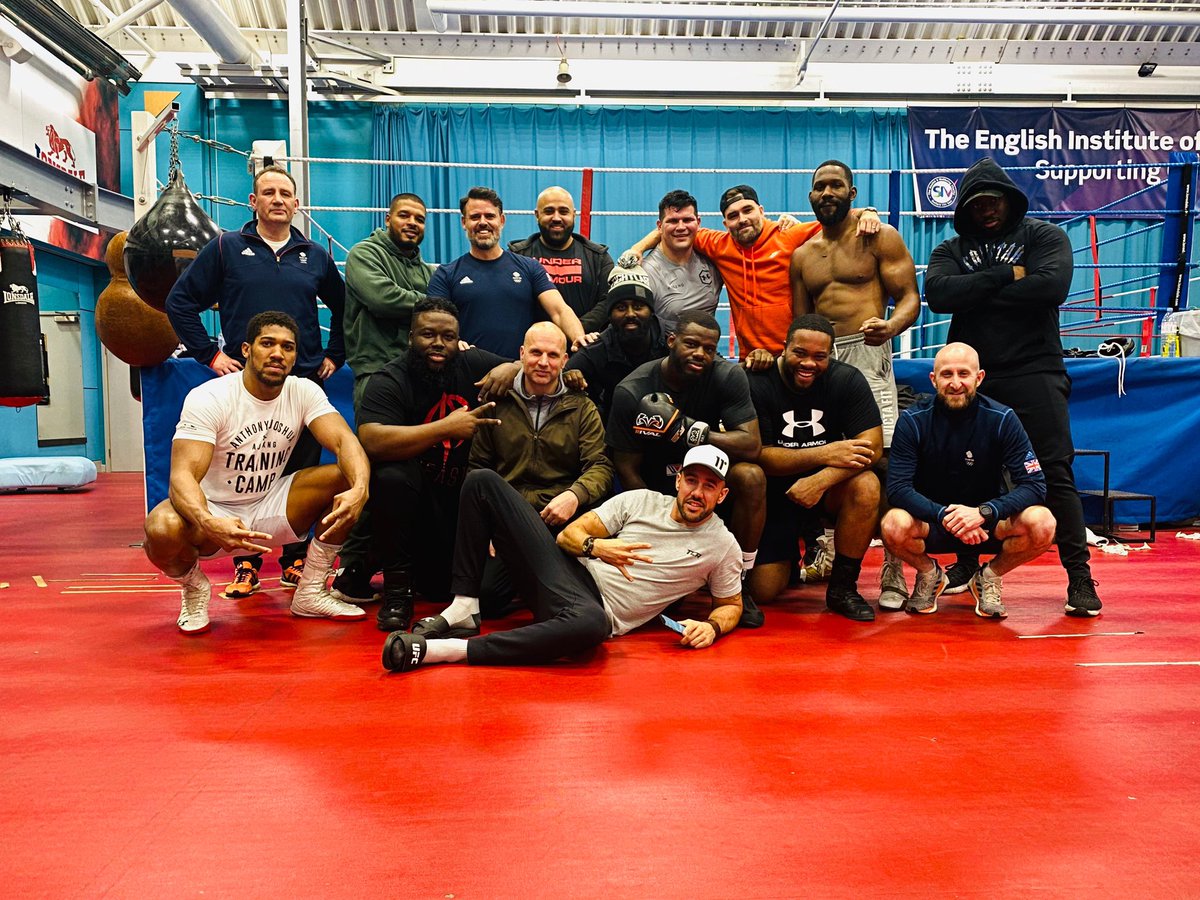 Rob McCracken - The Boss
McCracken took over as Joshua's head trainer just over two years ago having known the heavyweight since he joined GB's boxing programme in 2010.
After the initial defeat by Ruiz Jr there were calls for Joshua to part company with the 51-year-old but the pair have stuck together.
He was a boxer himself back in the day, once fighting American Keith Holmes for the WBC World Middleweight title. The bout, which headlined the main UK show leading up to Lennox Lewis' New York clash with Michael Grant, went the way of Holmes with an 11th round stoppage.
Joshua isn't the first high-profile boxer McCracken has managed, as he is also the former trainer of Carl Froch.
Jamie Reynolds - Mr Velocity
Mr Velocity is the man when it comes to helping athletes at the peak of their powers who want to push themselves that little bit further.
Working with Joshua as his strength and conditioning coach, he has also put Marcus Rashford and Eden Hazard through their paces.
Watford striker Troy Deeney, good friends with AJ, is another who has worked with Velocity and said of the trainer in an interview with FourFourTwo: "About six years ago I saw a friend of mine training with him and I thought 'That's a bit different.' I'm always open to trying new things to develop myself physically and the training we do is really high intensity and tailored specifically to my game.
"He's the first trainer who told me what physical attributes I needed as a striker, my strengths and weaknesses, and then said: 'I want you to keep working at your strengths.'"
Freddie Cunningham - The Commercial Guru
Joshua's main focus may be his fight but Freddie Cunnigham is on top of everything outside of the ring.
Manager of AJ's AJBXNG, the commercial brand the pair former in 2015, he is responsible for growing the fighter's image and popularity.
They previously worked together as part of a subsidiary of Jenson Button's agency Sports Partnership.
Cunningham maximises AJ's name by maintaining current relationships with partners while also looking for fresh opportunities and development.