From fighting 'Popeye' to filming Rocky IX, there are plenty of things the UFC champ could reveal
16:55, 23 Oct 2019
Conor McGregor heads to the homeland of his nemesis, Russia's Khabib Nurmagomedov, this Thursday to meet the press and make a mystery announcement on his future plans.
So, what could those plans be? Alright, it's probably whiskey, but as the internet slowly melts with anticipation, The Sportsman has made some alternative, informed guesses (and a couple of uninformed ones too)…
Khabib 2: Return to the Octagon
McGregor may have been out of action for a year but he could be set for a comeback.
The 31-year-old hasn't stepped into the Octagon since he fought Nurmagomedov last October at UFC 229, a fight which saw him tap Khabib in defeat, mumble "It's only business" and then watch in amazement as his opponent sprung over the wall to commence the mother of all brawls with his entourage.
If it was only business, it wasn't a great day at the tills. Khabib got to Conor's friend Dillon Danis with a flurry of fists, just as Khabib's close friends and family met Conor inside the ring with some big slap action and the Nevada State Athletic Commission got to both fighters with a six-month ban and fines of $500,000 and $50,000 respectively.
So obviously, we want to see them fight again. He's in Russia after all. Bookmakers Parimatch, for whom McGregor is a brand ambassador, revealed: "Perhaps he will make statements about his imminent return to the octagon." If there's one thing we know about the UFC, it is that anything's possible.
If Khabib is busy then he could always take on the Russian 'Popeye', Ruki Bazuki, who injects Synthol (the muscle oil, not the mouthwash) into his biceps to make them big enough to see from space, if big biceps are the kind of thing you want to look at from outer space.
In this fight we'd back McGregor, as Bazuki lost his first MMA bout, submitted by an elbow choke move placed around his 24-inch bicep!
Ruki Bazuki aka the Russian 'Popeye' who injects Synthol into his biceps to make them the biggest in Russia, lost in his first MMA bout.
He was taken down and submitted by an elbow choke based around his 24-inch bicep... 💪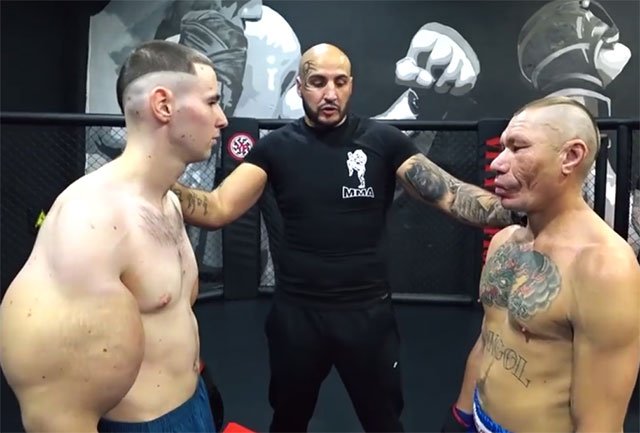 Following Tyson Fury to WWE
Back in 2016, Conor was somewhat philosophical on his views concerning wrestling. "For the most part, those WWE guys are pussies to be honest," the Irishman mused. "Fair play to Brock [Lesnar], he fought, but he was juiced up to the eyeballs. How can I respect that?"
And then, of course, Conor being Conor, he changed his mind completely and teased in a tweet earlier this year that he might actually try his hand at wrestling after all.
"Congrats to Ireland's Becky Lynch, the WWE's first Champ Champ," he tweeted in April after Wrestlemania 35. "Wow! What a match these ladies put on! Ronda Rousey is something special in that ring, as is Charlotte Flair of the Flair dynasty! Stephanie McMahon you are right, I could not do what these athletes do. Or could I…"
Brock Lesnar, 42, is no longer in WWE sadly, but in fairness he has always been pretty clear on what he thinks about the two gladiators meeting in any combat situation: "I take s***s bigger than that kid. Come on."
Fighting the same bear as Khabib Nurmagomedov
Here in Britain we have a strong tradition of greeting bears with marmalade sandwiches and nicknaming them after whatever station we found them in. In Russia of course it's more: "Hello bear, let's get it on! Fight!" Yes, as a youngster, just a few days after his ninth birthday, Khabib wrestled a bear cub.
Now, two things to note: Conor has a lot to prove after being so easily crushed by his opponent, and Khabib has said he'll only fight the Irishman again once he has got a few fights under his belt. So what better way of getting straight to the front of the queue than searching out, and taking on, Khabib's old adversary? To the caves!
Drago II in Rocky IX
In 1985 Rocky flew to Russia to avenge his pal Apollo Creed, who had died after a savage beating at the hands of soviet boxer Ivan Drago. For those of you who haven't seen the film, Rocky trains by running around in the snow, chopping wood and escaping the KGB. He wins by belting Drago and then shouting: "If I can change, and you can change, everybody can change!" to a weeping Russian audience. Heady stuff.
Sadly, Rocky now lives underneath a small American restaurant, but his young fighter, Creed's son, is available. Tony Bellew is retired, so perhaps this announcement is Conor's big move into the movies, playing the new Drago against Apollo's son, Adonis.
Ok, we're out of options. Let's move swiftly on to the most logical choice - whiskey...
'Proper no. Twelve' Whiskey
There are some wild suggestions the entrepreneur will be promoting his 'Proper No. Twelve' whiskey.
McGregor launched his drinks empire after his boxing defeat to Floyd Mayweather Jr in 2017 and it is no surprise it has been a huge success, earning the fighting businessman £763.6million in its first year.
Selling around the world, it is named after the postcode from where McGregor hails in Crumlin, Dublin and he will be keen to spread the word and create a market in a country known for its vodka.
Until Thursday then.