The former prime minister played a key role in the Kosovo War of the late 1990s
07:00, 17 Nov 2019
England fans and players are used to arriving on foreign soil to hostile receptions. So it has come as a pleasant surprise to see some of the responses to the Three Lions in Pristina ahead of Sunday night's clash with Kosovo.
And they have the unlikely figure of Tony Blair to thank for it all.
Gareth Southgate's side have already managed to qualify for Euro 2020 thanks to Thursday's 7-0 mauling of Montenegro, which took them to six wins in their seven qualifying matches. Kosovo, for their part, have missed out on next summer's finals following a 2-1 loss to the Czech Republic.
But despite the match being little more than a dead rubber, there has been a tremendous reception for England in Pristina. The mayor of the Kosovo capital, Shpend Ahmeti, has extended the hand of friendship for the travelling team and their accompanying fans.
Posters depicting members of the England team and reading 'Miresevjen broo' (Welcome brother') have been pictured around the city. At coffee bars, waiters have been adorned with t-shirts sporting welcome messages for supporters flying in from Blighty to watch the game and a pre-match ceremony is also scheduled. There was even the prospect of free booze being offered up until the British embassy stepped in to bring a bit of common sense to proceedings.
The efforts in the area are all part of celebrations to, as Mayor Ahmeti has informed the Associated Press, "show there is no racism in Kosovo and also [as] a form of gratitude for London's [sic] role in Kosovo's war."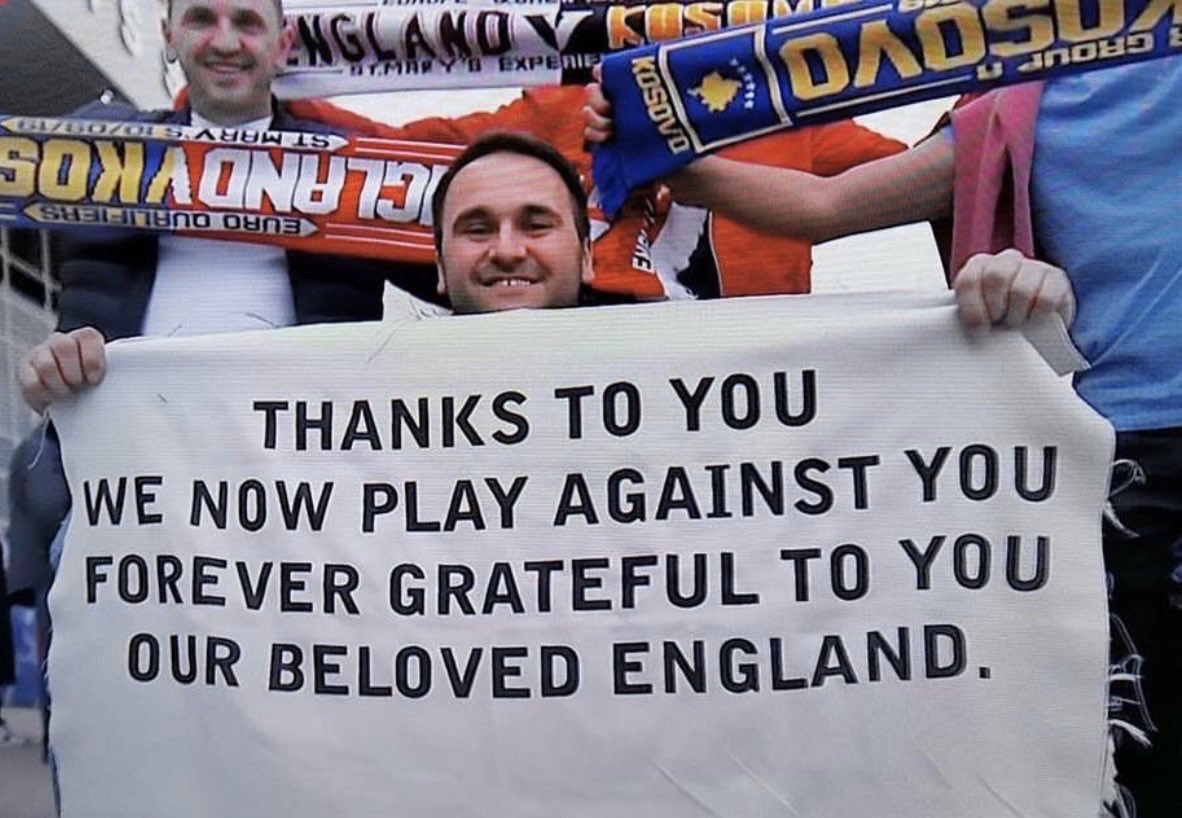 Though the conflict may have largely been background noise to many Brits, the events of 1998 and 1999 still resonate within Kosovo itself and will forever remain a fundamental chapter in the nation's history, with UK Prime Minister Tony Blair playing a huge part.
Kosovo became part of the kingdom of Serbia in 1918, eventually forming part of Yugoslavia. The 1990s saw a dramatic escalation of ethnic tension though, with ultimate confrontation between the dominant Serbian power and the Kosovan liberation factors, the central figure of Yugoslav president Slobodan Milosevic being subsequently accused of war crimes.
Following NATO-sanctioned air strikes on the country, Tony Blair also readied the majority of the British army - around 50,000 troops - for a ground invasion in a bid to repel Milosevic in 1999. Kosovo finally declared independence from Serbia in 2008, with the United Kingdom becoming one of the very first nations to recognise its sovereignty.
Blair remains something of a hero in Kosovo thanks to his actions, with many locals resorting to naming their children 'Tonibler' in his honour.
"They ask me what the name is," Jahir Sahiti told one Kosovan TV channel of his son Tonibler. "I tell them that the name is Tonibler and I hope that he carries it in good health."
Mum Shukrija added: "I hope to God that he grows up to be like Tony Blair, or even just a fraction like him."
England and Kosovo met in official football competition for the first time in September this year, with the Three Lions hosting at Southampton's St Mary's Stadium. A scintillating game saw England go four goals up before the half hour mark, with the game ending up 5-3.
This reverse game may very well be a dead rubber, but ultimately, in what has been a difficult and sometimes-traumatic qualification journey for England, it makes a refreshing change for this England side to be at the heart of such a feel-good story.
Kosovo has devoted itself to tackle racism ahead of the upcoming England v Kosovo game next Sunday.
Agim Ademi, President of Kosovo's Football Association says that England players will not be facing any racism in Kosovo! 🇽🇰🇦🇱