The Chiefs quarterback has been the difference-maker in their superb season
15:30, 22 Jan 2020
"Patrick Mahomes is - let me be clear about this - at this moment, while not the greatest, not the most accomplished... he's the best player that ever lived."
That was the verdict from ESPN's Max Kellerman after the quarterback threw five touchdown passes to lead his Kansas City Chiefs past the Houston Texans in the AFC Divisional Round last week.
Now Mahomes is preparing for a first appearance in the Super Bowl after seeing off the Tennessee Titans
But this feels like it is just the very beginning for a player competing in only his second full National Football League season.
Mahomes is ready to transcend the sport in which he excels. His name is on everyone's lips, despite variant knowledge of US sports and the NFL. He's even being likened to Michael Jordan by plenty in the know, such has been his extraordinary impact on American football.
"Patrick Mahomes could - could - become the GOAT. He's got a chance," said Fox Sports' Chris Broussard in September. "He's got to win, obviously. But this guy is Jordan-esque.
It reminds me of when Michael Jordan entered the NBA and immediately took it by storm.
The one thing the Kansas City Chiefs quarterback is missing is a Super Bowl ring. And he can tick that box on February 2 at the Hard Rock Stadium in Miami, Florida having already had a postseason for the ages.
First off he showed sensational leadership when delivering a sideline pep talk to his team as they trailed 24-0 in the Divisional Round against the Texans.
"With everything that had happened at the beginning of the game I still felt we were doing good things, we just weren't executing at a high enough level," he told reporters.
"So I wanted to make sure I went to those guys and let them know that, and I think that just comes with knowing your teammates, knowing how the game is going and knowing how to get back on it."
The result was extraordinary, with Mahomes throwing five touchdown passes as the Chiefs scored seven TDs on seven consecutive drives to flip the game on its head. They eventually won 51-31.
He then showed no mercy to the Titans in the AFC Championship game. With the score tipped 17-14 against the Chiefs with less than 30 seconds left of the second quarter, Mahomes seized his opportunity to produce a 27-yard run which left the Titans defensive line dazed, full of stutter steps, head tilts and deceptive twists and turns.
It was yet another certifiably star-making moment in a star-making game. He also happened to throw a 20-yard touchdown pass for wide receiver Tyreek Hill and a later 60-yard pass for Sammy Watkins to clinch the Chiefs' spot at Super Bowl LIV.
Mahomes is only 24 years old and he's already being talked about as a potential great. That says a lot in itself. In theory he has a future full of opportunities to reach the Super Bowl stage again. But everything screams 'now'.
And this isn't just applicable for Mahomes, but for the Chiefs too. Head coach Andy Reid ranks sixth in all-time NFL head coaching wins at 221: the most of any NFL head coach without a championship. The quarterback and the unit have come together to create the perfect storm.
The belief is now palpable that Mahomes is the man to help bring the Super Bowl championship back to Kansas after half a century. It's been that long a wait for the Chiefs that the silverware wasn't yet known as the Vince Lombardi Trophy, the legendary coach passing away nine months after the club's first and only win at Super Bowl IV in 1970.
Caked in blood red, Mahomes is a cold-blooded marksman with William Tell-like accuracy. A compilation of his plays in the 2019 regular season could be confused with military-grade drones continuously hitting their target mercilessly.
"He's just fun and entertaining to watch," legendary quarterback and two-time Super Bowl champ Peyton Manning has declared. "I like his spirit and love and passion for the game that shows up when you watch him play as well.
Some of the throws he's making… I just don't think anybody's seen before.
Mahomes, whose father was a pro baseball player with the New York Mets around the turn of the century, is one of just two African-American quarterbacks to win the NFL's Most Valuable Player award outright after an exceptional debut season. He now has the chance to become the first player ever to win the MVP award and the Super Bowl before the age of 25.
The QB was the No. 10 overall pick in the 2017 NFL Draft, arriving from Texas Tech. His first full year at the top level saw him throw for 5,097 yards while tossing 50 touchdowns and just 12 interceptions. In doing so he became the first quarterback ever to throw for over 5,000 yards in a season in both college and the NFL.
Mahomes also had time to start his own foundation, '15 and The Mahomies', 15 being the number on the jersey he adorns The charity targets children and youths from 'under-served communities' and those suffering from chronic illnesses: "dedicated to improving the lives of children [and] support initiatives that focus on health, wellness, communities in need of resources and other charitable causes."
He has already surpassed the expectation that comes with gracing the front cover of Madden, and is on the verge of bucking one of the notorious curses of modern American sports. Of the 22 players who've been featured on the videogame cover, an incredible 16 have had their subsequent seasons blighted through injury. Back in 2002, the curse was brought to attention after cover-star Daunte Culepepper missed the entire campaign for the Minnesota Vikings after suffering an injury just months after the game's release. A season later he threw just 18 touchdowns compared to 23 interceptions.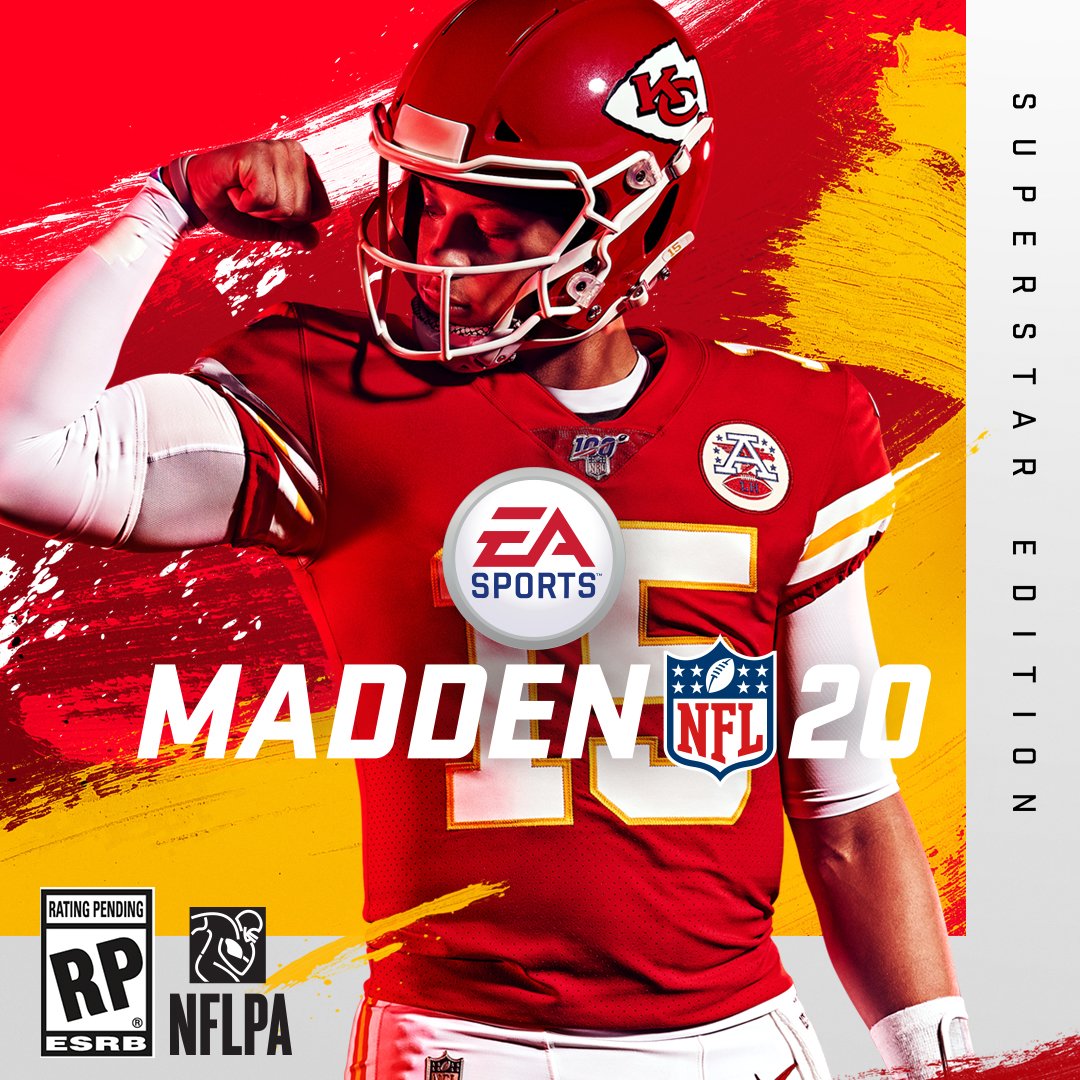 Former quarterback Warren Moon has said that "the sky's the limit" for Mahomes, which chimed with former Super Bowl MVP Doug Williams asserting in 2019 that "if he gets any better than he is right now, I think the league is in for a helluva quarterback."
In April last year, Mahomes revealed to talk show host Jimmy Fallon that he had received advice from perennial Super Bowl champion QB Tom Brady. Brady's Patriots had just defeated Mahomes' Chiefs in the playoffs at Arrowhead Stadium on the way to winning his history-making sixth Super Bowl at LIII.
"We walked off the field after that heartbreaking loss at home," explained Mahomes. "I didn't talk [to Brady] after the game. I was about to walk out of the locker room and he came in and he just said: 'Man, you had a heck of a season… you have to keep grinding.' He said he loved the way that I played. It was awesome for him to do that and it showed class."
Mahomes has dislodged Brady as the AFC champion quarterback and is expected to overtake his fellow QB as the NFL's top merchandise seller, having increased his stock by around 30% on his scintillating first year. American football might never have seen such an impact.
The MJ of the NFL? Maybe he is.