These are the live sporting events witnessed by hundreds of thousands of spectators
15:47, 15 Apr 2020
Three weeks confined in our own front rooms is enough to make any sports fan miss the little things about attending a live sport event. Never did we expect to miss the boom of the gentleman sat behind us bellowing at the referee or the smell of stale Carling drifting by us as we try desperately to wriggle our legs into whatever space falls before us - for the love of God, we want these 'problems' back in our lives.
As we wait for our glorious return to whatever terrace we call home, we look back at five of the most highly attended sporting events in history to remind us that, even though it doesn't look like it now, the good times will return again.
Indianapolis 500 (300,000)
Normally when American sport uses anything with the word 'World' in, you have to take it with a pinch of salt (We're looking at you baseball and your 'World' Series) but when they dub the Indy 500 the 'World's Biggest Single-Day Sporting Event,' it's hard to argue with our Yank counterparts.
With an eye-watering 250,000 seats, the Indianapolis Motor Speedway takes the mantle as the world's biggest sports venue (that's more than the entire population of Samoa, geography fans) and the event has even gone on to break 250,000 on a few occasions, with the 2011 and 2017 instalments each said to have surpassed 300,000 - that's a lot of corn dogs.
The Indianapolis Motor Speedway is a 250,000 seat behemoth
Phoenix Open (201,003)
The biggest golf event in the world takes in about 500,000 people across its four-day run and in 2011 it set a record for its biggest ever one day attendance with 201,003 on the Saturday which is widely believed to be the largest single day sports event (where the event is held within the confines of a private piece of real estate)
It also helps that the course, in Scottsdale, Arizona, is as picturesque as they come.
The Tournament Players Club in Scottsdale, Arizona
1950 World Cup Final, Brazil Vs Uruguay (200,000)
This meeting between two of South America's footballing heavyweights at Brazil's Maracana Stadium seventy years ago is the highest recorded attendance in an enclosed stadium.
The attendance was officially 173,850 from those who paid for tickets, while the Maracana's sheer size meant it was a doddle to sneak in, the actual figure is believed to be closer to 200,000 people who were crammed in to watch Uruguay pick up their second Jules Rimet trophy.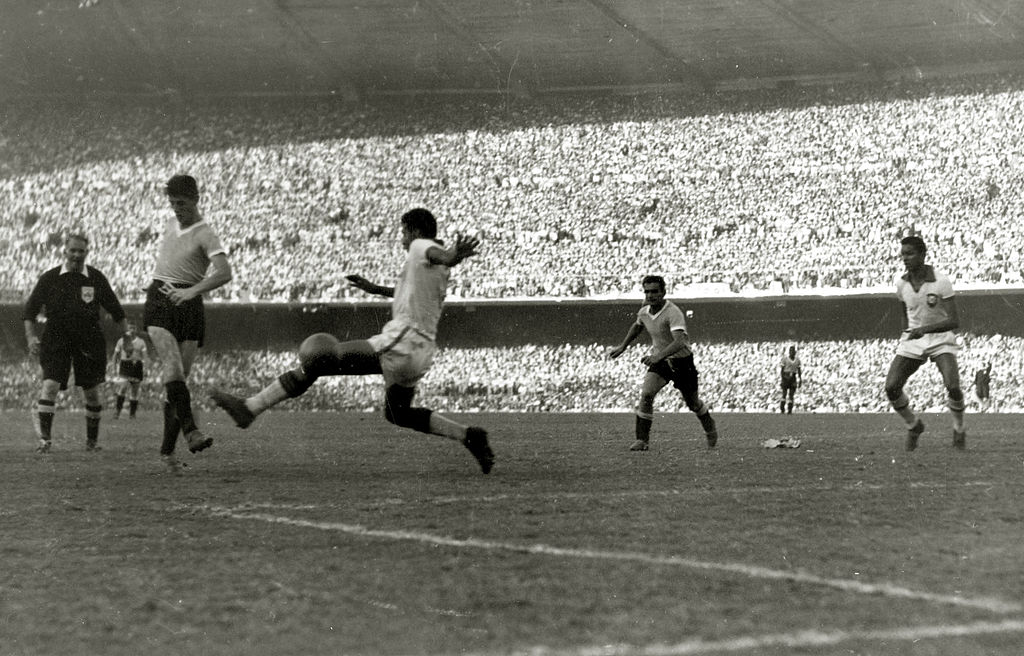 Kentucky Derby (170,500)
As Brits we like to think that nothing can compare to the famous roar of the Cheltenham faithful. And with this year's first race hosting 250,000 race fans, packing themselves into the racecourse across the four-day tournament (despite the worldwide pandemic), you'd be justified in thinking that horse-racing doesn't get bigger - but you'd be wrong.
The Kentucky Derby absolutely dwarfs its Gloucestershire equivalent with 170,513 people piling in for one day in 2015, to see American Pharoah take home the grand prize. The previous record of 165,307 was set in 2012.
1923 FA Cup Final, West Ham United Vs Bolton Wanderers (Between 126,000 and 300,000)
King George V and a rag-tag group of 126,047 football fans (officially) were in attendance for 1923's FA Cup Final between West Ham United and Bolton Wanderers, making it the undisputed champion of highest attended sports events in England. The number is believed to be much closer to 300,000, however.
The police try to keep 300,000 football fans at bay in 1923
The actual final struggled to get started thanks to some chaotic scenes as huge crowds flooded Wembley Stadium. The terraces overflowed and spectators found their way into the area around the pitch and even onto the pitch itself. Mounted policemen had to be brought in to clear the crowds from the pitch and allow the match to take place, which Bolton duly won 2-0.