Former Number 8 Catherine Spencer is releasing her autobiography 'Mud, Maul, Mascara'
06:55, 06 Feb 2020
"I couldn't open a newspaper to read about the sport, there were no games on television, social media was non-existent. There were very, very few visible female role models," explains Catherine Spencer. "When I first started I didn't even know the England women's rugby team existed!"
Incredibly, she would go on to be referred to by ex-England Women's coach Gary Street as "one of the great players of the modern era", and helped win three consecutive Six Nations titles in the late 2000s. The number eight also led the Red Roses to the Rugby World Cup Final in 2010 as skipper.
Her new autobiography, Mud, Maul, Mascara, chronicles the life and career of one of the most prominent female players in a male-dominated game. Like Spencer herself, the book doesn't back out of a tackle.
Catherine entered rugby at a young age thanks to her sporting family, with her father and brothers having also played the game. "Girls just didn't play rugby back then," she tells The Sportsman. "It just wasn't the done thing. Having said that, I would always be mucking around in the garden with my brothers. Eventually at the age of nine I went up to my local club and started playing rugby.
"Although girls didn't play rugby back then, it felt normal to me. It felt such an ingrained part of our family life.
"The discrimination was really frustrating at times and I didn't think it was right. But instead of standing back and looking at the bigger picture I just wanted to play rugby. When I was a little bit older there was some opposition within the club, as there was for a lot of women's rugby. That was entirely normal. We just needed enough people on our side to keep us going."
These days women's rugby is a burgeoning sport, with Catherine having been one of the prominent figures in its growth. But of course it's hard to find inspirational figures within your area when you're helping to pioneer it, the infancy of your career dictated my people who look nothing like you.
Gill Burns, who represented England for 14 years and captained the side for a period, was an early inspiration. Burns was part of the first World Cup-winning squad in 1994.
"There used to be a TV programme that was on every Sunday afternoon called Rugby Special. Sitting down and watching it was part of our family life for years. One time, Gill Burns was on it, a huge name in women's rugby who has done a lot for the sport to really spearhead the game in the early days, really establishing the sport. She played the same position as I would - as a number eight - and she was England captain.
"I remember thinking while watching it: 'Wow, that's pretty cool, I wouldn't mind doing that one day.'"
Catherine would later follow in Gill's footsteps by being appointed skipper, and it was during her tenure that the Red Roses enjoyed a rich vein of success at the Six Nations which would even outlast her.
Catherine loved playing for England, loved playing as a number eight, and loved the captaincy. But the decision to remove herself from the role was down to the dual motive of providing others with the opportunities to develop into leaders and the desire "to be selfish for a while".
"I loved being England captain. I think it wasn't until after I stepped down from the captaincy that I realised quite how much I did love it."
Catherine further discloses the hurt of watching New Zealand lift the trophy on two occasions, and the fact that, for her, it was little comfort that England eventually won the World Cup again in 2014. Not being part of the squad had an effect, emotions that she unabashedly reveals in her book.
"I found it really hard. Winning the World Cup was everything that I wanted to do and everything that I wanted to achieve," she continues. "Between 2011, when I retired from playing, and 2014 I was still heavily involved in the game, working and still playing at club level, so going into that year I had real mixed emotions. I had started to deal with not winning in 2010 and then actually watching them win from my place in the studio set me back on my recovery. I found it very difficult."
All of Catherine's rugby-playing life had been associated with a male-orientated, male-dominated environment. Fundamentally with this book especially she wanted to demonstrate that it's actually fine, to be female and to play rugby, reflected within the title Mud, Maul, Mascara.
"Personallly I love sticking my mascara on and putting my heels on and getting dressed up for a night out," she says. Earlier on in the day I would have been running around in the mud, with my rugby shoes on and my gum shield in. It's trying to bring those things together and say 'That's OK.' It's a rugby book. Written by a female."
Just thought I would catch up on some reading over lunch.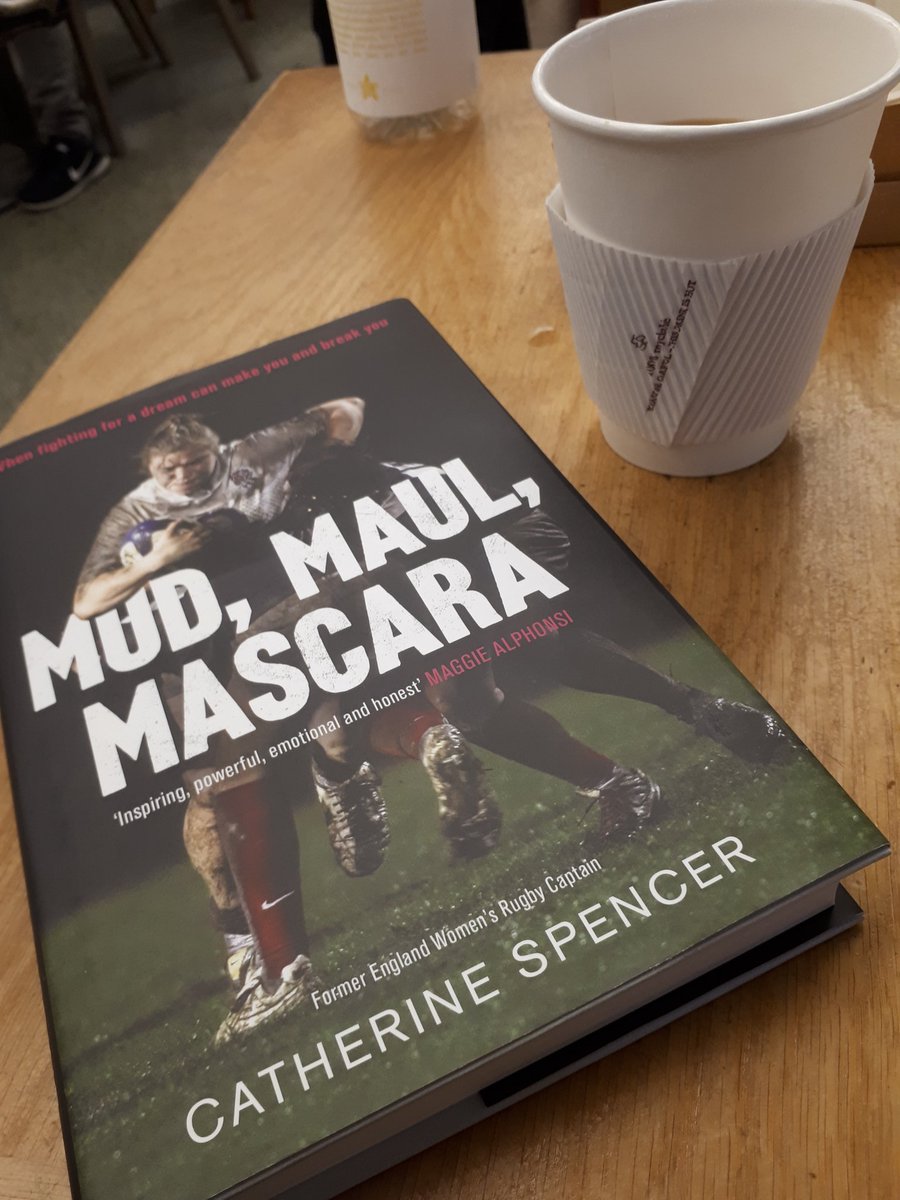 Catherine has some concern for the female players who are following in her footsteps. "It's going to be interesting to see how the next generation of players deal with the attention as they become more visible," she says. "It's what we wanted as a sport so it'll be how individuals manage that."
And while she is clear that women should get top billing alongside the men, there are ways in which that can be done without losing the recognition of the continued fight for equality.
"I think it's still really important to keep the word 'Women' in the title 'Women's Rugby World Cup'. We are women and we play rugby," she adds. "I think with things like the 'This Girl Can' campaign it's very important to keep it visible and important to link it to that branding.
"It should be the Men's World Cup, and the Women's World Cup. I think I've become a more ardent supporter of that now, probably when I was playing I would have been the other way. Now I think it's important to bring specific attention to our own tournament and there is that point of difference, the official branding that 'Yes, we play too!'
"I love the time that I played because it was so nice to be able to experience that change in the sport and feel that you're contributing to something bigger, not just your performances on the pitch. Obviously that's very important but it's also the drive to develop the game itself."
And what advice does one of the best England captains, the warrior, provide to those young girls who dare to take the steps into the uncertain world of traditionally men's dominated sports?
"Don't be overawed by it, think about what you want to do, what's your next step: 'Do I want to play?' And that's all you need to think about.
"Relish that you're a trendsetter."
Mud, Maul, Mascara (Unbound, £18.99) is out Feb 6.