Protest planned against RB Leipzig
17:01, 17 Aug 2019
Sunday will be an historic day in the south-eastern Berlin suburb of Köpenick as newly promoted 1. FC Union Berlin play their first-ever Bundesliga fixture.
But the first 15 minutes of the club's top-flight journey will take place in eerie silence after Union's hardcore supporters announced that they will remain quiet for the first fifteen minutes in protest at the opposition: RB Leipzig.
"A game against Leipzig is not like any other game," wrote the Wuhlesyndikat ultras in a statement last week. "For the first Bundesliga match in our history, we were all hoping for a home game and a chance to show the league what football at the Stadion An Der Alten Försterei looks like. We got a home game, but with one problem: the opponents."
Throughout their years in the lower leagues, Union Berlin have developed a cult status in Germany and abroad for their supporter-friendly approach to football. Three sides of their stadium – the brilliantly named "stadium at the old forester's house" – is terracing and the club have even frozen season ticket prices despite promotion to the top-flight.
They have a debt to their supporters, who volunteered 144,000 man-hours to help rebuild the stadium in 2008 and even donated money raised from giving blood to save their financially stricken club in 2004 – literally "Bleeding for Union," as the campaign was called. There are few football clubs in Europe in which the supporters have played such a pivotal role.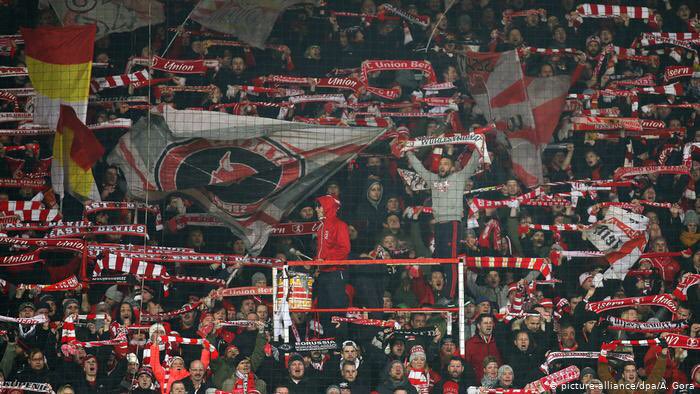 For Union Berlin fans, RB Leipzig, created by Austrian energy drink manufacturer Red Bull in 2009 and boasting a grand total of 17 members, all of whom are employed by Red Bull, represent the antithesis to their idea of football, "a football based on democracy, loyalty, terracing, emotions, financial fair play, tradition, transparency, passion, history, independence and volunteering," in the words of the Wuhlesyndikat. "The construct from Leipzig tramples all over these values."
It's not the first time the two teams have met. When RB Leipzig visited Köpenick in the second division in 2014 and 2015, the Union fans also carried out 15-minute atmosphere boycotts, even distributing black bin bags to create the image of a club in mourning. This time however, there has been criticism of the ultras' planned protest, including from Union goalkeeper Rafal Gikiewicz, who this week took to social media to address the fans.
"Your planned boycott in the first 15 minutes is not good for us players," he wrote on Instagram beneath an image of him stood on the stand where the ultras' capo usually stands with his megaphone. "You could produce a choreography or something else but we players, together with you as fans, need to show our opponents that this is our pitch, our home! They need to know that it's never easy to play against us."
The Wuhlesyndikat ultras responded on Wednesday by acknowledging that the timing of the protest on matchday one may not be ideal but criticising what they perceive as the growing normalisation of RB Leipzig in German football.
"RB appears to have become slightly more 'accepted' among parts of our support, and even more so among the general public," they wrote. "Six years ago, this 17-member club was in division three. They were promoted to the Bundesliga in 2006 and finished runners-up a year later. Not through hard work and honest development but by taking over an amateur club and investing huge amounts of money, all for the purpose of advertising. No matter how long this construct exists in German football, games against it can never be normal."
Since RB Leipzig's arrival in the Bundesliga, they have been confronted on an almost weekly basis with protests and demonstrations of varying intensity by supporters who feel they stand contrary to the basic values of German football, where the so-called 50+1 rule stipulates that clubs remain ultimately controlled by their members – a rule RB Leipzig have circumvented.
Regular hardcore supporters of Borussia Dortmund, Bayern Munich and FC Cologne are among those who have so far refused to attend away matches in Leipzig while, just last week, the RB team bus was forced to use a different stadium entrance ahead of a first-round cup tie in Osnabrück after home fans blocked the road.
Now, with the arrival of Union Berlin, the first former East German club in the Bundesliga since Energie Cottbus in 2008, the protests show no sign of stopping.