The defender faces months out of action after tearing his anterior cruciate ligament in training
15:24, 03 Sep 2019
As Juventus pulled off a 4-3 win at home to Napoli last Saturday, one man showed his class yet again in going straight over to commiserate with Partenopei defender Kalidou Koulibaly after a huge last-minute error had led to an own goal which handed their rivals all three points.
Hobbling on crutches, fellow centre-back Giorgio Chiellini put a friendly arm around Koulibaly, his words surely appreciated by the devastated Senegal international. It was only the day before that the news had broken that Chiellini faced months out of action after tearing his anterior cruciate ligament in training, yet he found a way through his own disappointment to console a member of the opposition.
"Thank you to the team that gave me this victory last night," the defender wrote on Instagram after the match.
"Thank you to all my fans and those close to me who gifted a thought of comfort, and thank you to the many opponents who pleasantly surprised me with their shows of respect and affection.
"And thank you to destiny for giving me this wonderful challenge that I honestly experience with enthusiasm, certain that it will remain a memory of another challenge won!"
It is this side of his character, as well as his obvious attributes on the field, that Juventus will miss as the weeks go by. Indeed, the very fact that the Bianconeri conceded three goals after they were 3-0 up and looked to be cruising was a glaring indicator that a partnership of Leonardo Bonucci and Matthijs de Ligt is not yet ready to face attackers at the top level.
Chiellini fully deserves his reputation as one of Europe's very best centre-backs, having put in breathtaking performances for both Juve and the Italian national team on so many occasions. His positional awareness, ability to read the game and tackling skills are all at the very top level, but so too is his leadership.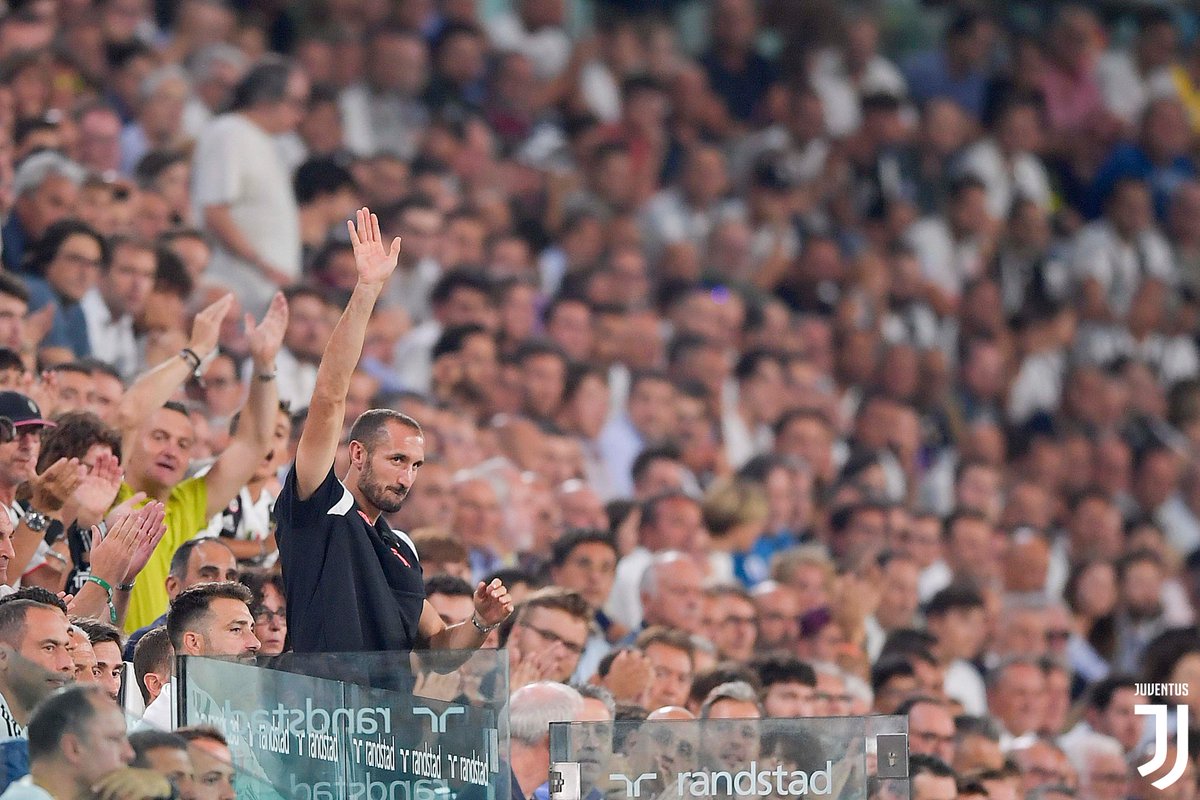 Last season, his side were struggling under then-boss Max Allegri when they faced Bologna away from home. The Rossoblu were pouring forward on every possible occasion, and a backline comprised of Bonucci and Daniele Rugani was close to breaking point. Chiellini used the touchline as a guise as the substitute seemed to be warming up, when in actual fact, he was teaching a masterclass in how to defend to his struggling teammates.
On 87 minutes, Chiellini was eventually brought on to replace attacker Federico Bernardeschi, as Juve hung on to their 1-0 lead for dear life, the club Captain needed to deliver instructions first-hand rather than from a distance as before. His experience, combined with his detailed understanding of the defensive role, has allowed him to evolve into more than just a player, and The Old Lady will surely be adversely affected by his absence in the early months of the season.
The rest of the defence will be learning a new system as Coach Maurizio Sarri instils his precise methods, and Champions League group stage fixtures versus Atlético Madrid, Bayer Leverkusen and Lokomotiv Moscow will not be easy either.
At 35, who knows exactly how long it will take for Chiellini to recover his form, or even if he will be physically the same player once he returns to action. In the league, Inter look set to mount a credible title challenge and resume their role as genuine rivals to the success of Juventus, putting the latter side under more pressure than they have seen in recent years.
Sarri will have to move quickly in order to negate the impact of the loss of such an important member of the squad, but it will not be easy.
Giorgio Chiellini consoles Napoli defender Kalidou Koulibaly