'Solskjaer's approach is psychological rather than tactical'
14:01, 16 Aug 2019
It is rare to find a football manager as utterly devoted to the cult of one individual as Ole Gunnar Solskjaer is to his 'gaffer' Sir Alex Ferguson. During Solskjaer's first few months at Old Trafford, when everything he touched turned to gold, those constant allusions to the glory days of the 1990s seemed like a calculated attempt to unite a disparate bunch of players around a coherent cultural identity, but as the Fergie references kept flowing it began to feel less like a deliberate strategy and more like an obsession.
In fact, so absolute is Solskjaer's reliance on Ferguson's methods that he appears to be adopting the tactics from the Norwegian's time as a player at United, too. "Pace and power – that's what we are," he said in February, per Manchester Evening News. "When we have players like we have with pace… that's how we played with Andy (Cole), Dwight Yorke, Ryan Giggs, and Becks down the sides. We attack quickly when you can. That's my philosophy as well."
Pace and power: buzzwords of a bygone era, it could be argued, and principles semi-abandoned for more complex tactical methods by Ferguson himself in the final five years of his tenure. Nevertheless Solskjaer has quietly spent the summer of 2019 rebuilding the club around raw speed, hoping that matches can be won in sudden bursts of energy by individuals; in moments rather than systems, as was the way during Solskjaer's prime years at United between 1998 and 2004 – just before Jose Mourinho and Rafael Benitez arrived in England to lay the foundations for a new dawn of in-depth tactical coaching.
At its core Solskjaer's approach is psychological rather than tactical, self-belief being the most important factor when relying on speedy wingers to beat a man, when relying on waves of attacks built on creative freedom. That helps to explain why United fell away so dramatically towards the end of last season – and why a 4-0 victory over Chelsea isn't necessarily a sign that United are set for a good season under the Norwegian.
Not that the positives should be glossed over. With Anthony Martial and Marcus Rashford swapping left-wing and centre-forward positions, Paul Pogba in a deeper midfield role that allows him to pick out Hollywood passes for those runners, and Daniel James coming off the bench, Solskjaer has created a counter-attacking ruthlessness that is likely to see the second-half performance against Chelsea repeated when facing other Big Six clubs this season.
"The good teams I've played in always had a strong base with a settled backline," says Ole. "We hope to provide that for our attackers and midfielders and Fred, of course, we believe that he's going to have a big season."
#MUFC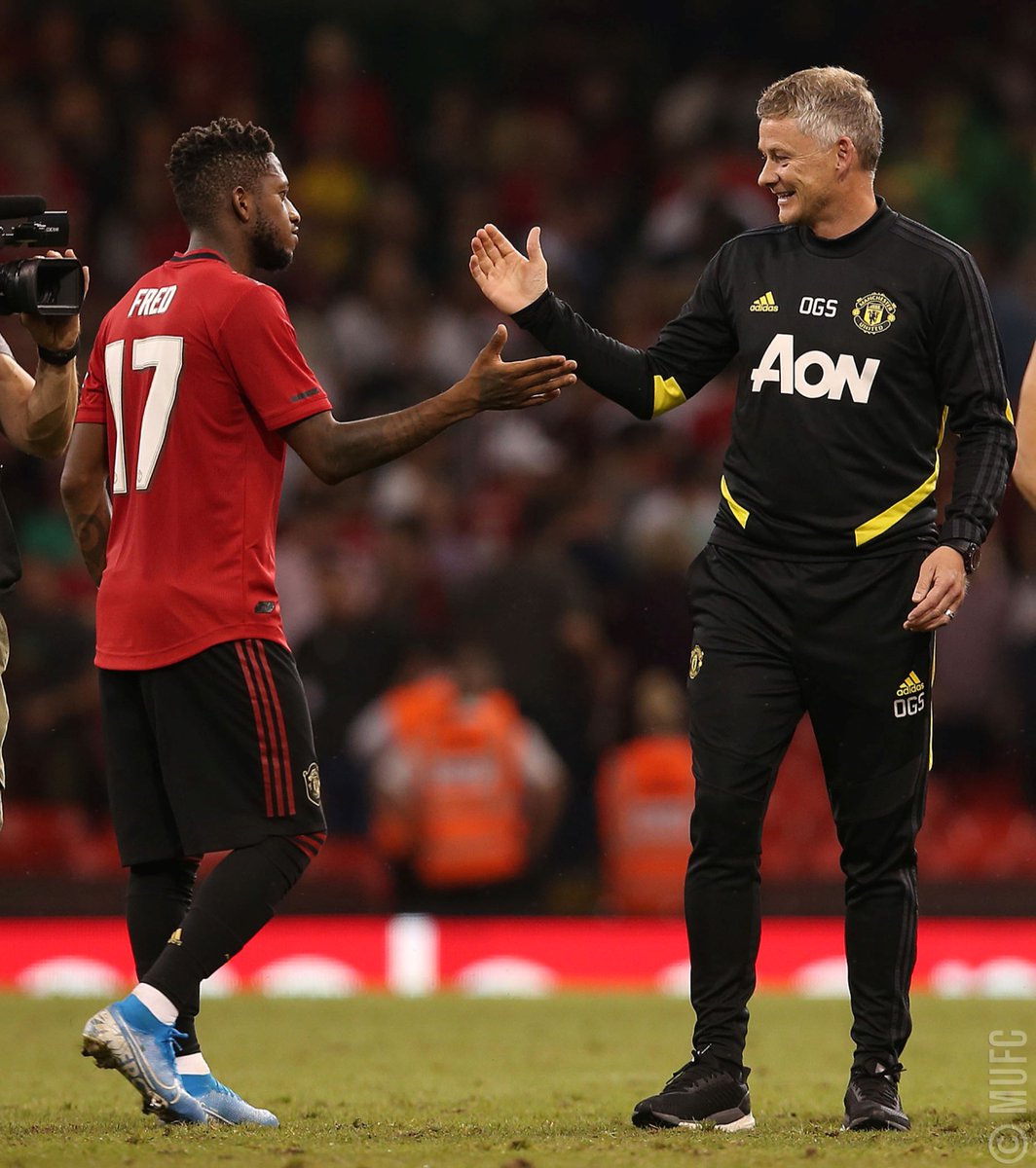 Even just possessing a coherent tactical identity, and one based on the notion of attacking football is an upgrade on the oddly vacuous football under Jose Mourinho and Louis van Gaal, both of whom struggled to assert their blueprint with enough authority for fans or the media to truly label their intentions. What Solskjaer evidently understands is that the Old Trafford faithful love a good dribbler, and are much happier backing a team that definitively wants to score as many goals as possible.
But there is something idealistic, and perhaps equally hollow, in the vague assertion that United will seek to attack and seek to use pace and power this campaign. Football is simply more acutely tactical in 2019, while the imbalance between the Big Six and the rest has created a situation in which United will hold the vast majority of possession in most of their Premier League matches – potentially negating Solskjaer's reliance on pace.
His tactics might work against expansive, porous sides like Frank Lampard's Chelsea, but most clubs will sit deep and invite United to break them down, particularly after witnessing what happened at Old Trafford on Sunday. In those situations, speed on the flanks is nowhere near as useful, and emphasis will be needed on intricate passing moves and attacking rhythms worked out fastidiously on the training ground.
Jurgen Klopp's rapid front three may appear to be improvising like United's on Sunday, but their movements are in fact the muscle-memory results of repetition at Melwood. There is nothing about Solskjaer's managerial career so far to suggest he is similarly engaged in modern methods, but rather is doubling down on the 'pace and power' approach that worked for Ferguson in the 1990s.
"It doesn't matter if they are English, Norwegian, French, Brazilians, you just want good players, good people, quality and speed of course is a big thing in football nowadays," Solskjaer said in July. He's right, but after a chaotic first half against Chelsea in a game that could easily have swung the other way, packing the front line with speed – and hitting clubs in short bursts of improvised attacking football - isn't enough in the modern game. Their trip to Wolves on Monday night will go a long way to telling us just how much variety and complexity is beneath the surface-level commitment to building a football club around pace and power.