Crowds continue to grow in wake of Lionesses' success
11:50, 29 Sep 2019
If the new Women's Super League season were to end tomorrow, it would already go down as a historic campaign.
The opening weekend saw attendances rocket up and down the country, a record 31,213 fans watching Manchester City beat Manchester United at the Etihad.
While it was heralded as a huge moment for women's football, a question mark remained over whether the WSL would continue to occupy such a significant space in public consciousness, especially once the immediate legacy of the FIFA Women's World Cup began to die down.
However, the continued rise in interest shows no signs of slowing up.
West Ham, who usually play at Rush Green, have confirmed over 20,000 people are expected at the London Stadium for this weekend's derby against Tottenham Hotspur.
That's been achieved partly through marketing, but also by giving tickets away to local community groups.
The obvious narrative is that this is a moment to be seized after unprecedented media coverage of the summer's World Cup. In reality, clubs are merely building on a longer-term trend.
The FA have long been working on sustaining attendances at England Women games.
Even before the run to the semi-finals in France, the Lionesses were regularly selling out stadia with up to 14,000 capacity and over the past two years, attendances have risen two-fold.
If you can't get to a game remember you don't have to miss out!
Where to watch 👉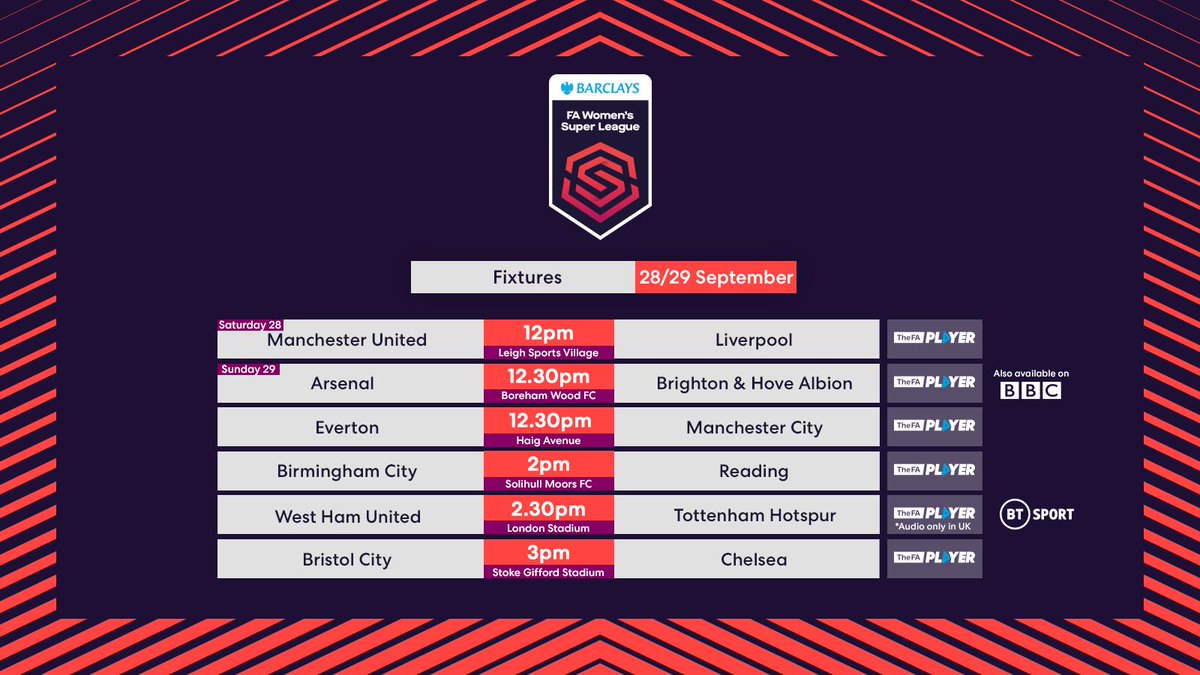 It's hoped the World Cup will encourage even more new supporters, as evidenced by the sale of over 70,000 tickets for England's game against Germany, which will be held at Wembley. Middlesbrough's Riverside Stadium is expecting at least 20,000 when Phil Neville's side play Brazil there in October.
It's vital that interest is sustained over the course of the next two years, prior to England being the host nation for the UEFA Women's European Championships.
In the coming months, a number of initiatives will be introduced, aimed at making the women's game more accessible.
The 'Women's Football Weekend' will take place during the men's international break in November, a factor which arguably influenced high attendances earlier in September.
Women's Super League matches, as well as Lionesses highlights, will also be shown on a new app provided by the FA – 'FA Player' – with audio commentary provided for matches already being televised by BT Sport. One match per set of fixtures will also be broadcast from the FA Women's Championship.
There are still gaps to be filled. Tottenham played in front of 24,000 in their season opener against Chelsea at Stamford Bridge – breaking the Blues' record five times over – but saw only around 1,000 turn up at The Hive, Barnet, for their first home game.
Spurs are following the trend set by Manchester City, West Ham, and Bristol City by utilising the Tottenham Hotspur Stadium as soon as possible, welcoming Arsenal in November for the first-ever all-professional female north London derby.
One approach clubs have taken is to offer discounted, or even free, tickets, as West Ham are doing this weekend.
It's a strategy that has paid off in other European leagues, particularly at both Juventus and Atletico Madrid. Not so much, it would appear, at Chelsea, where thousands of tickets for the Spurs game went unused.
Spain now holds the record for a women's league attendance after Atletico packed in 60,739 against Barcelona. The good news for The FA is that after Spain, England holds the next highest attendance record in Europe, followed by Italy and then France.
All the indications are that just as the introduction of the Premier League brought new colour to the nation's love affair with men's football, the conditions are now there for the women's game to grow exponentially.
There has never been a better time to follow women's football.