The 21-year-old has kept wicket just five times in his first-class career
16:00, 29 Nov 2019
It is ever difficult to predict exactly what will unfold when England go on tour.
Ollie Pope, a man who has kept wicket just five times in his first-class career, is the man in possession of the gloves for the second Test.
The 21-year-old is expected to bat at seven, down one from the spot he occupied in the order in the first Test last week.
England's hand was forced, of course, by Jos Buttler's injury and it is an exceptionally short series. That is the sympathy card the ECB might play, perhaps justifiably.
It is a touch of added misfortune that Buttler misses out just as Jonny Bairstow is dropped after underwhelming with the bat during the Ashes.
Scrapping Bairstow was not all that controversial. The Yorkshireman looked as though he needed a break and his form was poor for a long time. The irony lies in why that decision was welcomed by so many.
A piece in The Cricketer magazine in September commented that England had an "embarrassment of riches in the wicket-keeping department", making Bairstow "extraneous". Quite.
Pope being thrown in at the deep end was not the most natural course of action for a country awash with wicket-keepers.
Ben Foakes' unexplained exile remains a point of confusion. He is on official standby – although that in itself is not much use in a two-Test series – and has at least boosted his chances of going to South Africa by sheer measure of the growing calls for him to play.
Zak Crawley
Sam Curran
Ollie Pope
In Hamilton, England fielded three players aged 21 or under in their XI - a first in their Test history 😮
#NZvENG
(h/t
@ZaltzCricket
)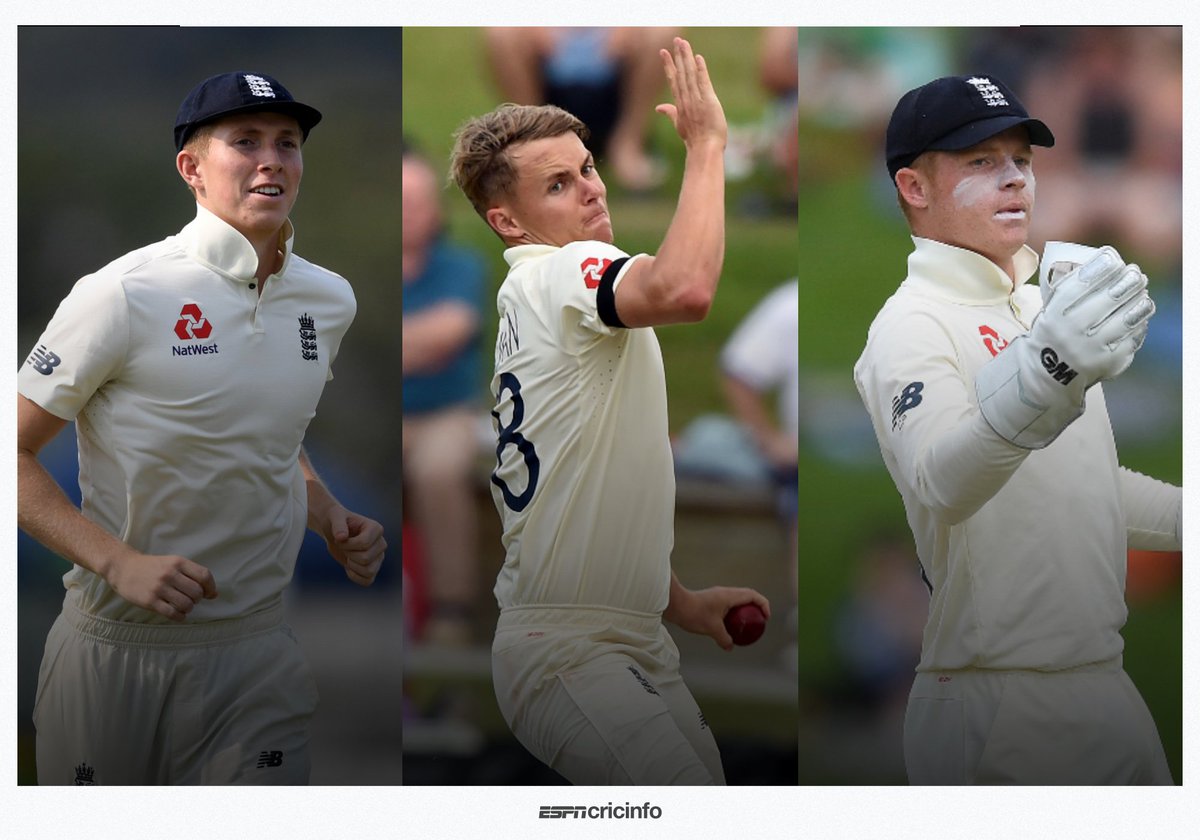 Joe Root finds himself putting his trust in the most inexperienced England wicket-keeper - in terms of first-class keeping, not just internationals - in over a century.
The added pressure is also a touch harsh on Pope, who has perhaps unjustly been in and out of the Test side since making his debut. Alec Stewart is one of a number of former players to express their bewilderment at the position he has been put in.
Pope, of all people, could not have possibly foreseen that he would be the one stood behind the stumps watching another batting masterclass from the Black Caps.
To his credit, the Surrey man did well on his first day, which was admittedly interrupted by rain.
Pope himself had little to do but in spite of England's uninspiring field, he was not at fault as the hosts raced to what will almost certainly be another impressive innings total, barring a collapse of which only England seem capable.
New Zealand reached 173-3 thanks to Tom Latham's century (101 not out) going into Day Two, which begins at 22:00 on Friday.