Nasty Nastase Banned By ITF Following Fed Cup Rant
Romania captain Ilie Nastase has been banned from official roles by the International Tennis Federation until 2021 following his foul-mouthed rant in April.
During the incident, he swore at an umpire and insulted Britain's Johanna Konta and her coach before making a derogatory comment about Serena Williams and her unborn child.
The 70-year-old was also fined £7,700 and will not be accredited for ITF events until 2019.
Match Fixing To Be Investigated At Wimbledon
The Tennis Intergrity Unit are investigating four matches, three from Wimbledon and one from the French Open.
Unusual betting patterns were triggered from these matches, one of them in the main draw at SW19.
The TIU said they received 53 alerts between April and June of this year.
Federer Up To Third In World Rankings
Wimbledon champion Roger Federer is up to third in the latest ATP World Rankings.
Andy Murray is clinging onto the number one spot with Rafa Nadal in second.
Fed up to 3rd
The Winning Moment
Now it's time for Roger Federer to burst into tears as his four kids arrive in the players box.
Not only has the man won 19 Grand Slams but he has also produced two sets of twins. What are the chances?
Cilic very fair in defeat it has to be said but he was completely out of his depth.
Game Set and Match Roger Federer
Marin Cilic gamely makes Roger Federer serve it out and that s exactly what the Swiss does to claim his 8th Wimbledon title.
The great man salutes the crowd.
A non event of a final as Federer cruises to a 6-3 6-1 6-4 win in the blink of an eye. Not a great occasion for those hoping for a classic but this is all about Federer winning his 19th Grand Slam title, and a record 8th Wimbledon crown.
The greatest men's player of all time has surpassed the great Pete Sampras with this win at SW19, and his adoring crowd are on their feet.
Federer the first man since Bjorn Borg in 1976 to win Wimbledon without dropping a set.
Roger Federer wins his EIGHTH #
Wimbledon
and his NINETEENTH slam title, trouncing Cilic 6-3, 6-1, 6-4 in a snoozer. Great champ; meh final.
Roger Federer A Game Away...
The fat lady is clearing her throat on Centre Court...
Another easy hold for Roger Federer and he is a game away from Wimbledon history.
Cilic 3-6 1-6 3-4* Federer
Mirka Federer resplendent in a white dress today and she is loving what she is seeing here as you would expect.
Federer cruises to yet another hold and with rain clouds looming over head, the Swiss superstar pounces like a Lion taking out his prey, and he claims the crucial break thanks to a Cilic forehand error.
This one is as good as over.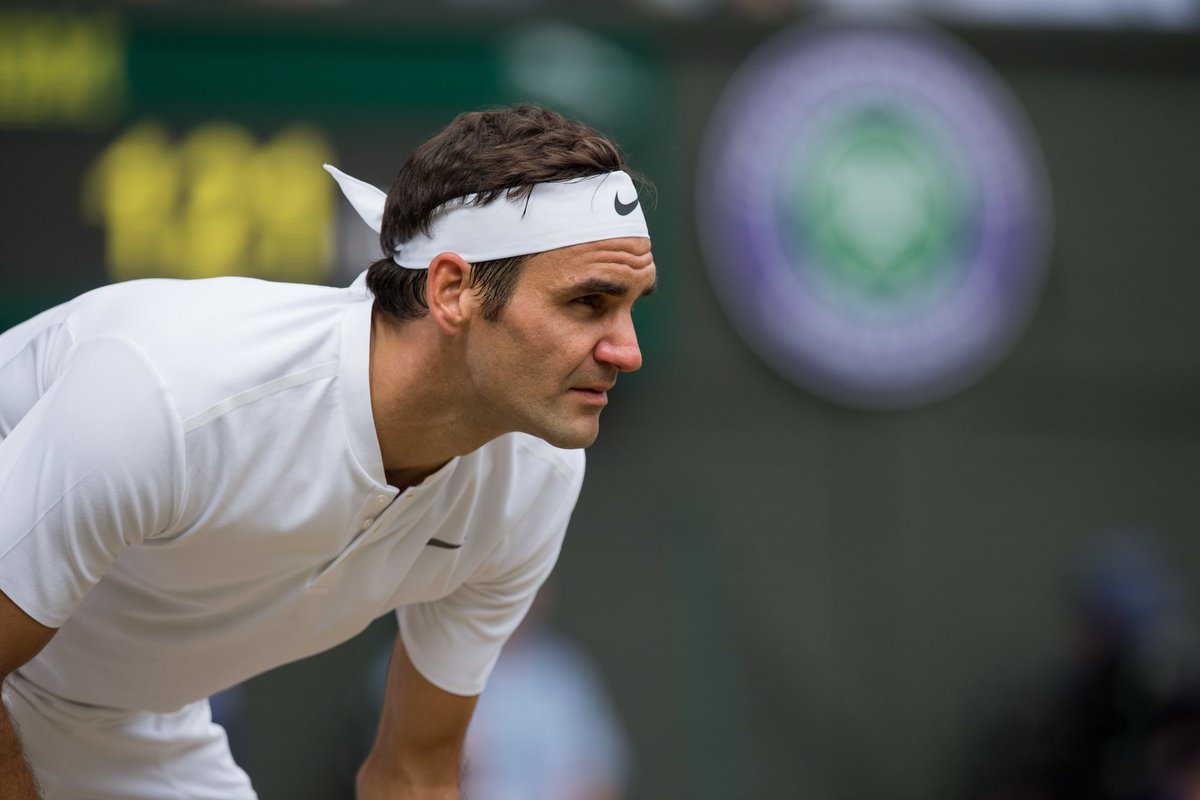 Cilic 3-6 1-6 2-1 Federer
Marin Cilic is like the Titanic heading towards the iceberg at the moment, but out he comes after a lengthy injury time-out to try and change the direction of the ship...
Credit to him as he holds with relative ease to start this 3rd set but just as quickly as that, Federer holds his own serve without breaking sweat to level at 1-1.
Cilic looks in trouble in the next game though as Roger brings up a break point but it is saved with a nice serve and volley and that is a brave hold from the big man.
On serve in the 3rd set.
Federer Cruises To 2nd Set
This really is a non-event in terms of a sporting contest which is hugely disappointing for all apart from Federer and his fans, and right on cue the Swiss star breaks Cilic for a 2nd time in this set.
It's like taking sweets from a baby. Cilic playing nowhere near his best, and only he knows if he has an injury. Federer wraps up the 2nd set 6-1 without so much as breaking a sweat.
Out comes the doctor again to see Cilic, and it appears to be an issue with his left foot.
6-3 6-1
Federer leads Cilic 6-3, 6-1 after 61 min.
Not competitive or entertaining since early in first set, sadly. Trainer back out. #
Wimbledon
Cilic 3-6 1-4 Federer
No one is quite sure what's going on here with Marin Cilic. We assume he has some sort of injury but the Doctor only appeared to be chatting to him during that changeover., with no treatment given out.
Out comes Cilic for the next game to massive cheers from the crowd, and credit to him as he holds his serve in brave fashion. Cilic rushing the net at every opportunity to keep the points short which indicates an injury but who knows to be honest.
Of course, Federer could give a monkeys what's wrong with Cilic and he continues on his merry way with another comfortable service hold, as Big Marin fails to whack every ball for a winner.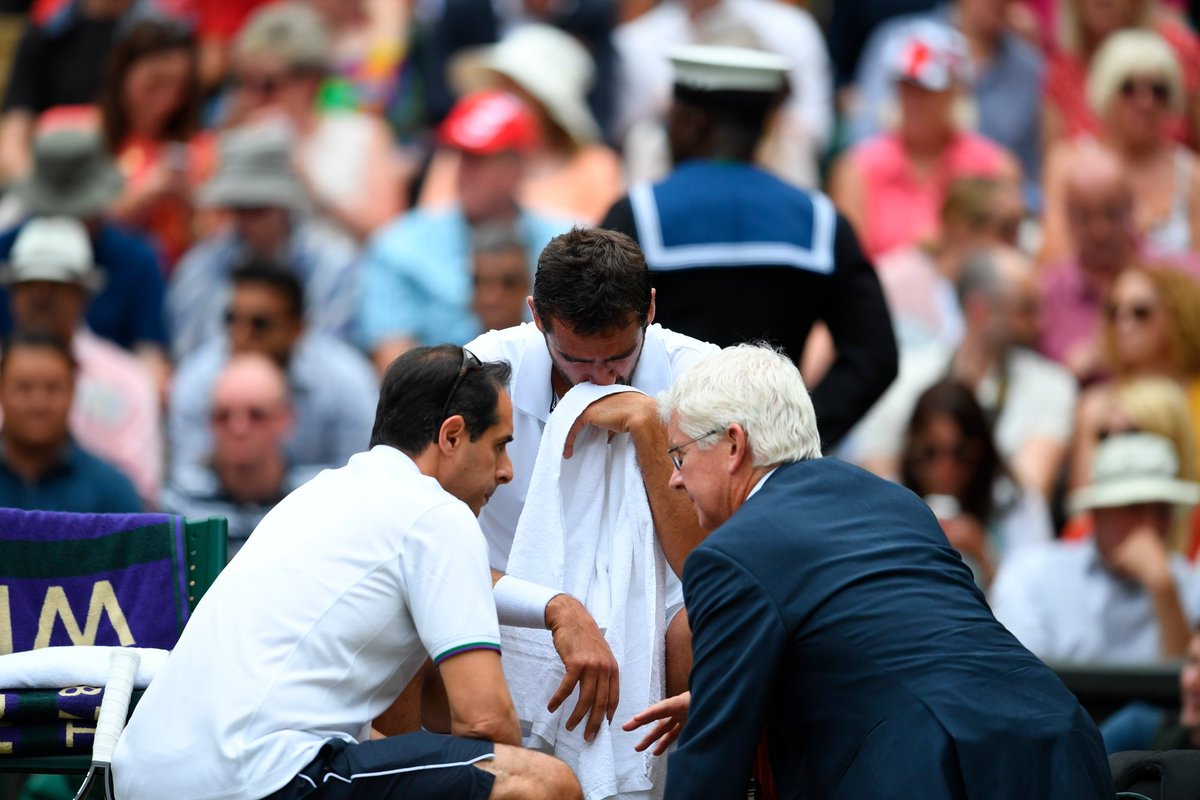 It's a big ovation for Cilic as he returns to court after an extended changeover to hold serve
#Wimbledon
https://t.co/i0xC7iXDLA
Cilic 3-6 0-3 Federer
The start of the 2nd set is massive for Marin Cilic you feel but this isn't looking good as he coughs up some poor unforced errors to give Federer a break point straight away...and another backhand error from the Croat gifts the Swiss star the advantage.
Federer on complete cruise control, and at the moment you have to say that this is a no contest. Those of us that wanted to watch a good tennis match are starting to get a little worried with Cilic playing nowhere near his best.
Easy peasey for Roger.
Hold on, what's going on here? The Doctor is on for Marin Cilic and the Croatian is sobbing at the moment. Worrying signs.
Federer Clams The 1st Set 6-3
Right then, who else can we see in the royal box?
Justin Rose has turned up ahead of the Open Championship next week and is looking dapper, and not far from him is Hugh Grant who loves his tennis. Bradley Cooper rarely seems to do anything but watch tennis to be honest, and he is of course in the house.
We are reliably told that Theresa May is also here but no shots of the PM just yet.
Back on court, and the 1st set is done and suited in the blink of an eye as Cilic double faults on set point. Cilic serving at 49% and that will not get it done.
Federer two sets from an 8th Wimbledon title.
As our American cousins might say, Federer would appear to have too much game.
Cilic 2-3* Federer
Plenty of over the top footage of the players box already, and oh look, there is Daddy Federer taking his jacket off. Smart man, it's a muggy old afternoon in SW19 right now.
A 2nd double fault in two games for Federer which is a little worrying for a man who hasn't made a mistake since 2002, and it is Cilic who nabs the first break point of this final...but he can't convert it as he dumps a backhand return into the net.
Roger under pressure in these early stages but he manages to hold to the delight of his groupies on Centre Court.
...and having fended off that break point on his own serve, Federer immediately strikes on the Cilic serve! The Swiss star has 0-40 and although Cilic saves the first two, he cannot save the 3rd.
Advantage Roger.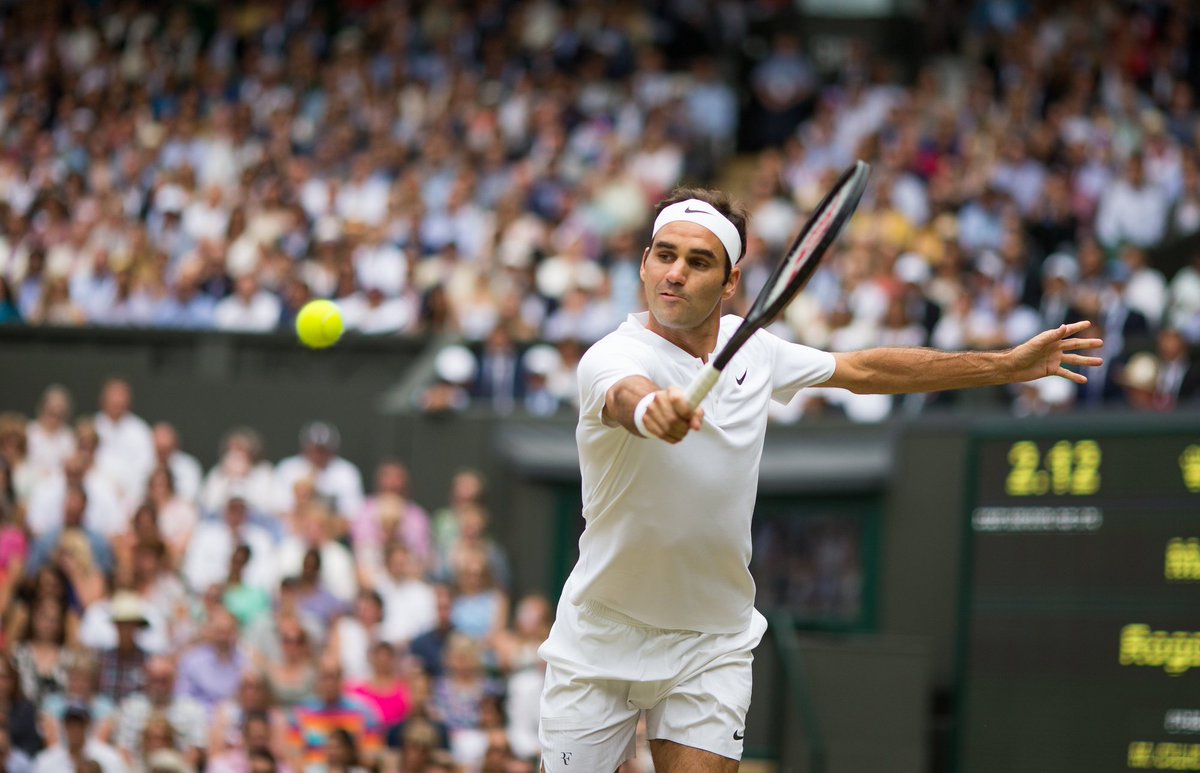 Fine margins.
After saving a break point on his own serve, Federer then breaks the Cilic serve for a 3-2 lead in the first set
#Wimbledon
https://t.co/h3uKeBzBoR
Cilic 2-1 Federer
Plenty of nerves, as you expect, from Marin Cilic on his opening service game, with a couple of very tight forehands, but the big man does well to hold under plenty of pressure.
Credit to the Croatian.
Wow! Some huge hitting from Marin Cilic in the first Federer service game gets him to 15-30, and although it isn't enough for the early break, encouraging signs for the underdog.
Cilic holds for a second time but although we are on serve, both men look ready to attack. Great signs.