The Australian star will be on show alongside Jonny Bairstow in July's opening fixture
09:50, 26 Nov 2019
Steve Smith and Jonny Bairstow will clash with Jason Roy and Sam Curran in the world's first-ever 100-ball cricket match, it was announced on Tuesday.
The Oval Invincibles are to host the Welsh Fire in the inaugural game of The Hundred, the ECB's new shorter-format competition, on Friday July 17, 2020.
World number one batsman Smith and England World Cup winner Bairstow were among the star names selected by the Welsh Fire, an amalgam of Somerset and Gloucestershire, in October's draft - the first of its kind in British sports.
Smith, who returned from a one-year ban for ball tampering to score 774 runs in this summer's Ashes series, is considered one of the star attractions in the four-week competition which will conclude with a final on Saturday August 15, while fellow Australia test star Mitchell Starc was also selected by the Welsh Fire.
For their part, the Oval Invincibles - representing Surrey and Kent - picked Imran Tahir and Dane Vilas as their £125,000 top-bracket draft picks and chose Roy and Curran among their homegrown ranks.
The Birmingham Phoenix will take on the London Spirit in the second match on Saturday, July 18 as 100-ball cricket takes over for a month in the middle of the traditional domestic season.
Meanwhile, the Roses battle between Lancashire and Yorkshire takes a new twist when Manchester Originals meet the Leeds-based Northern Superchargers for the first time later the same day.
Southern Braves fans get their first glimpse of new signing David Warner when their side play Welsh Fire on Sunday, July 19, a game which is quickly followed with Trent Rockets' opening fixture against Birmingham Phoenix that night.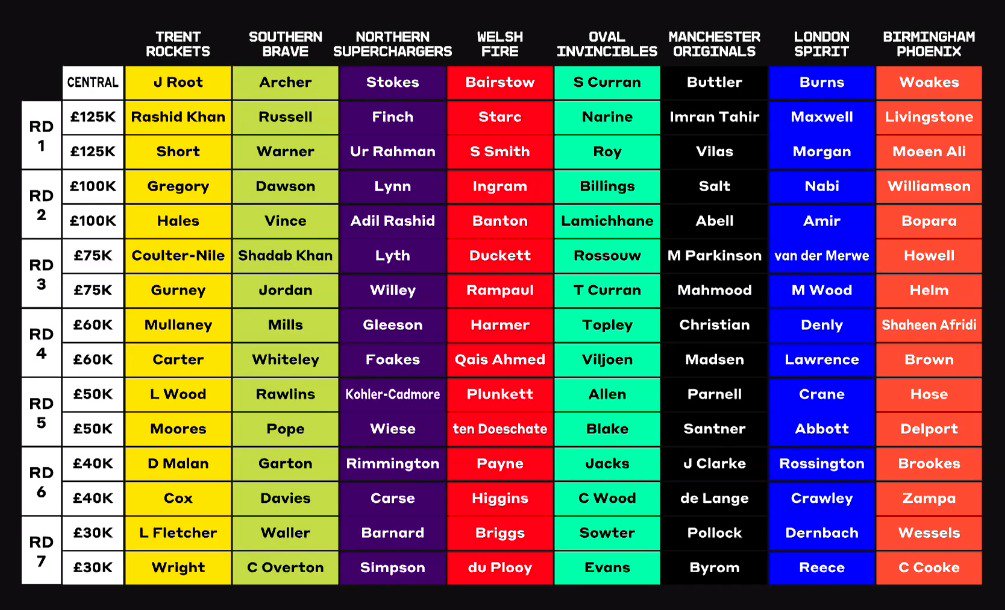 The Hundred will see bowling change ends every 10 balls rather than the usual six, while captains will have the option of switching bowlers after five balls or 10 instead of the regular six-ball over.
Meanwhile, scoreboards at stadiums are set to be stripped back of information to make them easier to follow, with just the total runs scored, wickets lost and number of balls remaining being shown in order to simplify the presentation.
England Test captain Joe Root, who will play for the Trent Rockets based in Nottingham during the inaugural tournament, says he is looking forward to what the new format offers.
"It's going to be a fantastic tournament and one I think lots of people will have to keep an open mind about as it's different and new," he said.
"I believe it could add a different way of thinking and looking at the game and improve both county and Test cricket."