The Flat racing legend died on Sunday at the age of 86
14:13, 30 May 2022
Legendary broadcaster Derek Thompson has called Lester Piggott "without doubt the greatest jockey of all time" as tributes continue to pour in for the 11-time Champion Jockey, who died on Sunday at the age of 86.
Piggott was one of the biggest names in horse racing for decades, with an incredible record of 4,493 winners on the flat in Britain and over 5,300 total victories across the globe in both Flat and National Hunt racing.
And Thompson has lauded Piggott's record and his impact on the sport following news of the great man's death.
"Lester Piggott was known as the greatest because he was the greatest," Thompson tells The Sportsman. "He rode the little matter of 4,493 winners but that doesn't tell the story, the story is nine derby winners – NINE, imagine that! – and 30 British classics. Do you know how many winners he had at Royal Ascot? One hundred and sixteen. And he was 11 times Champion Jockey.
"He rode his first winner at just 12 years of age, and by the time he was 15 he had ridden over 50 and he was still riding winners when he was 59 years of age. Nobody else has ever done that. He was absolutely incredible.
"He was so dedicated, he rode shorter than anybody else, his judgement of pace was incredible, nobody could beat him in a finish. He was just amazing.
"I'm pleased to say I was watching him when he rode most of those winners, and I became friendly with him. I remember at Frankie Dettori's wedding we sat together at the dinner and it was just such a great honour. This news that he's passed away is so sad, but at the same time we've got to be positive and say 'Wow, what a man, what a record'.
"He was without doubt the greatest jockey of all time. Lester Piggott, we'll never, ever forget you."
Racing lost a true icon yesterday, his records and legacy will never be beaten.
🏇 4,493 Winners
🏆 9 Derby wins
🏆 30 British Classic wins
🥇 11x Champion Flat Jockey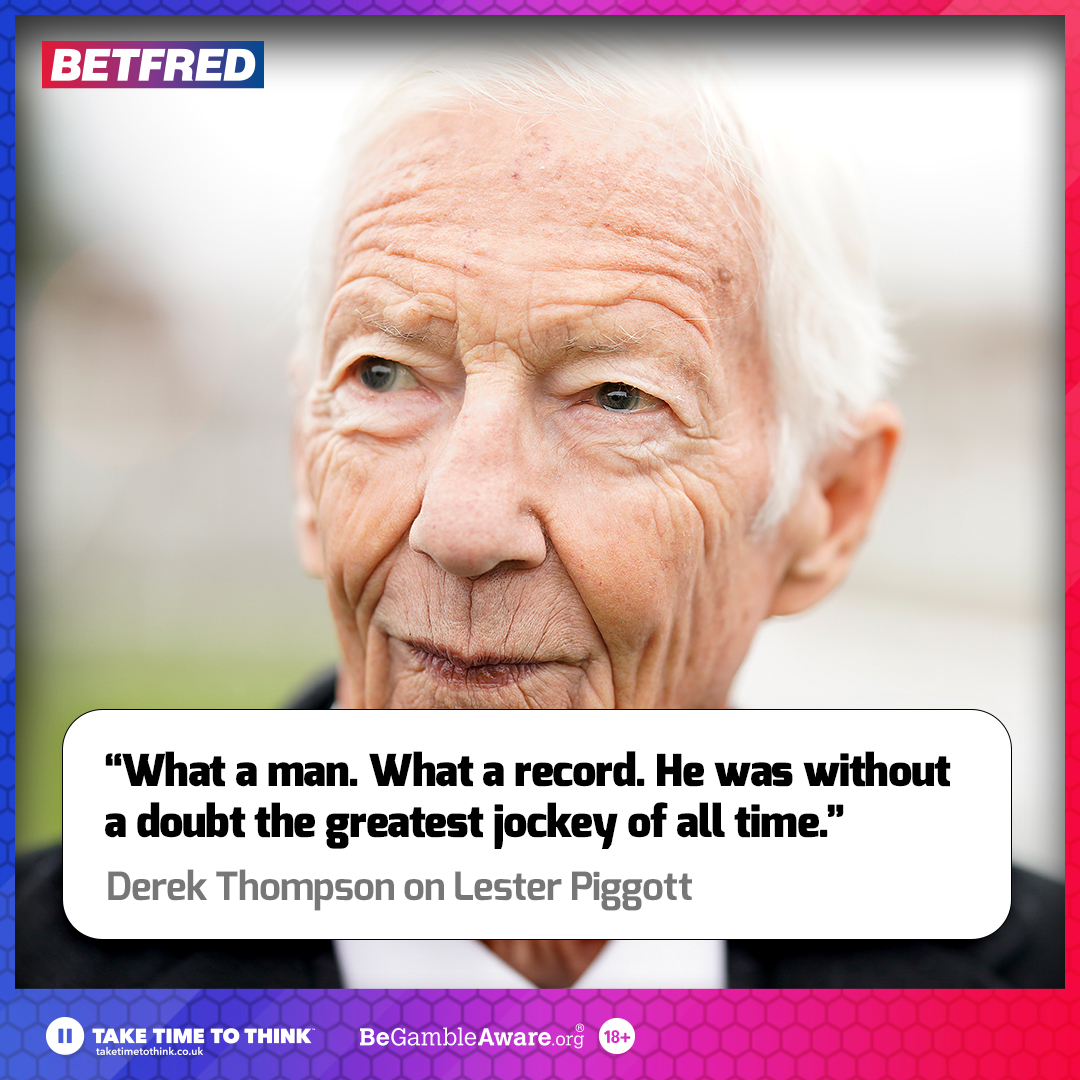 Jason Weaver, himself a winner of over 1,000 flat races, adds that Piggott was an inspiration for up-and-coming jockeys.
"I was only starting out when Lester returned to the saddle and didn't see him when he was mopping up in the 1960s and 70s. I was 18 when he won at the Breeders' Cup on Royal Academy, and what an incredible occasion that was.
"I was lucky enough to be at Belmont Park in 1990 just a couple of weeks after he returned to riding and the ride was just out of this world.
"I am lucky enough to be racing most days and am often asked what my best memories on a racetrack are. Well I was at the Melbourne Cup in 2002 when Damian Oliver won it just days after his brother was killed in a training incident and that was very emotional. But to be there in 1990 at the Breeders' Cup and witness that very special victory will always stick in the memory."
Six-time Champion Tipster Paul Jacobs says of Piggott: "Lester Piggott had a brilliant will to win and was almost blinkered, where winning meant everything and second was nothing.
"The other thing that set him apart was his physique. He was 5 feet 8 inches and never ate properly for all his career, and even afterwards. That must have taken a toll on his body and yet that will to win was amazing, right from the age of 12 with his first win through to his 4493rd in 1994."
PIGGOTT WON THE 2000 GUINEAS IN 1992 ON RODRIGO DE TRIANO
Presenter and pundit Tom Lee tells The Sportsman: "Lester Piggott is a name that transcends the great sport of horse racing.
"In the same way you can go to any corner of the globe and utter the words 'Manchester United' and be met with smiles and the names Bobby Charlton, Denis Law, George Best or Eric Cantona, so Piggott crossed over from being merely a jockey to the very symbol of the discipline he turned into an art form.
"Mention racing as your passion, pastime, hobby or job and you'll often be met with blank looks and shrugs, save for the eternal redeeming quality: 'I know almost nothing about racing, only Lester Piggott, John McCririck and Frankie Dettori!'
"Part of his charm and appeal was his roguish side. The public love a comeback from a fallen hero, and when Piggott returned to the saddle from a year in prison for tax fraud, the adulation only increased, as 'The Long Fellow' picked up where he left off, amassing major prizes one after the other, a sequence which led to him being regarded as quite possibly the greatest ever Flat jockey.
"Even those without a clue had a clue where Piggott was concerned."