Cricket /
Why Eoin Morgan Needs To Step Up Or Risk World Cup Axe
Pressure is mounting on England's Eoin Morgan
Nobody can doubt the outstanding progress made by England in the three years since a catastrophic World Cup performance in Australia and New Zealand. But the very man who has masterminded much of the impressive turnaround is now in danger of harming his side's chances of lifting the sport's biggest prize.
Eoin Morgan has been much of what is right with England's 50-over success since they returned from Down Under in 2015 with their tails firmly between their legs.
England's pedestrian, old-fashioned performances saw them found wanting on the global stage, while the likes of New Zealand - led by Brendan McCullum - and eventual winners Australia, displayed the kind of attacking intent England are now renowned for.
Morgan, with new coach Trevor Bayliss, resolved to change England's tactics and a revolution began, which has seen them move to the top of ICC rankings. The Three Lions have become the benchmark, breaking countless records with their boisterous style. Big-hitting, committed to attack throughout and with dynamism in the field, Morgan has led that change from the front with brave decisions and a calm demeanour.
He will always receive credit for that, particularly if England go on and claim a first World Cup as they the favourites to do on home soil this time next year.
However, his own participation must now come into doubt. As pundits and supporters alike debate who to leave out of their batting line-up - England's embarrassment of riches means there are always one or two who are harshly side-lined - more and more it looks as though Morgan should be the one to carry the drinks. It is only his captaincy that's keeping him in the side, which isn't right.
Jason Roy, Jos Buttler, Joe Root, Alex Hales and Jonny Bairstow have all averaged more than 50 in this format since England lost in the ICC Champions Trophy semi-final against Pakistan last year. Morgan is the only one of those in the running for a top five place who hasn't.
The thoughts of the captain.
Scorecard/Clips:
#ENGvIND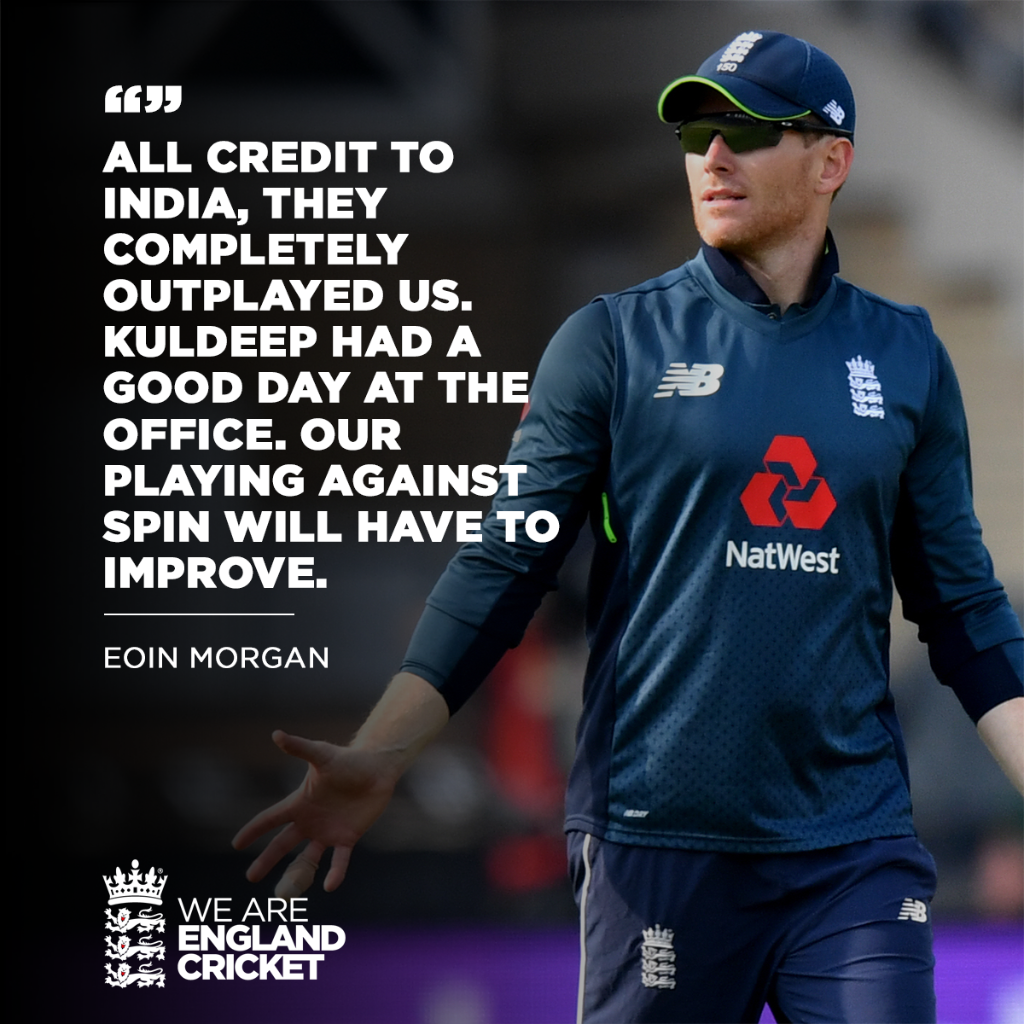 His 19 in defeat against India, as England were thoroughly beaten by the tourists in the first of three One Day Internationals at Trent Bridge yesterday, sums up his form. And unfortunately it has been this way for a while.
Morgan came in at a time when his side were wobbling, but looked twitchy at the crease and couldn't even make a run a ball. By the standards his side have set today, that's a poor return.
It's a similar theme with Morgan. The term "captain's innings" certainly doesn't apply to him. He only tends to get runs when everybody else does. There is no leading from the front with the bat. His only scores against Australia came with his side so superior and on top there was no pressure. And even then he didn't always cash in as the Three Lions completed a 5-0 whitewash.
It's over a year since his last century, while all around him blaze match-winning performances.
England are under pressure against India, the nearest side to them in the rankings. The victors in this series will be the favourites for the World Cup. It's Morgan's toughest test yet and he needs to step up with the bat as much as with his captaincy.
England's way of playing and the mentality of his side is set. Who is the captain has become far less important than it was at the end of the last World Cup, when England badly needed a new direction - particularly with ready-made replacements in the team's current superstar Buttler and Test leader Root.
Morgan has to step up when the going gets tough, otherwise he should be the fall guy. You can't stay in the side on leadership skills alone. There are too many top players in this country vying for the chance to claim a first World Cup title.
If Morgan continues to be a wicket in waiting, the pressure will intensify on the rest of his side and England will become less of a force as a result. He has taken them this far, but how further will Morgan be around to take them? Only runs will answer that.