2019 Champions League Final: Can Liverpool Manager Jurgen Klopp End Barren Run?
12:01, 31 May 2019
Only three other clubs now have a better record of completing the route to the European Cup final as Liverpool enter their ninth this weekend against their seventh different opponent; Tottenham Hotspur, in the first all-English final in 11 years.
Expectations are high for a Liverpool side that has been delicately assembled by Jürgen Klopp, as they bid to go one better than last year, when they reached their first Champions League final in over a decade.
This season, Liverpool are looking to go someway to eradicate not only that defeat to Real Madrid but also the disappointment of being agonizingly beaten by a single point to the 2018/19 Premier League title by Manchester City, to once again assert themselves as the most successful British team in European competition history.
Klopp's record in finals, however, is well-documented, with the German having lost six of his last seven with both Liverpool and - preceding that - Borussia Dortmund.
However, the Liverpool gaffer is buoyant; "I have never been part of a final with a better team than this," Klopp said (via BBC), and after an exceptional season when they've been far and away one of the two best teams domestically and have claimed the scalps of Barcelona and Bayern Munich, the possibility of Liverpool making it six European Cups - moving back up to third ahead of both of those aforementioned teams in the all-time rankings - is a distinct possibility.
Klopp will have the extra incentive of avoiding the ignominy of becoming only the second manager - after Marcello Lippi - to lose three Champions League finals. Impressively, the manager has reached at least one final in every single season in the past eight, bar one, though the record doesn't make for pleasant reading:
LOST: Champions League - 2013
The first - and so far only - all-German Champions League final, Bayern Munich bounced back from being beaten in the previous two Bundesliga campaigns by Klopp's Dortmund side to complete the continental treble in Jupp Heynckes' last season.
At Wembley Stadium, it took an hour for the deadlock to break, with Munich's Mario Manduzkic taking advantage of Arjen Robben's tenacity. Though Ilkay Gundogan equalled for the BVB from the spot after Dante brought down Marco Reus, it was Man of the Match Robben to take the glory in the dying minutes of the 90.
📆 OTD in 2013...
Bayern saw off Dortmund at Wembley to be crowned champions of Europe 🇩🇪👑
Jurgen Klopp has managed a team in the last two Champions League finals not to feature Lionel Messi or Cristiano Ronaldo (2013 and 2019).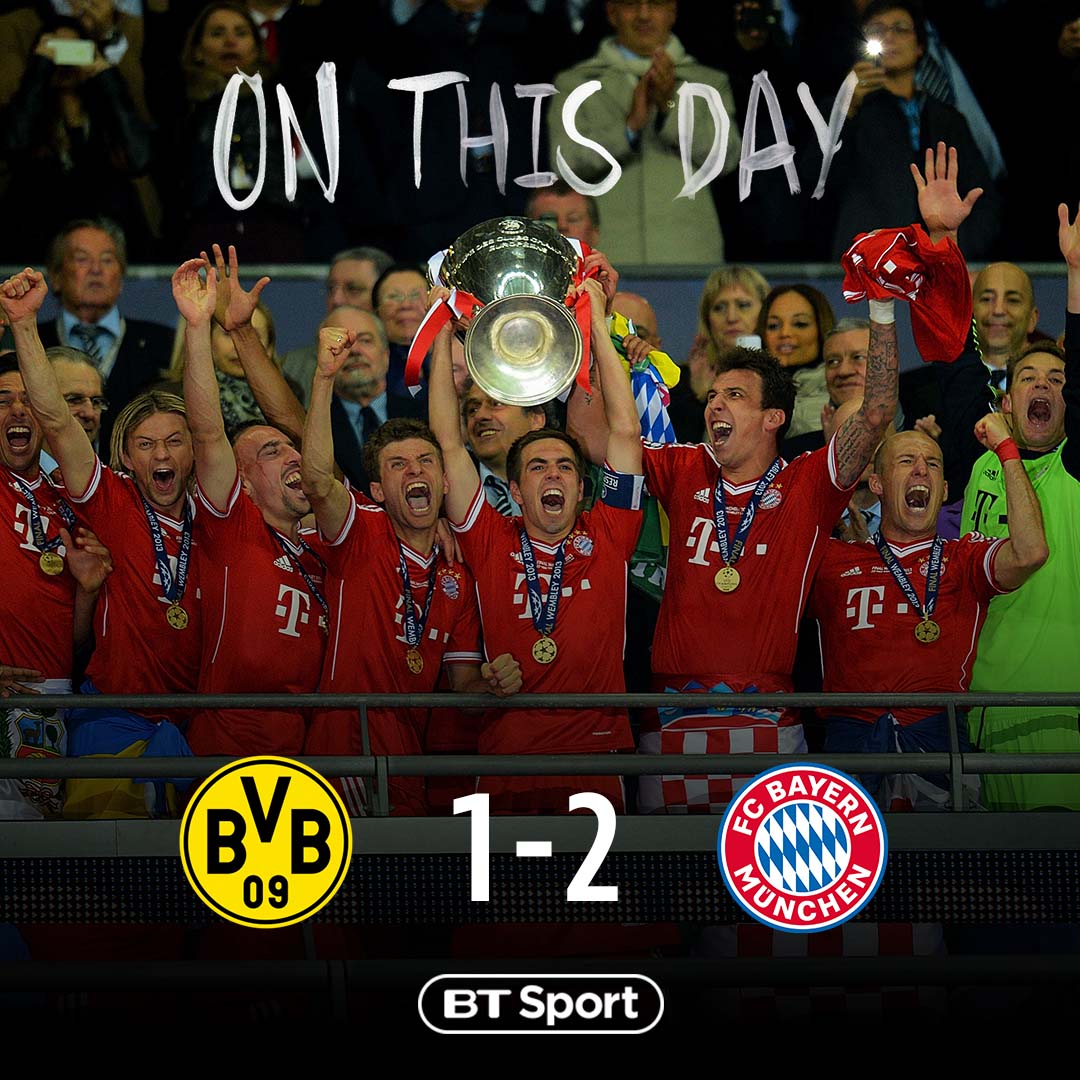 LOST: DFB-Pokal (German Cup) - 2014
The Bavarians - victors in the previous season's UCL at the expense of Dortmund -
piled on the misery in the capital to increase their haul to 17 German Cups. Dortmund had won the competition two years earlier over Munich for a domestic double, with a 5-2 mauling at the Olympiastadion, with Robert Lewandowski bagging a hattrick.
In 2014, it was a valedictory defeat for the Polish striker with Dortmund, having already agreed to join Bayern in the off-season. Munich won 2-0 courtesy of Robben and Thomas Miller in extra-time. It was the first of three back-to-back German Cup finals Dortmund would reach, all ending in defeat.
LOST: DFB-Pokal (German Cup) - 2015
Klopp would depart the club following this loss, after seven years at the helm of Dortmund. Pierre-Emerick Aubaymeyang had given his side the advantage extremely early on in the game after just five minutes, before Wolfsburg struck back with three more first-half goals for their first ever victory in the competition.
LOST: League Cup - 2016
A goal for each side from two Brazilians, Philippe Coutinho and Fernandinho, and then a goalless extra time, allowed Manchester City's shot-stopper Willy Caballero to step up and be the hero after the tie went to penalties.
It was a different story for Liverpool's man between the sticks, Simon Mignolet, who was at fault for City's opener; a goalkeeping issue that would continue to rear its head and prove detrimental for the Reds in the near future...
LOST: Europa League - 2016
A little over three months after losing the League Cup, Liverpool went into the Europa League Final as favourites - particularly as they had seen off Man Utd and Dortmund along the way to St. Jakob-Park in Basel. Again, they took the lead but were ultimately beaten 3-1 by a Sevilla side, led to their third straight trophy by Unai Emery.
LOST: Champions League - 2018
A replay of Liverpool's 1981 meeting with Real Madrid, this was a real game of heroes and villains in Kiev; Liverpool's Premier League Golden Boot winner Mo Salah was carted off early thanks to Sergio Ramos' b*stardry, whilst Gareth Bale took advantage of the calamity that was Loris Karius. It was heartbreak for the travelling Reds in the Ukraine, but will they be redeemed this year?