5 Reasons Why Manchester City Won The Premier League
14:48, 16 Apr 2018
Guardiola's unwavering commitment to his philosophy
There was a point early in his tenure at City that Pep Guardiola was questioned on his tactics and philosophy and he was asked what he would change now he is in England as it's 'different' here. His answer was unequivocal – nothing.
"21 trophies guys – that is my answer. If I fail here then so be it, but I will play my way."
It bordered on arrogance, the arrogance so loved by the press when Jose first arrived on these shores that through countless imposters and charlatans has led them to despise it.
And so the press got their wish as City struggled to adapt and following heavy defeats away at Everton and Leicester they revelled in it.
'He'll have to change' and 'This is England' came the cry from some who should know better.
And while he was frustrated he was planning. Not to change but to make sure he had the personnel to deliver.
He has more than had the last laugh. His philosophy is simple and the football is beautiful. But the main reason he applies it is that it works.
Cue Castles and Custis crying into their pints.
Quality of signings
Much has been made of the outlay on players and you will never escape this. No side in 25 years has won the title without spending fortunes so what is the difference?
Could it be that Guardiola identifies players that fit perfectly into the system? Did he replace ageing fullbacks with quality upgrades? Yes.
The simple fact is, regardless of cost that Ederson, Mendy, Walker, Bernardo Silva and Laporte are all excellent additions.
It remains to be seen whether similar signings at some of their rivals are quite as successful.
🏆 They've done it!
C H A M P I O N S
#MCFC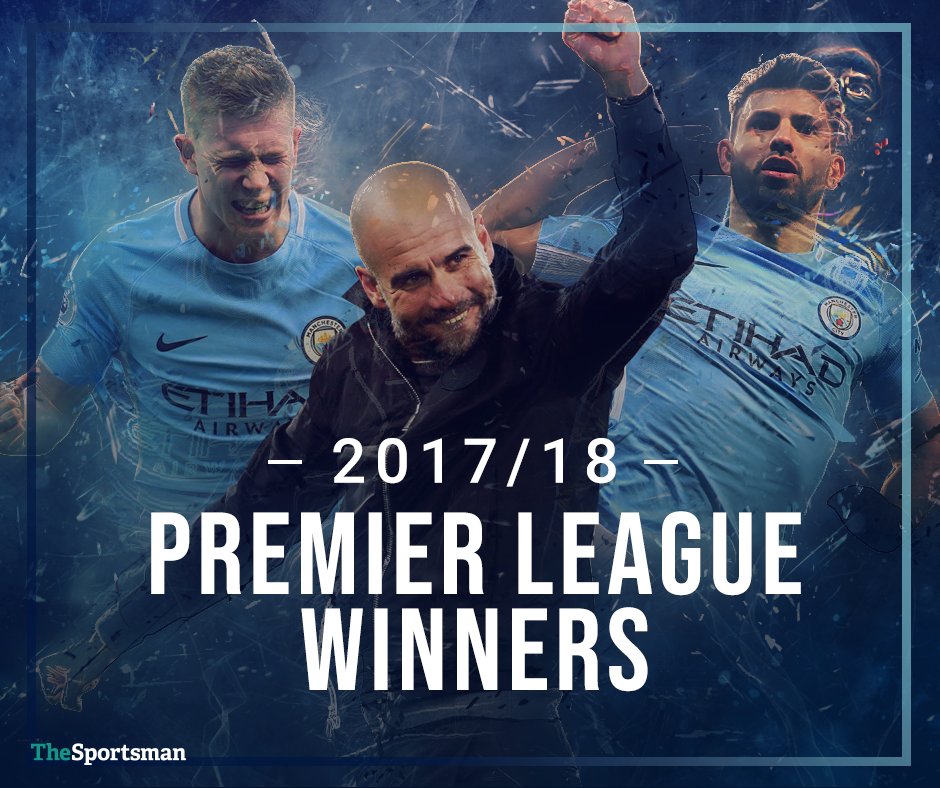 Ability to adapt a squad when injuries hit
Despite many fans of other clubs claiming City have no injuries, they have had plenty.
The amount of league games played by some key players is the proof.
Sergio Aguero 25, Vincent Kompany 15, Gabriel Jesus 24, Fabian Delph 18.
Pep gambled on only having one left back which of course was quickly cursed when Benjamin Mendy suffered a season ending ACL injury in September (chasing a ball he didn't have to go for).
Yet still they adapted and prospered. Turning first Fabian Delph into a makeshift left-back followed by attacking midfielder Oleks Zinchenko when Delph became crocked proves this.
They barely missed Mendy - a player key to Pep's pre-season plans.
Team spirit
It sounds a bit of a cliché but ask any City fan and they will tell you they have never seen a team so together and committed to each other.
Under Roberto Mancini there was always an undercurrent of disharmony and even under Manuel Pellegrinin the team never seemed quite as one, despite the best efforts of Kompany and Zabaleta.
There is no such problem with the current crop under Guardiola. Everything they do seems to bring confidence and togetherness as they thrive off one another.
Belief in the ability of key players
Pep's whole philosophy rises or falls by his trust in his players. The heart-stopping moments when Ederson coolly rolls a pass between three onrushing attackers.
The deft flicks on the edge of the opposition's penalty area when they have committed seven players forward.
The repetitive probing when needing a goal, never once being tempted by a long-range drive from 40 yards or a Hollywood pass to nobody.
All of this is down to the players following instructions.
Without Ederson acting as the 11th outfield player or Fernandinho's discipline to hold his position and sense danger it wouldn't work.
Without Sterling's constant runs into space or Kevin De Bruyne having the licence to play a risky pass that others are not permitted they would not have won anything.
Without David Silva being allowed to drift to areas where he can get the ball and influence play or Leroy Sane constantly hugging the touchline to open up space in front of him City would not be the best Premier League side (probably we've ever seen).
That trust brings reward. Not many would dare to entrust.
🍻 Delph, Walker, Stones, Komapny and Bernardo out celebrating City winning the league
There can only be one song... 🔊
(📹@JamesM1717)
#MCFC