"After Years Of Scepticism, Finally Even The Italians Understand How Good English Football Is''
17:00, 29 May 2019
As Chelsea face Arsenal in the Europa League Final on Wednesday evening, followed by a clash between Tottenham and Liverpool in the climax of this season's Champions League, all eyes around the world will be on English football.
It has been a remarkable achievement by these four Premier League sides, especially as both competitions have been so dominated by La Liga teams in recent years. Clearly, there has been much written about this in the English press, but it is interesting to take a look at what foreign nations think of this season's European final competitors.
"It's not a big surprise for me," Empoli supporter Francesco Sani revealed to The Sportsman. "I imagined it was possible when Juventus lost their game vs. Ajax. I actually backed Manchester City instead of Spurs. Tottenham remind me of Argentina at the Italia 90 World Cup, it was tenacity, cunning and luck that drove them to Madrid.
"Pochettino and his squad have given their best (and even more), and if they still "ride the wave" they can even hope to win the final game. But it would take a lot. Liverpool deserved better luck last year and now they have the chance to try again. Barcelona and Real Madrid closed a cycle last year and I'm surprised that it has not necessarily underlined this season by the sporting press.
"I've always considered Chelsea and Arsenal the best teams in the Europa League and plus [Unai] Emery is a quality assurance for this cup! Maurizio Sarri had a good draw because the only serious rivals such as Napoli or Valencia met the Gunners. Sarri has the credit to keep the players focused on the target despite the bad ambience around the team.
"In the end, my personal opinion about the Premier League is that they are the richest and most competitive league in Europe and this gives us the key to understand what happened.
"Where there is only one competitive top club (Germany, Italy and France) the possibility to win the Champions League is really low. Where there are two top clubs (Spain) the possibility to win the competition it's a mixture of talent and good situations. Where there is an equal division of TV broadcasting incomes (England) there are better opportunities for everyone."
A huge week for English football!
Europe's top prizes will be held by Premier League clubs...
Two thrilling finals await 🙌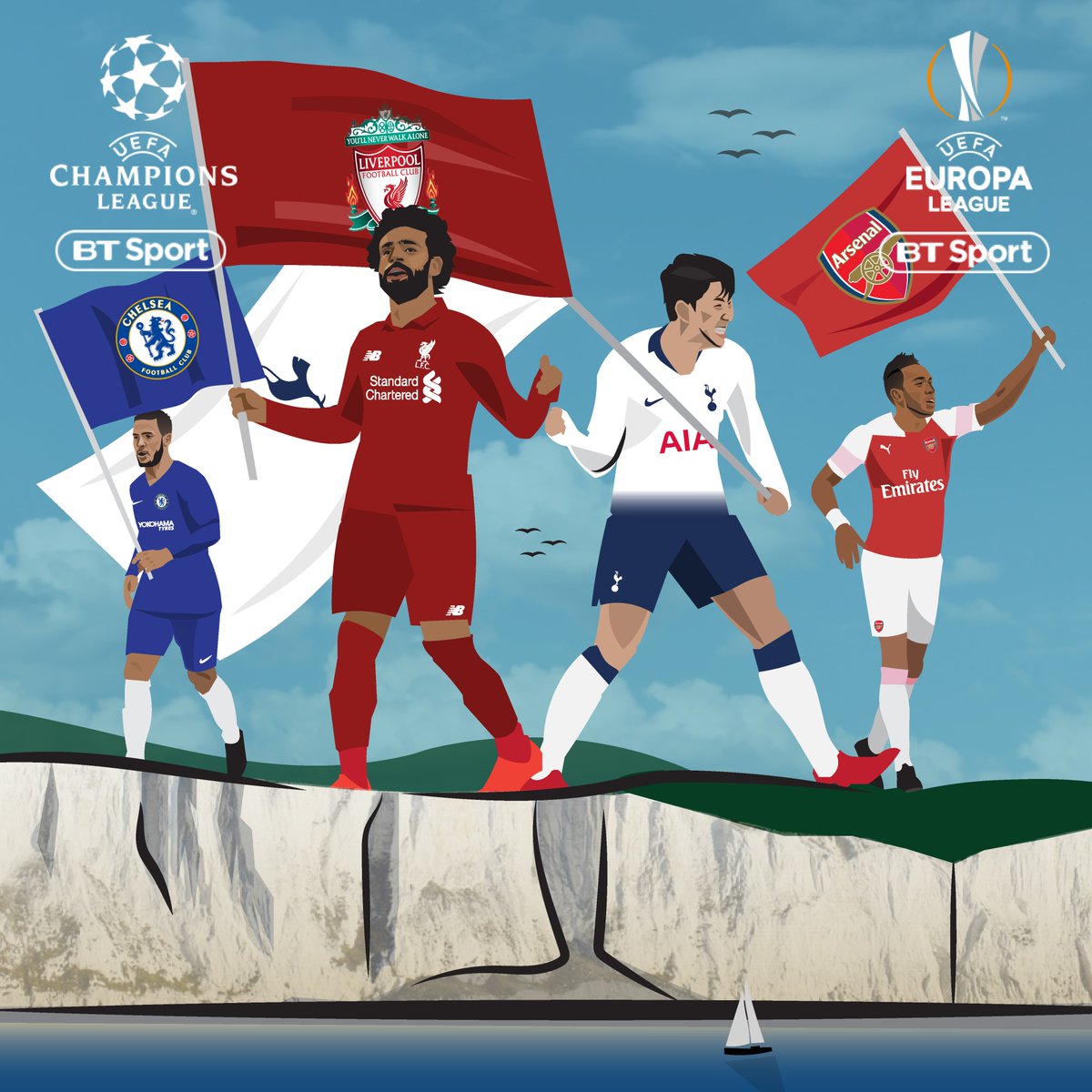 There are plenty of English football fans in Italy who are delighted to see these four teams compete for Europe's prestigious trophies, as Michelangelo Gamberini, an AC Milan fan explains.
"Finally English football got what they deserved," he told The Sportsman. "I have always preferred them over Spanish sides and this year we will get to see four English contenders for the finals of the two main European competitions.
"The times when Italian sides were there are so far in the past but I'm sure they'll be back. I will enjoy those two beautiful games!"
Andrea Pettinello is a regular viewer of English football, so much so that he has created a site in Italian that is dedicated to it named "Il Calcio Inglese".
"After years of scepticism, finally even the Italians understand how good English football is," Andrea tells The Sportsman. "And it's not only about tactics or results, is about how the whole organisation and the whole country sell its image abroad, how they use their money and how planning of their future a few years ago has finally give them results.
"Now England has become a role model to imitate but what Italians don't understand (yet) is that you can't just copy what others do, but you have to be pragmatic and start to refund and rebuilt a whole movement. Italy and Italian clubs were the best during the '90s but after winning the World Cup in 2006, everything stopped.
"We didn't plan our future and after 13 years we found ourselves in one of the worst situations possible: the lower leagues are a total mess, with clubs that play with just 13 players, or teams that have been ruled out the league in the middle of the season or others (like Palermo) who are in the fight to be promoted to Serie A all season and by the end they've been relegated due to financial irregularities of their owner.
"In Serie A nothing changed: Ronaldo has arrived but he didn't make a clear difference, the top teams are struggling (see what is happening to AC Milan or Roma) and clubs like Atalanta get praise for just a good season (a lot of people forgot they had 72 points a couple of seasons ago but they didn't make to the Champions League because of UEFA regulations).
"The English teams are now an example of what you need to do to progress and see what is happening in Europa League at the moment explains why you can't just do the same things as them to be like them (for example the failed experiment of playing on Boxing Day).
"We will enjoy watching them play these finals but we don't have to be jealous: they worked a lot to get where they are now and we are not doing anything to help ourselves and progress. Only Juventus started a serious project a few years ago and now they are dominating (Eight league titles in a row). They are getting their U23 team in the third tier and planning to build a stadium for their women's team. But to get improvement you can't just look at them but instead do something to follow their lead."