Birmingham's season has fizzled out
17:55, 01 Apr 2022
Where Birmingham City's season is heading has, for some time, been as clear as the blue sky above St Andrews, but precisely what that destination represents is far cloudier.
Blues have had five relegation battles in the previous eight seasons, so some will welcome a whole campaign spent without having more than one or two nervous glances downwards.
Lee Bowyer and co. can claim credit for some things, unquestionably, but neither Derby's off-field woes, Reading's sense of crisis, the alarming decline from Barnsley nor the lack of Championship quality at Peterborough are among them.
Those four factors have helped several poor to middling sides like Cardiff, Hull and Bristol City sleep far more easily than they would have done otherwise and Birmingham are in that same category.
In fact, the B9 outfit are projected to finish the season on approximately 50 points, the same number accrued in 2019-20, towards the end of which fans called for Pep Clotet's head.
In the previous 18 second-tier seasons, 50 points has not been enough for survival on five occasions, for six teams: Blackburn in 2016-17, Peterborough and Wolves in 2012-13, Leicester in 2007-08, Gillingham in 2004-05 and 2003-04 Walsall.
Essentially, if you collect 50 points in the Championship, you have a 28% chance of going down.
And yet, the mood among Birmingham fans does not reflect that probability, because the chances of relegation in this instance have always been much lower due to events elsewhere.
In that sense, it is possible that supporters are more content because of external circumstances, rather than the progress that's truly being made.
Then again, Birmingham have had injury problems all season.
In August and September, there was hope that a consistent XI could be found: Matija Sarkic in goal, a back-three of Marc Roberts, Harlee Dean and Kristian Pedersen, Maxime Colin and Jeremie Bela as wing-backs, a midfield pairing of Ryan Woods and Ivan Sunjic, Tahith Chong as the number 10 in Bowyer's 3-4-1-2 setup, then Lukas Jutkiewicz and Scott Hogan up top.
When that was Bowyer's line-up, Blues took seven points from four games, including a stunning 5-0 win at Luton, a comprehensive 2-0 victory over Derby and a 1-1 draw at Barnsley that should have been won comfortably as well.
Each of the aforementioned XI bar Ivan Sunjic, however, have been absent at one stage or another and Bowyer has had to re-jig the side frequently, making it difficult to find a coherent blueprint with which to move forward.
These issues have been dealt with through success in the loan market, with nine players signing via that means, seven of which making a considerable difference to the squad.
Chong is the classic example: either side of a long-term lay-off, the Dutchman has brought pace, guile and quality from Manchester United, earning a new contract at his parent club based on his B9 form.
For part of Chong's time on the sidelines, Blues have been able to look for pace from Onel Hernandez, who loves to take on opponents in the final third and drive into the box.
Matija Sarkic and Dion Sanderson, on loan from Wolverhampton Wanderers, have only been able to make 38 out of a possible 92 league appearances this term, but the sublime shot-stopper and the quick, strong, ball-playing defender both look ready to go into Bruno Lage's Premier League squad next term.
When Sanderson departed, Blues borrowed from United another right-sided defender in Teden Mengi, who has since brought similar athleticism, if not quite the same progressive qualities.
At the other end, striker Lyle Taylor has scored three goals in eight and given Birmingham a ruthless edge since joining from Nottingham Forest, while Juninho Bacuna's long-range passing, after arriving temporarily from Huddersfield, has been a joy to behold.
And yet, while most players to don the shirt this season have displayed very obvious qualities, they have also had very obvious weaknesses and the tactical inconsistency means Blues have had the feel of an ever-changing Rubik's cube.
Birmingham have been openly awful in a handful of games, including both meetings with Peterborough, outstanding in a similar handful, including both meetings with Luton, but otherwise competitive yet disjointed and without an overarching identity.
Pound for pound, this Blues squad is stronger than that of Blackpool, for example, yet it's the Tangerines who are six places and 10 points better off with two games in hand.
That's largely because the individual strengths of each Pool player is tailored towards fitting into a high-pressing 4-4-2 system with quick transitions.
Birmingham, meanwhile, have been denied the opportunity to establish similar cohesion and have a muddled mix of different types of players.
The issue is most notable in midfield, where Bowyer has had to balance the need for tenacity (Sunjic), control (Woods), exuberance (Jordan James), leadership (Gary Gardner) and creativity (Bacuna), but each these players have significant shortcomings in categories other than the one they specialise in.
The matter is complicated by the fact Gardner's lack of mobility might have seen him take more of a back-seat than to start 26 of 39 league games in different circumstances, but the 29-year-old has scored five of the nine league goals from midfielders currently at the club: if Bowyer leaves him out, nobody else has looked capable of chipping in.
Elsewhere, Marc Roberts gets into the side because he is the most aerially accomplished centre-back available and the team struggles significantly in his absence, but that does not mean he is necessarily a good Championship defender.
Not only is Roberts more limited in possession than most at this level, he tends to win headers unconvincingly and whilst stumbling somewhat, so while 4.3 successful aerial duels per game looks great on paper, a lot of them fall to an opposing player and thus keeps Blues penned in.
With all those things in mind, combined with the reliance on loanees, the injury issues and the likes of Colin, Pedersen and Bela being out of contract this year, it's a big summer for Birmingham.
Heading into a busy April! 🗓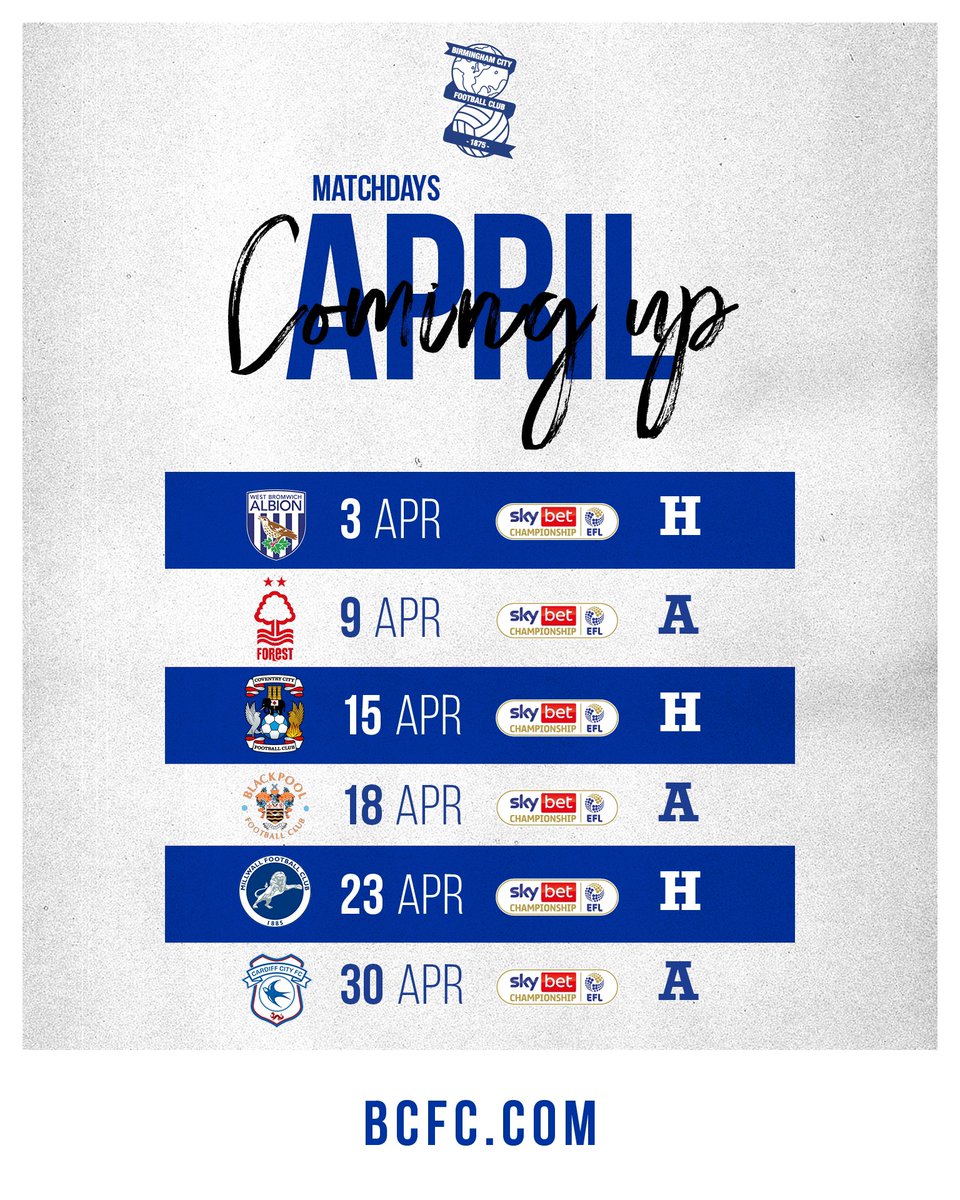 Supporters must trust Bowyer and Technical Director Gary Gardner to re-shape the squad so there is enough short-term quality next season to stay clear of the drop again, but also a process towards establishing a clearer playing identity, whilst remedying the financial concerns by increasing the long-term value of the squad.
16 league appearances for teenager James is a start, and the hope is that right-back Marcel Oakley, centre-back Nico Gordon, midfielder George Hall, utility man Tate Campbell and forward Jobe Bellingham – brother of Jude – can follow a similar trajectory next term.
Improved recruitment will also be required, however, to ensure that Birmingham do not continue to depend on a combination of older players and loan stars, and can therefore build more sustainably.
Progress? Yes, just about, but only with recognising the impact of injuries and the context of the deep-rooted problems that have existed long before.
2021-22, though, cannot be considered a fundamentally successful campaign, regardless of how well the last seven games go: Bowyer's first full season in charge should merely represent a gateway to the hope of happier times.