It is the FA Cup Final weekend. Well sort of. It's the FA Sunday Cup Final and Baiteze FC will be facing Highgate Albion at Millwall's home ground, The Den.
Back in January, we wrote about the Sunday league 'El Clasico' between Baiteze and SE Dons. That game was the second round of the FA Sunday Cup which Baiteze went on to win 3-2. Since then they've gone on to win three more games and are now just 90 minutes and potentially penalties away from lifting the cup.
In the previous article we noted they would grow their following if their cup run continued and that has proved to be the case as they now boast 66k followers, up from 58k. Ahead of this weekend's game, we thought it would be a good idea to chat with Baiteze's manager, Billy Hession, to get an idea of what it's like to be involved with a team as well known, yet as frowned upon, as Baiteze and what this cup run has been like for the group.
BIGGEST GAME IN SUNDAY FOOTBALL‼️‼️ tickets😉 -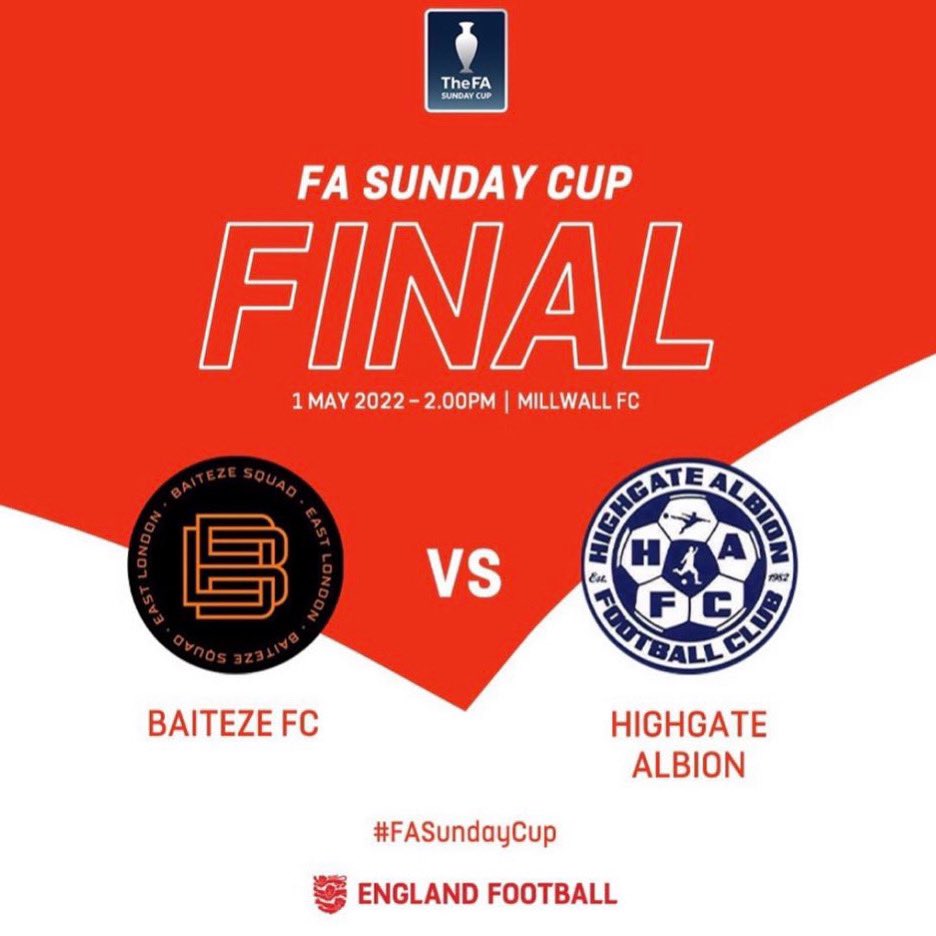 With a majority of the team having known each other since they were 11-12 years old, the Baiteze squad are a tight-knit group of friends who simply love playing football. Billy himself has been involved in two professional clubs, working at Southend United as an U18s coach and at Gillingham in a sports science role with the first team. Just over a year ago, he found himself in a new role in the Baiteze squad when the team changed manager and he stepped in.
When asked about how he found this transition and managing his close friends, Billy told The Sportsman, "That's probably the toughest part of it. My cousins play, the best men at my wedding play and obviously people I've known since I was 11 years old so it's very difficult sometimes to turn around on a Sunday and say 'you're not playing'.
"Some of the boys initially couldn't understand the difference between me on a Saturday and me on a Sunday, there's two different Billy's and on a Sunday I'm there to win."
The team have had a successful season so far, having made two finals and a semi-final, but in order to achieve something like that within football it's more than just luck and a few good performances. It's a winner's mentality. You see it at every level of sport and Billy knows his boys have to have that mentality every time they step out on the pitch. After all, he's there to win.
"My mentality is to be the best," Billy added. "Everything we go for, we go to win and we're very competitive… losing is not an option... Losing should never be an option. Every player should be doing the utmost and everything to make sure they leave everything on the pitch."
The quality within the team is rife and it's something not all managers have the blessing of but Billy is trying to be as fair as he can with the team and with the players who he selects in the starting eleven each week. He knew he had to come in, shake things up and breed a culture of competition into the squad. Complacency can be a player or a team's biggest weakness so within the Baiteze side, nobody's spot is safe. If you don't perform then the next man in could take someone's place and it's up to the individual to get it back and prove why they should be starting.
"Teniola and Shamari, the two strikers we have at the moment, are phenomenal and the battle for that shirt is beautiful to watch because they know if they don't perform in that one game, the other striker is going to get the nod."
Bully Boy Sham Airlines is currently running from Boston
@srb9mula
✈️ ! Semi final National cup video is out now!
The incredible cup run has so far seen Baiteze win two penalty shoot-outs, grind out wins on the road against tough teams from the north and beat fellow YouTube sensations SE Dons. However, Billy acknowledges that beating Grand Athletic 1-3 away from home was the best moment thus far. Grand Athletic had previously only lost once in their existence so the win gave Baiteze uncharted momentum that would see them defeat Grand Athletic again in another competition just a week later.
Unfortunately it's not all been smiles, wins and pleasantries on the way to the final. During the team's victory against Scawthorpe Athletic, one of the Baiteze players, Krantz, was racially abused, a claim that the opposition denied. No matter what stands are taken, no matter who shares the message and no matter who you are or where you go it appears throughout society and continues to smear the beautiful game.
When asked about the incident and how he thought it was handled, Billy said,"Racism of any form should never be accepted and it's one of the things you can never plan for as a manager, you just react with your instincts. I've known Krantz for years, he's a good man and a very honest man, he would never hurt anyone so for him to react the way he did, he wouldn't do that for no reason.
"The FA are still dealing with it and potentially charging someone but it just shows that the FA need to take it more seriously… I'm ready to walk off the pitch and hand over a cup competition. These cups are great but they mean nothing in terms of my friendships - I'd rather stick with my friends and show loyalty to my friends and togetherness, everything I am as a man than care about winning a football game."
Some may refer to Baiteze as 'the YouTube team' but that's not something Billy likes. He feels people use it as a forced divide but he insists they're not different to any other side. They are a grassroots club, nobody gets paid to play despite the claims from other teams and they just want to play together as friends and enjoy their hobby. They aren't there to degrade Sunday league, they're there to promote it.
Billy also recognises that they may take it more seriously than some other sides and his justification was more than valid: "When you've got 50,000 people watching you, criticising your every move, you want to at least be known for doing something well."
A victory on Sunday would be an incredible way to cap off the remarkable cup run. No team from East London has ever won the FA Sunday Cup and Baiteze are ready to become a club that everyone can be proud of. But the journey doesn't end here nor will it end with the current crop of players when they decide to call it a day. Billy is a man with a plan and has ambitions to sustain the legacy of Baiteze long after the current group finishes playing.
"I'm very big on sustaining it and making sure there is a youth set up in the next two years… we don't want to do it half-heartedly.
"We're all teachers and our job is to inspire the next generation and make them better. I believe making a football club in terms of youth levels that gets kids off the street, gives them opportunities and teaches them a new way of playing football in terms of the social media aspect as well is something we're definitely keen on doing."
This interview offered insight into multiple aspects of the Baiteze experience while also tackling some really important issues that seem to be brushed aside by the FA and sometimes society as a whole. We once again want to extend our thanks to Billy for taking the time to chat to us and we wish Baiteze FC all the best on Sunday and in the future.