Manager Frank Lampard has been justified in publicly calling for patience with the defender
14:00, 18 Jan 2020
Callum Hudson-Odoi has had quite the year. This time last January, the winger had yet to start a Premier League game. He had made only two appearances in the division as a substitute, appearing for 42 minutes in a 2-1 win at Watford and for just nine minutes in a victory over Newcastle United by the same scoreline.
Yet despite his lack of first-team minutes, Hudson-Odoi was attracting attention from overseas. Rumours that Bayern Munich were interested in signing him abounded. Jadon Sancho, another London-born wide forward of a similar age to Hudson-Odoi, had excelled since swapping Manchester City's reserves for Borussia Dortmund. With Maurizio Sarri handing him few opportunities at Stamford Bridge, Hudson-Odoi was understandably tempted by the prospect of a switch to the Allianz Arena.
Bayern pushed hard to sign the teenager before the end of the January window, but Chelsea stood firm. Even if he was only a fringe member of Sarri's squad, the club's board recognised that Hudson-Odoi was a valuable asset. The youngster demonstrated as much over the next few months, ending the campaign with 24 appearances – and five goals – to his name in all competitions. He also made his England debut against Czech Republic, having been drafted into the senior squad after several players were forced to drop out through injury.
However, Hudson-Odoi's season ended earlier than Chelsea's did. In April he ruptured his Achilles tendon during a 2-2 draw with Burnley. Such an injury is routinely held up as among the worst that can befall a footballer, and there was concern in some quarters that Hudson-Odoi would never be the same again.
The player himself has admitted to harbouring similar fears; he told reporters earlier this month that he sometimes worries about suffering further damage to the tendon prior to matches. Hudson-Odoi nevertheless made a speedy return to first-team action, appearing for the first time this season in a League Cup tie against Grimsby in September. His maiden Premier League outing followed a few days later, and he made his first start in the top tier in the 4-1 defeat of Southampton at the start of October.
2002 - At 19y 65d, Callum Hudson-Odoi is the youngest player to score their first Premier League goal for Chelsea since Carlton Cole against Middlesbrough in April 2002 (18y 197d). Teens.
#CHEBUR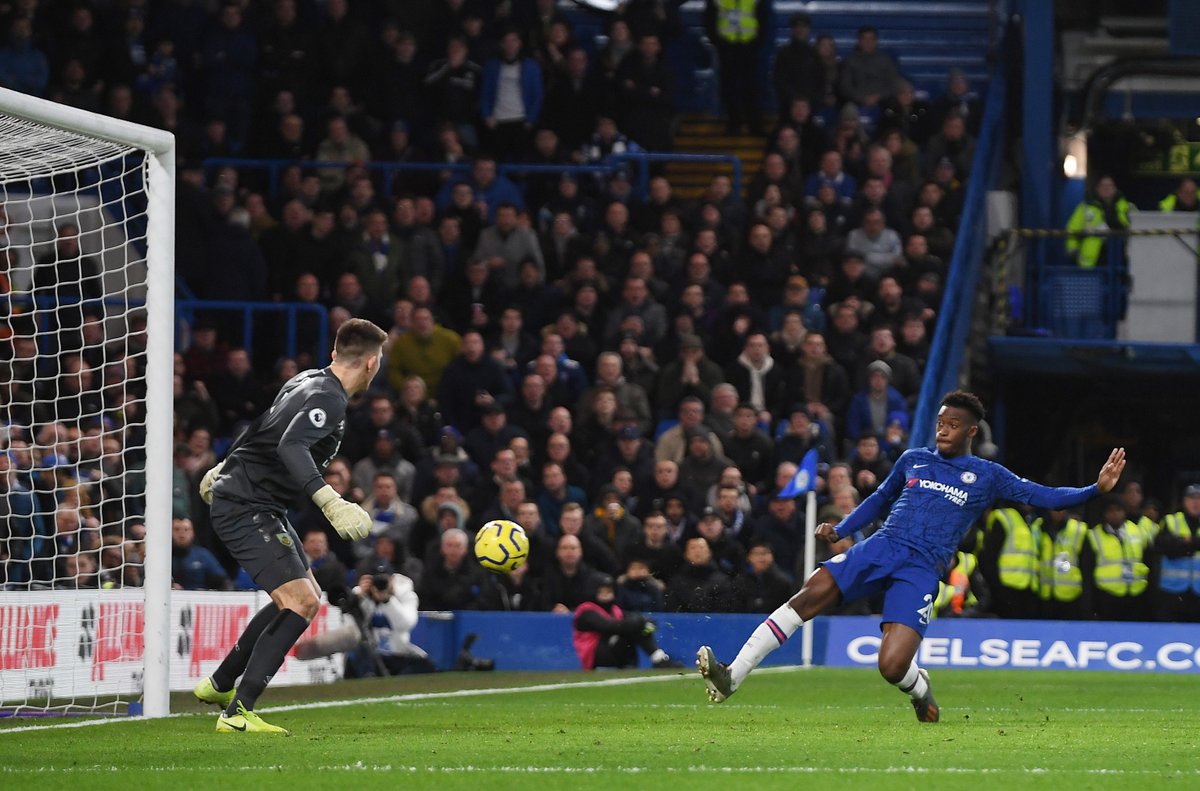 Hudson-Odoi struggled to recapture his best form immediately after his return. Some Chelsea fans even grew frustrated with him, while Willian, Christian Pulisic, Pedro Rodriguez and – in certain formations – Mason Mount were all competing with him for a place on the wing. Frank Lampard publicly called for patience, insisting that Hudson-Odoi would come good once he had eased his way back into the team.
Lampard has been proved correct. It is still early days, of course, and it is probable that a young player such as Hudson-Odoi will suffer another dip in form at some point in the future. Recently, though, the England international has looked sharp. He scored his first goal of the season in the FA Cup third-round win against Nottingham Forest, and was also on target in Saturday's 3-0 victory over Burnley in the Premier League.
"For Callum to score in the six-yard box is far more exciting for me than for him to score from 35 yards, without a doubt - because it means that he's prepared to run the extra bit to sprint in there," Lampard said to the press afterwards.
"And that wasn't the only time he did it; he did it on one of the early chances we had in the first half. He was doing it, recovering, going higher up the pitch at the right times.
"And his overall performance was an absolute statement for Callum of what he needs to do. That was the real Hudson-Odoi and what he can be because there's obviously more to come. But I thought his goal was brilliant for him, and if he can carry on doing that, then it's a serious player we have in Callum."
That is high praise indeed from a man who knows exactly what it takes to become a Chelsea legend.