We've always had the European qualifiers, the World Cup preliminaries and the Euro finals tournaments dictating that England play more regularly against teams from our own continent. But chuck in the new Nations League and the post-Covid propensity to look closer to home for opponents for friendlies and what you've got is a very skewed outlook on what the international scene looks like.
All we really see these days is European teams. We watch our clubs play in the Champions League, Europa League and Europa Conference League, and then we break up the season so that the Three Lions can take on Germany, Italy, Czech Republic, Croatia and the like until the cows come home.
Having gone from November 2019 to September 2021 without playing in front of a full stadium, four of England's 13 matches since restrictions were lifted have been against Hungary. So lop-sided is the schedule these days that our nation's football fans can probably spell Dominik Szoboszlai's name backwards but they won't necessarily have a clue about what the rest of the world beyond Europe has to offer.
READ MORE:
Only once in their last 44 games have England come up against a team from outside Europe, spanning a three-and-a-half-year run of all-too-familiar fixtures. And while this isn't quite the pre-1990s, when you'd stick on the World Cup and find a load of names you'd never heard of ready to wow you with their newly-unveiled skill set, there seems to be a lot of regular supporters sleeping on the likes of Brazil and Argentina as very real contenders to win this year's tournament in Qatar.
Brazil are Betfred's 9/2 favourites to lift the World Cup in December but the actual wealth of knowledge on either of the South American giants within the regular public appears to be far less learned than in the run-in to previous tournaments.
The Argentines' long duck without a trophy was broken last summer in the Copa America final against the Selecao, but it largely got overlooked over here due to the fact the European Championship was going on at the same time. Even when Lionel Messi lifted the Finalissima trophy earlier this month, many eyes were diverted towards Hampden Park, where Ukraine's footballers were beating Scotland 3-1 in a World Cup qualifier against the backdrop of the ongoing war in their homeland.
Everything that Brazil and Argentina have done in recent times has happened as a sidenote to the European audience, all while there has been more football than ever on our screens. About the biggest fuss that has been made about either was when their World Cup qualifying clash in September was suspended after health authorities stormed the pitch and had four Argentina players deported for breaching quarantine laws.
😳 Unbelievable scenes as Brazil v Argentina game is stopped by health officials coming on to the pitch for 4 Argentina players who have reportedly breached covid regulations and have failed to quarantine.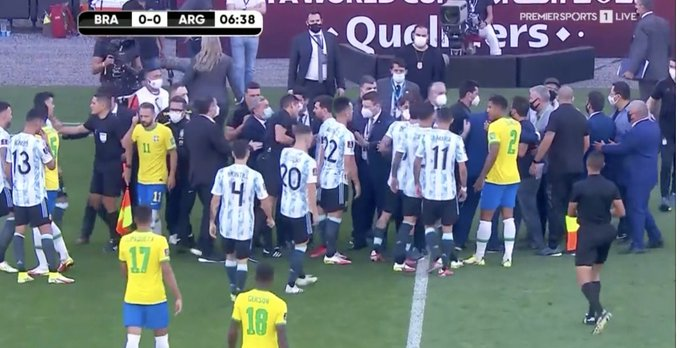 So you'll be forgiven if you were one of those onlookers left taken aback this week when the updated Fifa World Men's Ranking had both Conmebol sides in the top three. Brazil are the leading light once more, and the Albiceleste have elbowed France off the podium to sit in third behind Belgium.
Now might be the time to pay more attention to what Messi, Angel di Maria, Lautaro Martinez et al have actually achieved in the famous blue and white shirts over the past couple of years. They are unbeaten in 33 matches spanning three years since their 2019 Copa America semi-final reverse to Brazil. Messi, who plenty are beginning to overlook after his modest 11-goal return in his first season for Paris Saint-Germain, netted all five goals in Argentina's most recent win, against Estonia in Pamplona and appears more focused than ever on leading his country to success.
Meanwhile Brazil's only defeats in their last 30 games have come against Argentina (twice), and they have suffered just three losses in total since their exit from the last World Cup against Belgium in Kazan. And Neymar, another whose PSG form has resulted in claims he and his nation aren't what they were, is actually still delivering as regularly as he ever has at international level. Throw in the consistency of Philippe Coutinho, Richarlison and Lucas Paqueta and the Canarinho are doing just fine, thank you.
So when you're having a flutter on this winter's World Cup, park that tenner you were going to put on France, or Germany, or England even. Give some of your spare time over to a rewatch of some of what South America's greats have been up to of late. It might just get you thinking seriously about them as potential champions in Lusail come December 18.
*18+ | BeGambleAware | Odds Subject to Change