Football /
Douglas Costa Proves He Is Exactly The Type Of Player Juventus Need
After their heartbreaking exit from the Champions League, Juventus were back in domestic action this weekend, hoping to take another step towards a seventh consecutive Serie A title. As their match with Sampdoria got underway, they were further boosted by the knowledge that Scudetto rivals Napoli had dropped points against AC Milan and that result gave the Bianconeri an opportunity to hammer home their advantage.
However, as the first half played out, Max Allegri's men struggled to create a notable scoring chance. With Mattia De Sciglio injured and Alex Sandro rested, they were getting very little forward momentum from their full-backs, while the attack was – as Gonzalo Higuain also took a place on the bench – nowhere near the potent force it had been in Madrid last week.
Then Miralem Pjanić, who is undoubtedly the side's best and most creative midfielder, picked up a knock. Just two minutes remained until half time, but rather than simply press on, Max Allegri made the decisive decision to switch from 4-3-3 to 4-2-3-1, preferring to add another forward player rather than simply making a like-for-like substitution.
Enter Douglas Costa.
The Brazilian immediately went out wide on the left and, just a few seconds after entering the field, received a pass from Sami Khedira. He took a few touches – his first of the game – to unsettle his would-be marker, then delivered a perfectly weighted cross into the box which Mario Mandžukić volleyed into the roof of the net.
To start the second half he collected the ball once more and drove forward, slaloming between defenders before firing his shot slightly wide of the target. Sampdoria simply had no answer for his pace and trickery, right-back Jacopo Sala looking petrified every time Costa was in possession. The Juve man would leverage that fear to his advantage with an hour on the clock, freezing the defence inside the area before lofting in another cross which Benedikt Höwedes nodded home to mark his first goal for the club.
Shortly afterwards, Allegri swapped his wingers over and opposition left-back Vasco Regini was trailing in Costa's wake as he burst into the box at full speed, deftly cutting the ball back to Sami Khedira who made it 3-0 to Juventus with a simple tap in.
Recognising that the goal was entirely Costa's making, his team-mates congratulated him as much as the German midfielder, a hat trick of assists making him clearly the standout performer as the Bianconeri moved six points clear at the top of the table. "I'm very happy, it was one of my best games since I arrived," he told the club's official website shortly after the final whistle. "I hope to continue like this and keep providing assists that win matches. I'm very happy to help my teammates. We have to continue to play this well to achieve our goals because the league isn't over yet. However, we played united tonight which is what we needed after Madrid."
Indeed, with Napoli visiting Juventus Stadium next Sunday, it was exactly the kind of bounce-back win the team needed, but perhaps even more than putting that controversial last-minute loss behind them, it was a display that hinted at a bright future.
Douglas Costa
#JuveSamp
: 4 chances created, 3 assists, 83.3% pass completion, 3/5 take-ons, 1 tackle, 1 interception... IN 47 MINUTES!
#GameChanger
⚡️(via
@StatsZone
)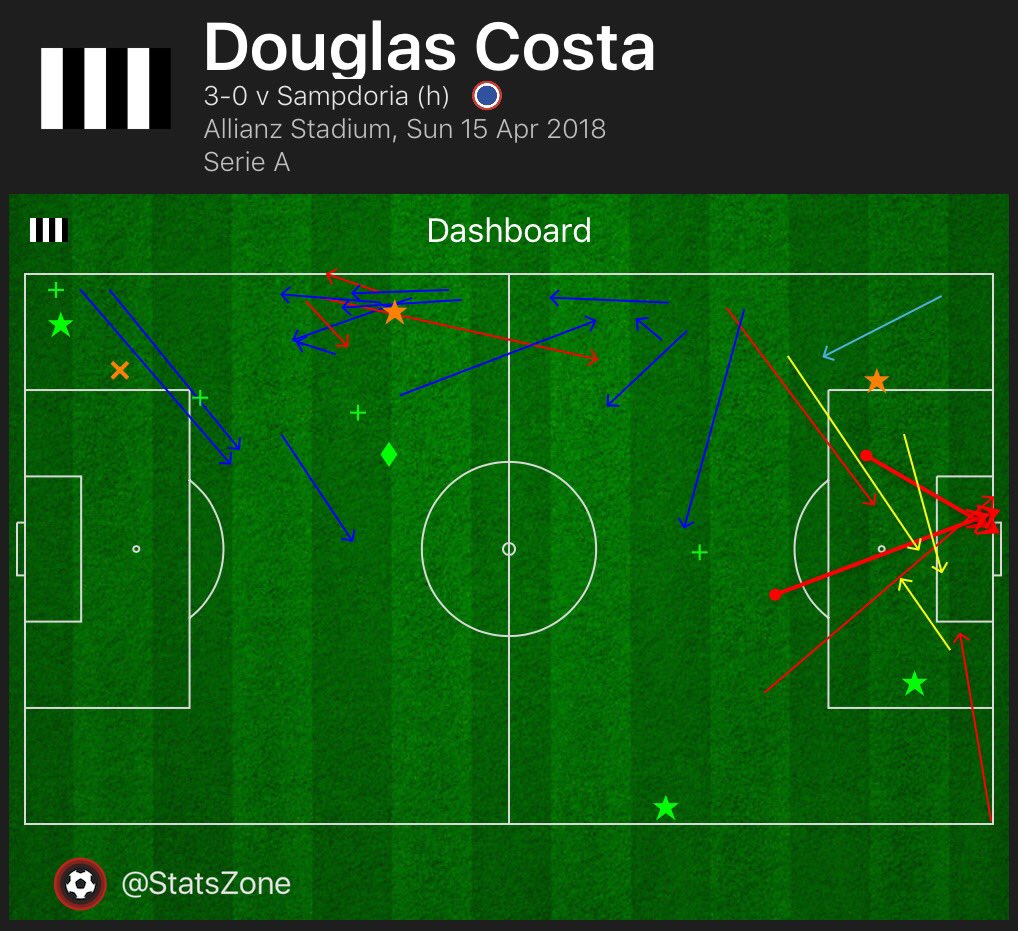 Signed from Bayern Munich at a cost of €46 million, Costa is – much like Higuain (€90 million) and Pjanić (€32 million) – exactly the kind of signing Juve need if they are to compete in Europe. Every time he receives the ball he looks dangerous, always proactive and looking for an opening, capable of creating chances with either foot or scoring himself with his deadly left.
He started at the Bernabeu in midweek and gave Marcelo a torrid evening, causing arguably the best left-back in the world to sit back and defend rather than bomb forward as he usually does. No player in black and white looked more at ease in the Spanish capital, nobody caused Real Madrid more problems, creating panic on the field and in the stands every time a pass came in the direction of the no.11.
A top player signed from a big club at a high price, the 26-year-old has proven to be worth every penny, a difference-maker who opens up defences with pace, skill and style, a potent weapon that Allegri has found numerous ways to deploy; equally adept on the flanks or through the centre and always causing havoc in opposition backlines.
As Sala, Regini and Marcelo would undoubtedly attest, marking him is a nightmare to play against, and for a club with lofty ambitions of Champions League glory, Douglas Costa is exactly what Juventus need.