'Europe Wants To Stand' - Borussia Dortmund's Yellow Wall Calls For Change Against Spurs
11:21, 06 Mar 2019
Dortmund, Germany. Football supporters from across Europe have called on UEFA to lift the ban on standing at Champions League and Europa League matches in order to reduce ticket prices, improve stadium safety and boost atmospheres.
In an open letter to UEFA president Aleksander Ceferin, signed by active fan groups from Bayern Munich, Borussia Dortmund, Eintracht Frankfurt and Borussia Mönchengladbach, as well as other organisations from across the continent, criticised the "outdated" regulations and announced a series of protests under the motto "Europe wants to stand."
All-seater stadia were made compulsory in UEFA competitions 21 years ago in response to a series of tragic stadium disasters. However, extensive studies and legal proceedings, including the inquest into the Hillsborough disaster, have since concluded that the act of standing at football matches was not a factor.
In Germany's Bundesliga, tens of thousands of fans stand on specially-designed terraces every week, including 24,000 on Borussia Dortmund's famous Südtribüne alone, where access is strictly controlled with barcoded tickets and modern security checks, preventing overcrowding.
"Together with our security team, we do everything to guarantee safety inside the stadium," a BVB spokesperson told The Sportsman. "In our view, the risk of injury on a standing terrace is no different from the risk of attending any large event."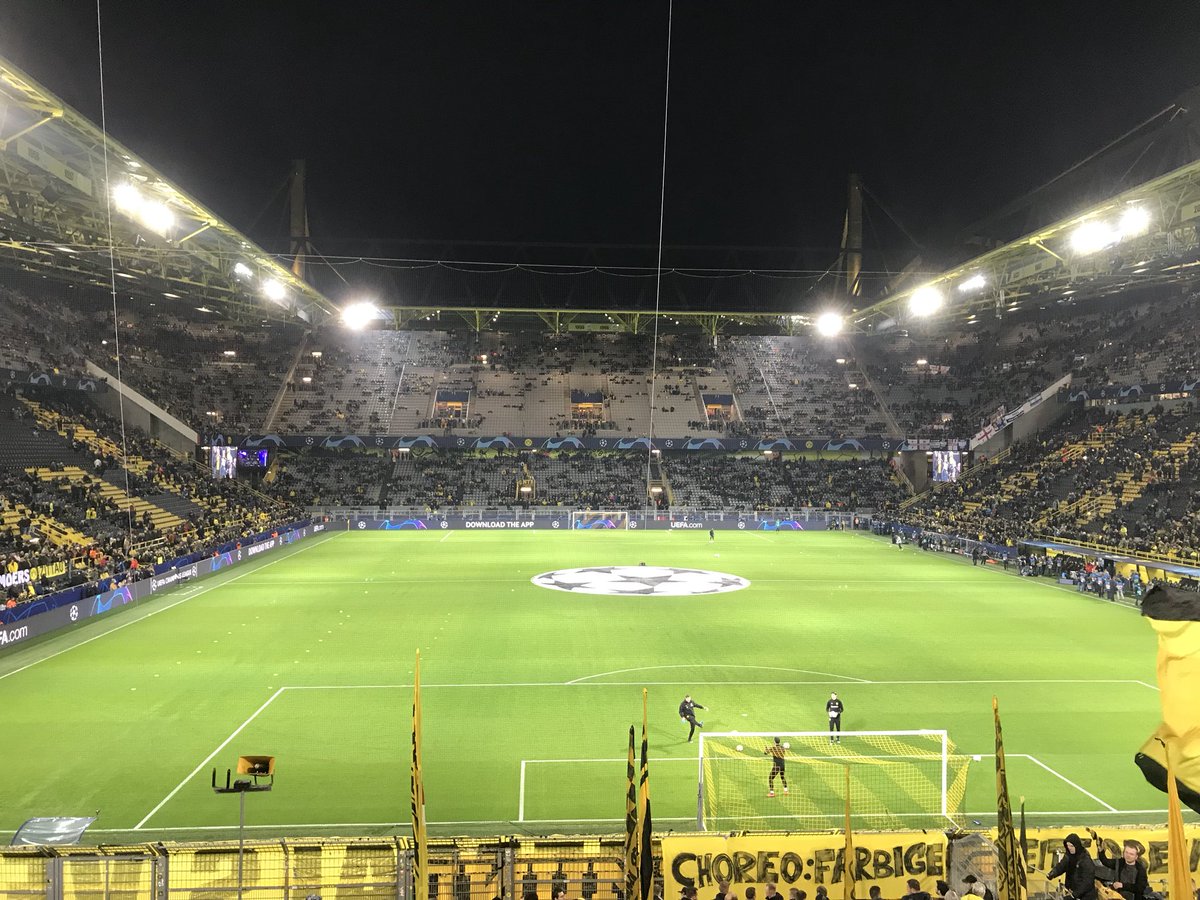 On Tuesday night however, when Dortmund hosted Tottenham Hotspur in the last-16 of the Champions League, the sprawling terrace had been filled with plastic seats - none of which were used even once during the match. Instead, fans clambered over and around them and stood on top of them, bouncing around as they always do.
Not only were supporters at an increased risk of injury, they were also paying up to four times as much for the privilege, with tickets usually priced at just €12.60 (£10.30) per game suddenly costing up to €45 – a significant financial hinderance for younger fans or those on lower incomes.
"It is our belief that stadia must be open to people from all walks of life and the provision of tickets in standing areas is one of the easiest ways to achieve this," reads the open letter which was distributed by Football Supporters Europe (FSE), which is also spearheading a campaign for a cap on the price of away tickets in European competition.
"Affordable standing tickets are a part of German fan culture," say Borussia Dortmund. "As a club which is aware of its social responsibility, it is important to us that all parts of society are represented in the stadium."
This most likely won't be the case in north London next season when Tottenham Hotspur, whose 3,000 visiting supporters also stood throughout their team's 1-0 win on Tuesday, finally open their new ground. The stadium may have been designed with a future re-introduction of standing in mind, but with season tickets starting at £795 for adults and £595 for under-22s, it's far from the socially-inclusive Bundesliga model.
Borussia Dortmund display vs. Tottenham Hotspur this evening:
"... 'til we carry the cup across the pitch again like in '97"
That will have to wait, but a dominant first half gives hope for the
#Bundesliga
title race.
[📷
@schwatzgelbde
]
#bvb
#ucl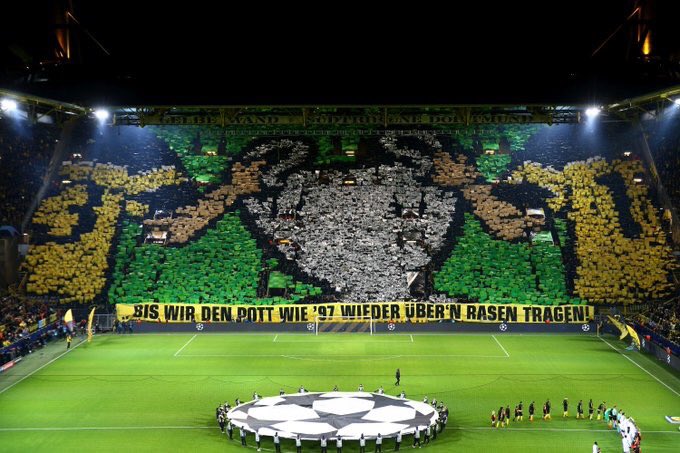 "Europe wants to stand!" read a banner in Dortmund on Tuesday. The same message will be visible when Eintracht Frankfurt host Inter Milan in the Europa League on Thursday and when Bayern Munich face Liverpool next week, and fans are confident that UEFA's recent relaxation of its alcohol ban sets a positive precedent.
"The successful adaption of the requirements for serving alcoholic beverages has shown that it is possible to provide more fan-friendly rules," says FSE. "On behalf of European fans, we would therefore urge you to re-evaluate UEFA's position on the all-seater policy."
And UEFA must listen. The current situation is not only utterly detached from reality, the situation on the Yellow Wall on Tuesday night showed it's also a significant injury risk which European football's governing body have created themselves.