Pep Guardiola might win the treble with Manchester City this season. His side are now favourites to win the Premier League, have one foot in the Champions League semi-finals and have an FA Cup semi to come this weekend. It's a remarkable achievement that has only been done once in English football, by Manchester United in 1999, yet Pep has experienced a perfect season before - at Barcelona.
The treble is still a long way off at City, and there's plenty of work to be done, but tonight Guardiola will return to the place where he just couldn't achieve it: Bayern Munich. The German giants announced him as Jupp Heynckes replacement in 2013 and Guardiola returned to football away from his home of Barcelona.
Given he'd created arguably the best club team we've ever seen in Spain, and Bayern had won the Champions League the year he joined, expectations were sky high that he could make them even better. But by his own admission, there wasn't an awful lot that needed changing in Bavaria.
READ MORE:
This was a squad that had won everything the previous season and featured the likes of Arjen Robben, Franck Ribery and Phillip Lahm. There was simply no room for improvement on what Heynckes had done. Yet Guardiola set about trying to improve their playing style, while retaining that relentless winning mantra.
The Spanish boss had a distinct style and over his first summer, tried to implement it. Bayern had achieved huge success with a midfield three of Javi Martinez, Bastian Schweinsteiger and Toni Kroos. They were all terrific passers and able to control the tempo of the game, with Heynckes able to overwhelm teams in terms of possession - before feeding the front three of Robben, Ribery and Mario Mandzukic.
Pep Guardiola's league finishes in management are a joke! 🤯
[via IG: ftbl 📸]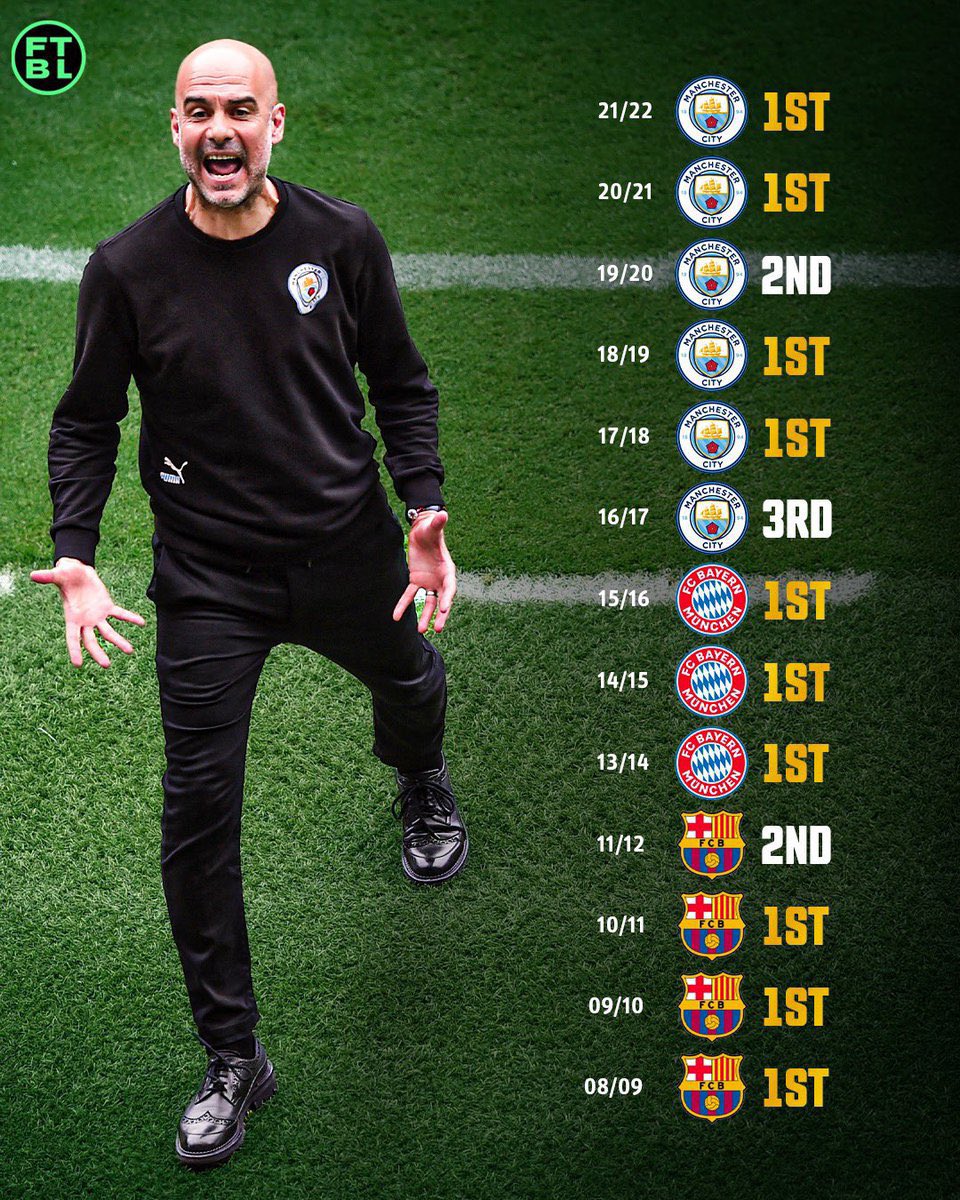 Guardiola wanted more creativity and ability on the ball so brought in Thiago from Barcelona, and played him in a deep-lying role, behind Kroos and Thomas Muller, who had been moved into a central area while Martinez was deployed as a centre-back. There was more ball-carrying ability, but less physical presence and defensive nous, and Bayern came unstuck early on - losing the DFL-Superpokal to Jurgen Klopp's Borussia Dortmund.
He couldn't quite make the attacking system work and so decided to push Lahm into the holding role. It worked, but Bayern were still criticised for being too slow in the build-up. Still, they went on to win the Bundesliga title, the first of three Guardiola would win in charge of the club.
His league record over his reign was impeccable. Three league titles. 254 goals in 102 league matches – a Bundesliga record, while they conceded just 58 goals in total, at an average of 0.6 per game. 59 clean sheets. Total and utter dominance. He also won the DFB-Pokal in his first and last seasons, with the only blemish on his record the penalty shootout loss to Dortmund in 2014/15.
Then we come to the elephant in the room. The elusive Champions League. Bayern were there reigning European champions when Pep arrived, so why wasn't he able to deliver a Champions League title in Germany?
In his first season, things were looking good. They won a group containing Manchester City and then beat Arsenal and Manchester United on their way to the semi-finals. But Carlo Ancelotti's Real Madrid lay in wait, on their hunt for La Decima. They only lost 1-0 in the Santiago Bernabeu but two goals apiece for Sergio Ramos and Cristiano Ronaldo, saw Bayern humiliated at home. This was arguably the best of Madrid and Ronaldo himself, who scored a ridiculous 17 goals in that Champions League campaign.
The following season they got to the same stage before coming up against Barcelona, then with Luis Suarez, Neymar and Lionel Messi up front. The scores were level at the Nou Camp for 70 minutes and then Messi tore them apart with two goals, before Neymar added a third. Bayern were chasing the away goal, and lost the tie because of it. They won the second leg 3-2 but it was too little too late.
His third and final attempt with Bayern also ended in the final four. This time they faced Diego Simeone's dogged Atletico Madrid and lost on away goals. Having been beaten 1-0 in Spain, Bayern secured a 2-1 win at home, but it wasn't enough as Atleti set up an all-Madrid final. Guardiola should have won the Champions League with Bayern. But he came up against two of the most iconic sides this century and a heroic Atletico.
It wasn't to be, but that doesn't mean his time in charge was a failure. Far from it. Just like at Bayern, his time in charge of Manchester City will be held in high regard whether he wins the Champions League or not. But securing the biggest prize in club football makes him an overwhelming, unquestionable success.
*18+ | BeGambleAware