The Spaniard made it clear he won't lie to the players, and if things aren't good enough, he will tell them
09:00, 11 Jan 2020
Mikel Arteta might look like the Captain Scarlet super-villain, Captain Black (seriously, if you've not seen the Twitter memes, search it, the likeness is uncanny) but he could well end up being the hero Arsenal fans have long felt the club deserves.
Arsene Wenger changed football in the Premier League - perhaps more so than any figure before Pep Guardiola came along, and brought so much glory to Arsenal in terms of their playing style, their trophy haul and their new, state of the art stadium. However, towards the end of his reign, Wenger became somewhat of a laughing stock, with rival fans and the press mocking the decline in Arsenal's prowess, and Arsenal FanTV adding to a very toxic culture around the club.
Wenger was driven out and Unai Emery, of course, came in. That went about as well as most people who questioned the appointment expected, and Arsenal's stock fell further. By the end of Emery's time at the club, Mesut Ozil and Granit Xhaka looked on their way out of the door, the defence was worse than it had ever been and the idea of a defensive midfielder doing their job seemed about as likely as Piers Morgan enjoying the new vegan Steak Bake from Greggs. Chaos reigned supreme and the atmosphere was worse than ever. Caretaker boss Freddie Ljungberg didn't fare much better, and stoked the war of words with Ozil to boot.
Said Ozil, is of course on a huge contract that runs for some time and would be within his rights to sit on the contract until it runs out, costing the club a huge amount with little in return. How interesting then, that Ozil was one of the first players to congratulate Mikel Arteta for landing the managerial role - and Arteta for his part made it clear he more than felt Ozil had a part to play in his Arsenal side, with the team set to be built around the German.
Likewise, Granit Xhaka, who will hope to finally be played in his correct position - Xhaka is not and will never be a defensive midfielder, and to judge him on those performances would be much like judging N'Golo Kante for his season under Sarri.
Arteta clearly wants to bring players back on side - not rocket science you'd imagine, but for Emery and Ljungberg, it seemed to be. Not only that, but Lucas Torreira looks the answer in terms of the defensive midfield duties - for now at least. The defence as a whole looks far better - helped by Manchester United's shambles of a display making David Luiz look like prime Carlos Puyol - and the 'getting back to basics' cliche has certainly been realised.
Arteta's training sessions are said to be very tactically focused and ones that actually get the players interested - not to mention actually working them hard as well. Alexandre Lacazette spoke following the narrow win over Leeds and said Arteta made his feelings clear at half time in the dressing room, after Arsenal were second best during the opening 45 minutes. Arteta isn't afraid to shout at his players. Nor is he scared to tell the truth.
"He shouted a lot! He was not happy because we knew they were going to play like this and we didn't respect what he said," Lacazette told BBC Sport.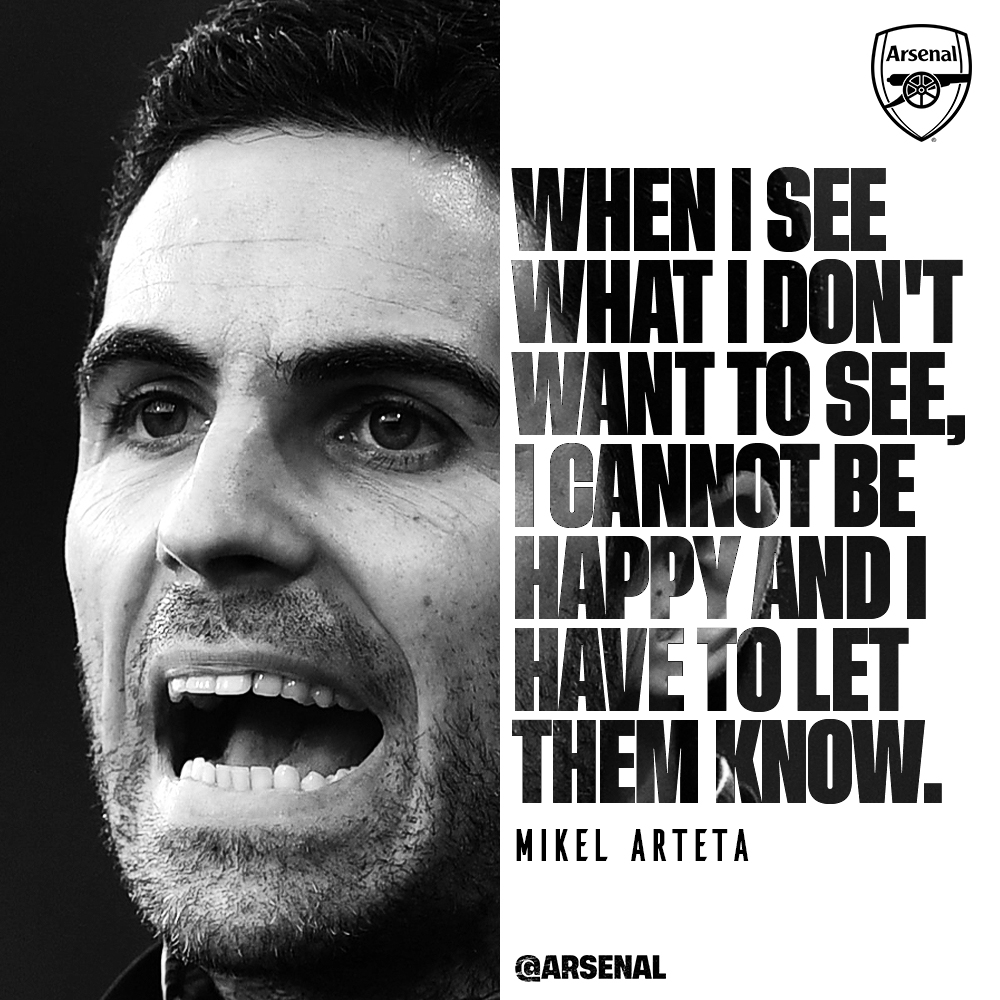 The Spaniard made it clear he won't lie to the players, and if things aren't good enough, he will tell them. Saying that the club can't relax because they're not a good enough team to relax was telling as well. Pep Guardiola is a man who is relentless - to the point of burnout according to his detractors, and Arteta clearly feels that letting your guard down as a side and failing to push to be better all the time is a flaw. Most would agree.
It's been a long time since Arsenal have had a manager who isn't scared to say things like that, and who's self-aware enough to make it clear to the players and the fans exactly where they rank in the grand scheme of things. He certainly doesn't strike you as the sort of manager to pander to fan channels and the trouble they've caused over the last few seasons.
For Arteta to take this job, especially at the stage he is in his managerial career and with the state of Arsenal, he must see something in the club and believe in himself.
It would have been easier to stay at Manchester City and be the favourite to take over when Guardiola inevitably leaves, be it this summer or in three summers. However, he's taken a bold risk, which also shows how much he values himself.
There's no doubting Guardiola is one of the all-time greats and one of the best to learn under, but Arteta has contributed to that Manchester City success in his own way - and significantly. It's not just a manager but their backroom staff who win titles, and Manchester City's loss looks like being Arsenal's gain.
Yes, new manager bounce is certainly a thing but Arsenal's situation looks to be far more than that. Players are looking full of life again - Maitland-Niles is case in point here, Pepe looks like being another one - and the atmosphere around the club is starting to go from one of toxicity to one of cautious optimism.
Tactically there is excitement over what Arteta looks like he's planning on doing, and he's certainly working with improving the players he has rather than expecting Arsenal to buy heavily in the winter market. Of course, it's still early days and there will be plenty of those who point to Arteta's lack of experience but the signs are positive. His lookalike, Captain Black was set to be killed off at the beginning of Captain Scarlet, but the creators gave him a reprieve and he went on to become an icon. Don't be too quick to rule out Arteta doing the same.