Real Madrid might be the only club in Europe for whom an imminent Champions League final appearance is not the week's major talking topic.
Ever since Friday night, the 13-time winners have been trying their best to deflect attention away from their ultimately unsuccessful pursuit of Kylian Mbappe and onto Saturday's showpiece against Liverpool in Paris. But the matter just will not go away.
The first reports of the French forward's snub filtered through on Friday night and Madrid's director of institutional relations, Emilio Butragueno, was keen to play down the importance of the possible transfer.
"You know us," he told Movistar LaLiga after Madrid's goalless game against Real Betis at the Santiago Bernabeu in the final round of the league on Friday. "We don't want to talk about players who are not ours.
"We feel a great respect for him and his club. Now we are looking forward to the Champions League final, and everybody knows how much that means. It's the fifth final in eight years for this group of players, which is an extraordinary achievement."
But talk of Mbappe only intensified on Saturday as speculation grew that the 23-year-old had decided to snub Madrid and stay in Paris, later confirmed in a hastily arranged event at the Parc des Princes ahead of PSG's Ligue 1 thrashing of Metz.
Madrid president Florentino Perez was said to be 'apoplectic', having believed he had won the race to sign Mbappe in a protracted transfer saga which had dragged on for several years.
Fans of Los Blancos and Real-supporting journalists were furious too and a petty campaign started on Twitter to block the French forward.
In the meantime, several Madrid players took to Twitter in an attempt to pacify their fans and switch the focus back to Saturday's Champions League final.
"We close the season with an unforgettable Liga [title] and we open a week of work and immense excitement," coach Carlo Ancelotti wrote. "Thanks to you all for your support and warmth. Hala Madrid."
Midfielder Fede Valverde posted: "End of an incredible season. Being at Madrid is a privilege not everyone can have. Thank you fans, the best is still to come." And winger Lucas Vazquez added: "Goodbye to a unique Liga. How lucky we are to be at Madrid."
The messages were clear and their arrival all at once meant it was obvious they had come directly from the top: the instructions to 'tweet something like…'
Karim Benzema also took to Twitter. "Thanks for an unforgettable season," he wrote. "The most special night is still to come."
Luka Modrić: "I've not extended my contract with Real Madrid yet… but I won't do like Mbappé [laughs]. And I hope the club won't do that to me!", tells
@partidazocope
. ⚪️😀
#RealMadrid
…of course, no problem for Modrić as he's gonna sign a new deal until 2023 after UCL final.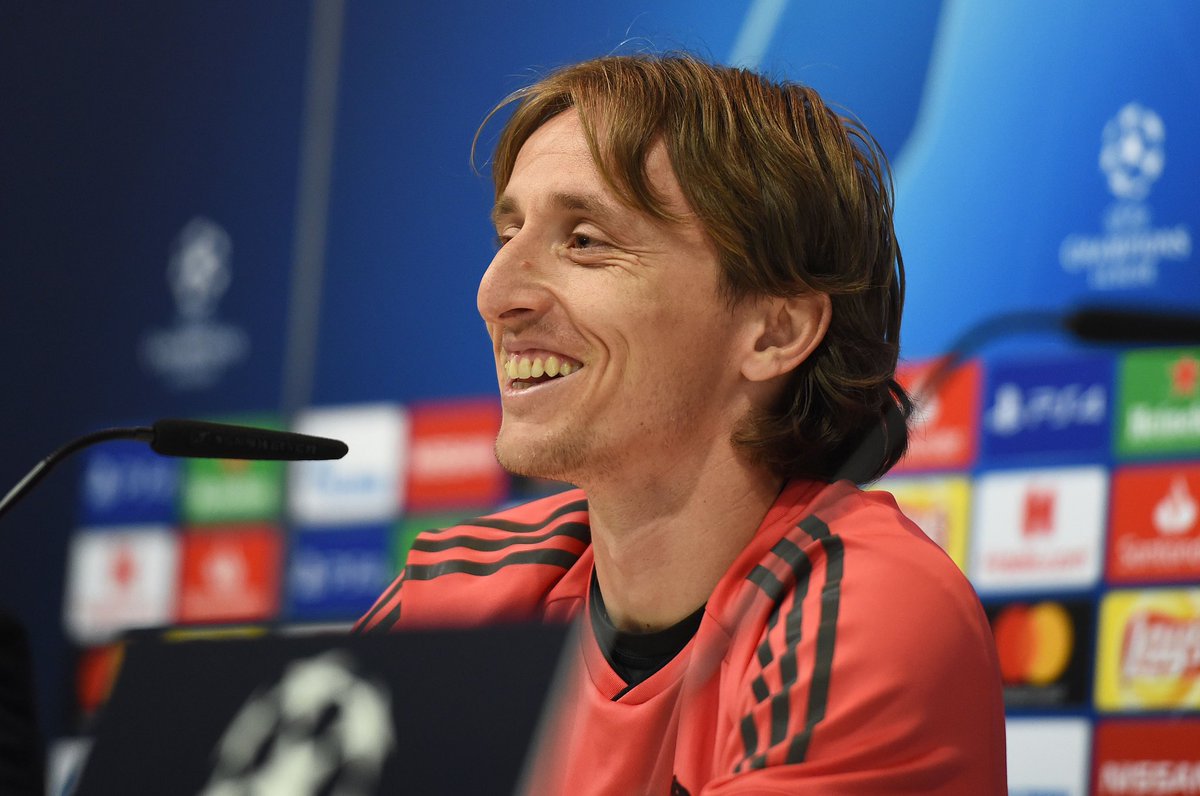 Benzema also caused controversy with a story on Instagram, featuring Tupac Shakur in a photo which featured in the background a man who had allegedly betrayed the rapper and been responsible for his death in a drive-by shooting in 1996.
But at Real Madrid's media open day ahead of the final on Tuesday, the French forward dismissed the theory he was implying that Mbappe was a traitor. "Everyone has to be focused on their things," he told ElChringuitoTV. "If you look at my Instagram, I have 10 photos of Tupac. He is my favourite. These are Internet things. I wouldn't post a photo in order to send a message."
And he added: "Real Madrid are the best club in the world and we have to go out this Saturday and win the Champions League."
Meanwhile, Mbappe admitted he had been contacted by former French president Nicolas Sarkozy and current chief Emmanuel Macron, who had "strongly advised" him to stay at PSG, although he said political pressure was not the determining factor in his decision.
Mbappe also revealed he had spoken to Liverpool, his mother's favourite club, but said he was not ready to leave PSG. "I talked to Liverpool because it's the favourite club of my mum," he told The Telegraph. "We talked a little bit, but not too much. It's a good club and we met them five years ago [too]. When I was in Monaco I met them. It's a big club."
Back at Madrid's open day, the players tried in vain to steer the topics of conversation back to the actual football, but the questions on Mbappe kept coming. If anything, though, the matter may have a motivational and unifying effect ahead Saturday's showpiece in - of all places - Paris. Real are desperate to focus on football again after all the ridicule and noise of a frustrated fichaje, to do what they do best: win Champions League finals. And that could be dangerous for Liverpool.