Is Zinedine Zidane Set To Take Over The French National Side Or Make A Premier League Move?
13:30, 01 Jun 2018
Zinedine Zidane is in a uniquely bizarre situation. He is already one of the most decorated coaches in Europe and yet, despite winning three consecutive Champions Leagues, his credentials as a top-level manager are still being questioned. Nobody in football history has achieved so much and been credited with so little.
Which leaves him in a curious position moving forward. Zidane has been linked with a number of top jobs in the last 24 hours, and yet there are few which the Frenchman would be obviously suited to; Juventus are unlikely to need a new manager now Max Allegri has (semi)committed his future to the club, while both Paris-Saint Germain and Bayern Munich have only just appointed a new coach. Where does that leave Zidane?
There are four options that could be available to Zezu between now and the end of the calendar year. Here's a look at the 46-year-old's probable future, starting with a job that might become free by early July:
France
Didier Deschamps has always had his doubters in France, and after six years of tactical oddities and prosaic football it is unlikely he will survive this summer's World Cup. Anything short of lifting the trophy would probably spell the end, despite having signed a contract extension until 2020 just eight months ago.
Zidane's availability will surely catch the FFF's eye, and indeed reports in May indicated Zidane has already been in discussions. As a coach renowned for his man-management skills, cup competition success, and ability to diffuse egos, he is perfectly suited to international management. There are a lot of similarities between the galacticos Zezu inherited at Real Madrid and the misfiring collection of superstars he would work with as France manager.
The only significant stumbling block is if Deschamps surprises everyone with a solid tournament or if Zidane decides he cannot wait around to find out. Should France begin the World Cup strongly, Zidane might not risk dallying until all the big club jobs are gone.
As a player and coach you decided to say goodbye at the top. Thank you for two and a half incredible years. Your legacy will never be erased, one of the most successful chapters in the history of our beloved
@realmadrid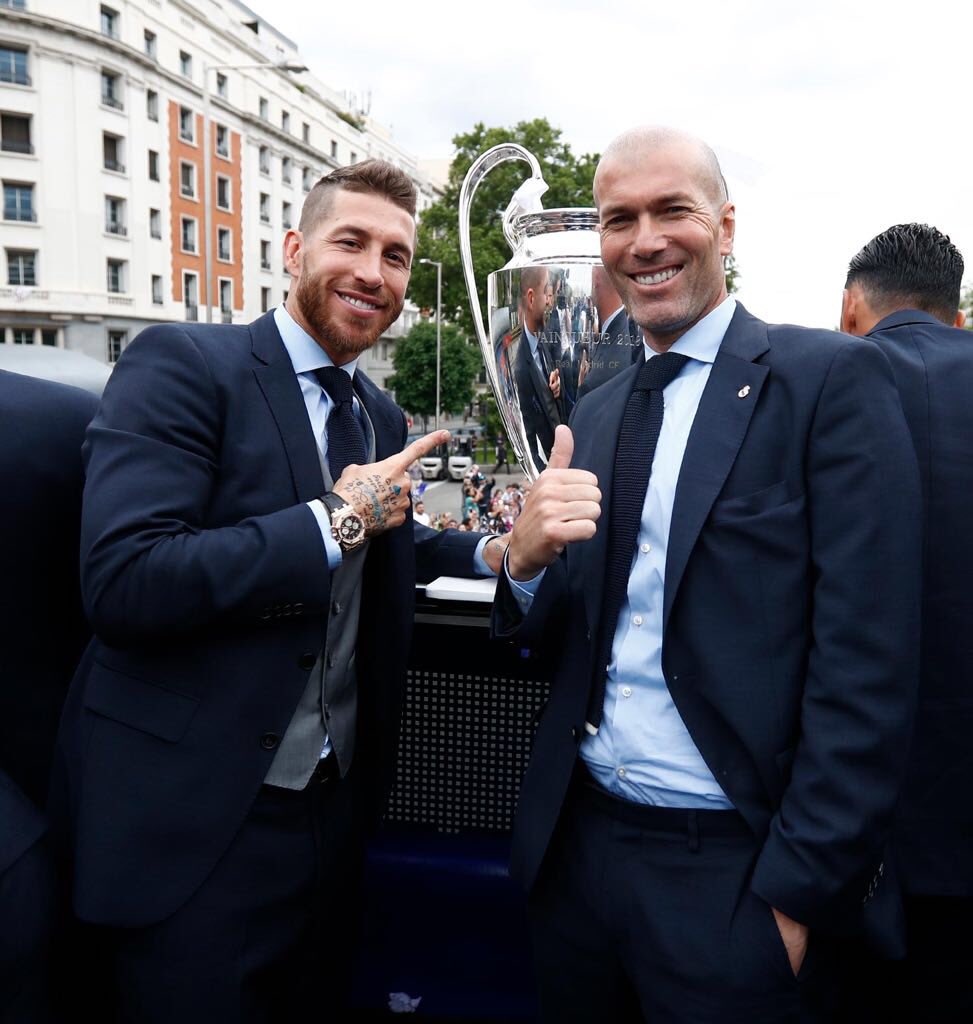 Manchester United
Jose Mourinho's job is safe for the time being, but after a tempestuous second season at Old Trafford – and amid increasing voices of dissent from the stands – the Portuguese could very well be sacked during the 2018/19 campaign. A bad start to the new season would be enough to tip Mourinho over the edge and force the United hierarchy to take drastic action.
Zidane is the sort of coach United would love to appoint. His commitment to attacking football would be a welcome relief from Mourinho, while increasingly United's transfer strategy has taken a galactico-esque turn. Zidane, then, might possess the gravitas needed to get the most out of Paul Pogba and Alexis Sanchez. It's an impossible job to turn down, and in midseason, there won't be any other coaches of Zidane's calibre on the market. However, Zidane at Man Utd depends upon the Frenchman shunning all offers this summer.
Chelsea
Chelsea's interest in Maurizio Sarri is one of the worst-kept secrets in football, but Napoli are not making it easy. Having been denied a UK visa Roman Abramovich seems particularly bad-tempered right now, which isn't likely to help the drawn-out negotiations between the Italian club and Chelsea – potentially opening the door to Zidane.
However, Zidane might not be interested. It is extremely difficult to win trophies in the Premier League right now, and since the Frenchman's stock might never be so high again it would surely be a mistake to take on a role as challenging as Chelsea. The club needs serious rebuilding, but there isn't much money to do it, while a lack of Champions League football will make recruiting top players tricky. Zidane is savvy enough to know he would be better off showing patience.
Tottenham Hotspur
Unlike Chelsea, Spurs is a club very much on the up. The owner Daniel Levy has committed to spending big as Tottenham settle into their new home, and having qualified for the Champions League three years in a row they are ready to take the next step. Unfortunately for Zidane, these are precisely the reasons why Mauricio Pochettino is unlikely to leave the club for Real Madrid.
The Argentine's new five-year contract was signed less than two weeks ago, and so despite Real's interest it seems highly unlikely Pochettino would trade the situation he has at White Hart Lane for something as volatile as Zidane's old job. Spurs is a non starter for Zezu.
The smart money is on Zidane, with few other tempting offers, holding out for the France job. If he doesn't end up replacing Deschamps, then he'll probably go on a sabbatical until Man Utd become available.