Few expected the forward to still be at the KCOM Stadium this season
13:21, 05 Nov 2019
The biggest surprise of the summer transfer window didn't grab many headlines. It wasn't Liverpool opting against significantly strengthening their squad ahead of their biggest Premier League title challenge yet; it wasn't a promoted Aston Villa side spending almost £150million on improving their squad.
In the Championship, Hull City managed to keep hold of their top scorer Jarrod Bowen against all the odds; a minor miracle on Humberside.
Signed by Steve Bruce from Hereford United in 2014, the 22-year-old has grown into a real talisman at the KCOM Stadium and enjoyed a breakout season in 2018/19. His 22 goals were a driving force as Hull transformed themselves from relegation battlers into play-off chasers.
While nobody, least of all the now-departed manager Nigel Adkins, truly believed the Tigers had the quality or stamina to reach the top six, thanks to the asset-stripping from the Alam family, incredibly unpopular owners who have plagued the club for years, Bowen was a shining light.
A stocky, prolific right wing-forward, he has amassed plenty of admirers, reportedly including both Arsenal and Tottenham Hotspur; as soon as Hull's slim chances of promotion were dashed, it was expected that Bowen would be sold. With just a year remaining on his contract, the club's hand appeared weak.
They dug their heels in, though; neither Arsenal nor Spurs firmed up their original interest, mainly because of Hull's £20million valuation. His old boss Bruce, now at Newcastle United, monitored the situation, but Bowen sat tight, refusing to force the issue, which meant Grant McCann, Adkins' replacement, could rest a little easier.
Some may believe it was a missed opportunity for any team, whether at the top of the Championship or the Premier League, to swoop in and sign a versatile player with his best years ahead of him, but in the end, it suits all parties to see how things develop down the line.
Jarrod Bowen's
#Hull
@SkyBetChamp
record since start of 2017-18 season:
1️⃣0️⃣3️⃣ apps
9️⃣7️⃣ starts
7️⃣ assists
4️⃣5️⃣ goals
⚽️ Scored 5 goals in last 4 apps.
⚽️ Scored/assisted 52 of
#HullCity
's 161 league goals in last 3 seasons (32%).
#TigersTalisman
🐯
#HCAFC
#Tigers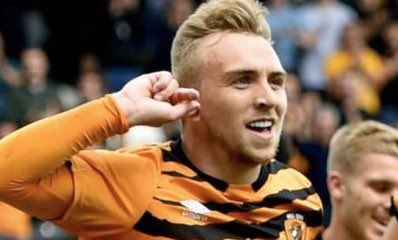 There was no replacement lined up, the team was built around him, and potential suitors knew they could get a better deal with patience. Bowen's position in the power play would only get stronger, too.
Hull are in the process of attempting to tie him down to a new deal, but he doesn't sound like a man ready to commit his future despite consistently suggesting how much he is enjoying his football.
In reality, he has outgrown Hull; they don't appear strong enough to make a concerted effort to regain their top-flight status, lost in 2017. Parachute payments are running low and more financially powerful teams are entering the Championship annually.
Bowen is still scoring; he has nine goals to his name in 15 games, including one in Hull's impressive 3-0 win at Fulham last weekend. These numbers suggest he is ready for a step up immediately, and are even more impressive considering he is not a striker in the traditional sense.
The Newcastle link is particularly interesting; Bruce knows him, though not in the form of the ready-made goal threat he is now.
Systematically, he would fit in well at St James' Park; record-signing Joelinton is feeling the pressure having only scored once, while Allan Saint-Maximin and Miguel Almiron, as impressive as they've been, are both without a goal at all.
Bowen lacks the pace and dynamism of either player, but with Andy Carroll and Dwight Gayle also on the fringes of things having been blighted by injury, Bowen would add another threat to Bruce's attack from a position starved of goals so far this season.
But it is not just the Magpies who should be looking at a January swoop; Bowen has the quality to make a difference for most teams in a certain area of the Premier League table. It was a surprise to see him remain at Hull beyond the end of last season, but it was also understandable.
Try as they might to keep him, the Tigers have very little to offer their star man in the long-term; the time for a move is approaching, and there are plenty of options ready and waiting for him to make his choice.