South American clubs and countries are increasingly turning to western European coaches
12:00, 31 Jan 2020
Among the late-December-and-early-January torrent of football news and transfer rumours, one interesting story got a little lost. It is admittedly a long way from the wealth and glamour of Europe's top five leagues, but Jordi Cruyff, son of the late, great Johann, was presented as manager of Ecuador on January 14.
In itself, it is an intriguingly quirky bit of news, and at first glance may appear an appointment based on (sur)name alone. But Cruyff's arrival is best seen not as an idiosyncrasy but the continuation of a trend, as South American clubs and countries increasingly turn to western European coaches.
When the FEF, Ecuador's football federation, sacked the Colombian Hernán Dario Gómez after a disastrous campaign at the 2019 Copa America, they clearly felt it was time for an abrupt change of tack. Gómez led Ecuador to the World Cup in 2002, the first time that they had qualified for the tournament. But in his second spell in the job, his ideas and approach were clearly outdated.
In their search for some European tactical influence, then, the FEF first went after Jürgen Klinsmann, but he refused to relocate to Quito, which proved a deal-breaker. Next, they turned to Cruyff, who until December 2019 was managing Chongqing Lifan in the Chinese Super League. Cruyff accepted and will take charge for the World Cup Qualifying campaign that begins in March and this year's Copa America, to be played in Colombia and Argentina in June and July.
Cruyff is not the first European to be manager of Ecuador; Montenegrin Dusan Draskovic took charge of La Tri from 1988 until 1993 and led the country to a best-ever fourth-place finish at the Copa America. But this appointment comes as part of an emerging movement.
Currently, two Ecuadorian top-flight teams are managed by Spaniards. Emelec, one of the country's most popular sides, have Ismael Rescalvo at the helm, and Independiente Del Valle were guided to continental success by 35-year-old Miguel Ángel Ramírez in 2019, winning the Copa Sudamericana, the South American equivalent of the Europa League.
Independiente are a well-run club and reached the final of the Copa Libertadores, South America's main continental competition, in 2016. But the job done by Ramírez, who took over from Rescalvo when he moved from Independiente Del Valle to Emelec, was still extremely impressive. The ex-Las Palmas youth coach put together a young, explosive side that beat giants like Independiente of Argentina and Brazil's Corinthians en route to the title.
And Ramírez is not alone. Like him, the triumphant coach in the Libertadores last season, ex-Benfica and current Flamengo boss Jorge Jesus, hails from the Iberian Peninsula. Jesus got Flamengo playing in a modern, high-pressing, distinctively European style and led the Rubro-Negro to the Brazilian title as well as the Libertadores.
Una visita rápida a Quito a vista de pájaro. ¡Impresionante!
😃👌🏻
A quick visit to Quito from a bird's eye view. Stunning!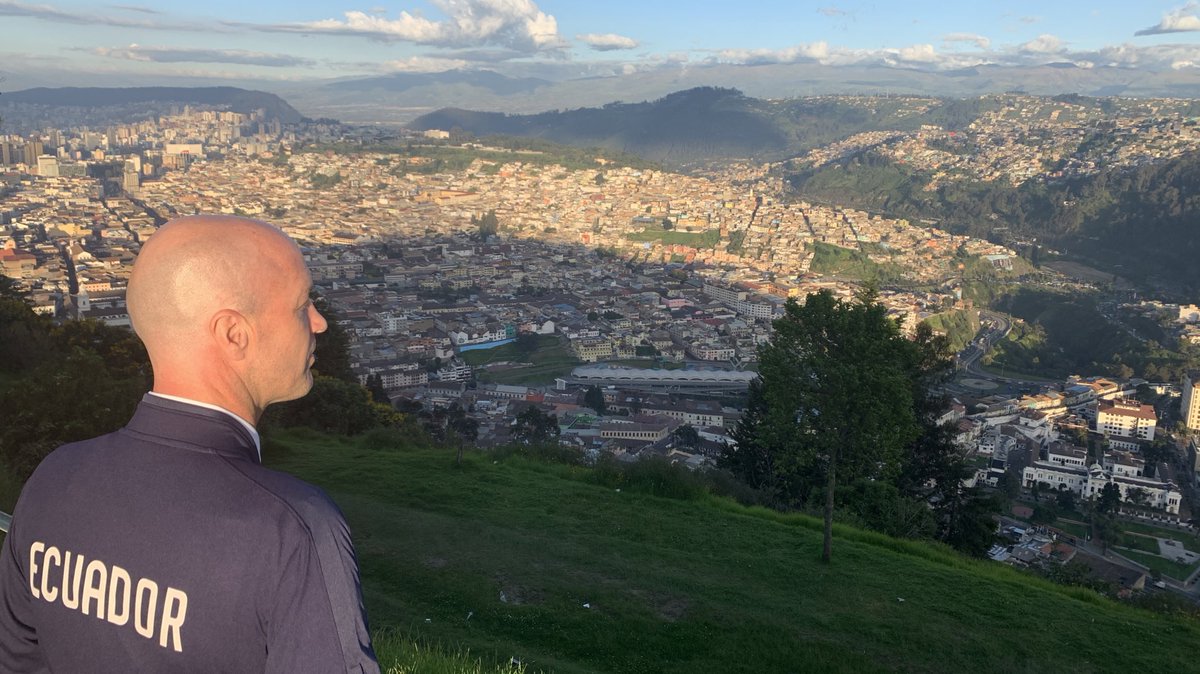 On the back of that success, other Brazilian clubs have gone in search of foreign, especially European, managers. When Argentine Jorge Sampaoli left Santos in December, for example, Pelé's old team turned to Jesus's compatriot and ex-Porto manager Jesualdo Ferreira.
Charles Hembert, the French assistant manager of Fortaleza, who finished ninth in Brazil's Série A in 2019 and will compete in this year's Sudamericana, believes that the arrivals will continue in his adopted homeland.
"The trend effect in Brazil is very strong," he tells The Sportsman, "First, we had the older generation. Clubs started to appoint [experienced managers] Luiz Felipe Scolari, Vanderlei Luxemburgo, Abel Braga. They went well and in consequence, all the other clubs wanted to appoint an older coach. Then, the old coaches began to be sacked and we had the younger generation. Tiago Nunes, Roger Machado and Fábio Carille. They went well and again, other clubs wanted to follow.
"The new trend that began last year is the foreign coaches and more specifically the European coaches. Sampaoli and Jesus had new styles with a lot of intensity, and it worked. Now the other clubs want to do the same."
And in terms of these coaches' immediate success, Hembert explains: "By being a foreign coach in Brazil, the players naturally demonstrate special interest. They want to demonstrate more to the foreign coach… they have in the back of their minds the [possibility] of playing in Europe. It makes them run more, strive more, do their best."
With the arrival of Cruyff, the FEF are clearly hoping the same applies for their national team.
Ecuador is not unique among the 10 Conmebol nations in having plumped for a European either. Last year Colombia brought in Portuguese former Manchester United coach Carlos Queiroz, who has, so far at least, done reasonably well. His team played some promising football at the Copa América and were unfortunate to go out on penalties to Chile. Since then, they have lost only one of six friendlies.
Cruyff is far less experienced than Queiroz and will have to adapt quickly to the altitude of Quito and the pacy, physical style of Ecuadorian football whilst also trying to bring through a new generation of talent. But it will be fascinating to see how he performs.
If the success of these new Europeans continues, there will be one big query left to answer: might Brazil be ready to appoint a foreign coach to the men's Seleção for the first time?
A poll by DataFolha in December 2019 showed that 46% of Brazilians are still opposed to the idea, compared to 39% who would be in favour. And 1994 World Cup-winning manager Carlos Alberto Parreira recently said that "not even Guardiola" would be acceptable.
But with a dearth of quality Brazilian candidates available and the case being made by Jorge Jesus, the question will continue to be posited.