And Luka Modric was our Rage Against the Machine...
11:00, 22 Dec 2021
Denis Law. Marco van Basten. Zinedine Zidane. Pavel Nedved. All four individual superstars were crowned the best player in the world on this day - from Law in 1964 to Nedved in 2003. The Ballon d'Or comes around as regular as clockwork around the Christmas period, yet just like that Christmas number one spot - it seems to have lost its shine.
Now, I'm not going to make some preposterous comparison between LadBaby and Lionel Messi, but back in the day, it truly meant something to both win the Ballon d'Or and be crowned Christmas number one. These days, they are just a procession of domination - and although LadBaby's charitable cause to raise money for food banks is an incredibly noble one worthy of support over the last few years - it does rather make the event a foregone conclusion.
We used to have Band Aid, Shakin Stevens and East 17 topping the charts with actual Christmas songs on Christmas Day. Then the Spice Girls, Bob the Builder and the X Factor winners took over - before charity took centre stage in the form of LadBaby. Since Kaka's Ballon d'Or victory in 2007, only Luka Modric has prevented either Messi or Cristiano Ronaldo from winning this award, which I suppose makes the Croatian the equivalent of Rage Against the Machine.
This period of dominance has been unequivocally impressive. We have witnessed two of the greatest players in history battle it out at the very top of the European game for well over a decade, but in doing so they both simultaneously raised - and diluted - the importance of this award over the years. The Messi vs Ronaldo arguments that raged on social media reached their peak around this ceremony while their trophies during the year were used as collateral as to why they should win it, rather than celebrated as a team triumph.
When Jorginho won both the Champions League and Euro 2020 this year, he automatically became a contender for the Ballon d'Or - despite being nowhere near the best player in the world - by any stretch of the imagination. The Italian finished third in the voting as a result of his team's triumphs - even though he blundered his own personal chance to win the international tournament from the penalty spot.
HERE IS THE WINNER!
SEVEN BALLON D'OR FOR LIONEL MESSI!
#ballondor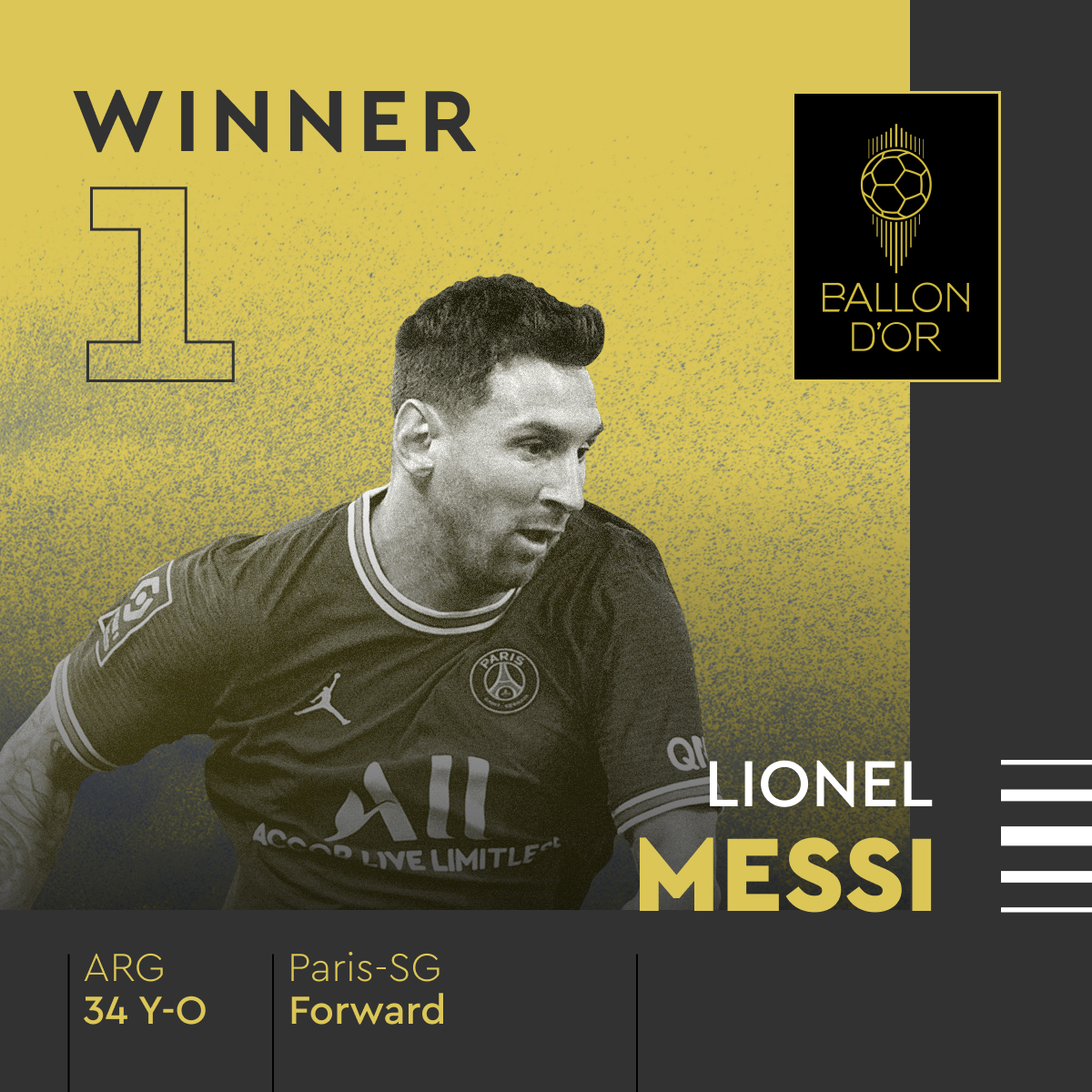 This award truly used to mean something because of the rarity of a win. It would take a spectacular season to usurp your rivals and it was so difficult to win it multiple times. Some of our favourite players from history, Ronaldinho, Zidane, Roberto Baggio, Bobby Charlton and Ruud Gullit only one this award once apiece - and whereas Messi's seventh success was met more with understated acknowledgment, these stars were lavished with praise.
Yet as we enter a new year, it does feel as if a return to former glory may be approaching. We have a whole array of world superstars from Kylian Mbappe to Erling Haaland emerging and with the likes of Robert Lewandowski and Mo Salah at the top of their game - the duopoly looks to be coming to an end.
If any of that quartet were to win their first Ballon d'Or in 2022, it would be a joyous occasion. We have the Champions League, and a World Cup in November to watch, but hopefully the next winner will take us out of the social media age of Messi vs Ronaldo arguments. We can hope.
Or perhaps Lionel Messi will just win the World Cup.