Manchester City are the champions of England once again. The Premier League superstars have secured their third successive title thanks to Nottingham Forest's 1-0 victory over Arsenal at the City Ground on Saturday afternoon.
It was the result that everyone had expected back in August, and while Arsenal helped provide a thrilling title race this year, City's know-how to get over the finish line in this division remains unrivalled. We saw it last year when Liverpool pushed them all the way to the final game of the season. City were 2-0 down to Aston Villa at home with fifteen minutes left of the season. Substitute Ilkay Gundogan inspired them to a 3-2 victory to snatch the title from Jurgen Klopp's side, who were beating Wolverhampton Wanderers. It was final day drama at its finest.
You can imagine Pep Guardiola and his players will be relieved to see it not get so nervy this time around, and by securing the title early, their hopes of completing the treble (Premier League, FA Cup and Champions League) will gain a huge boost.
READ MORE:
The relentless, technically brilliant side that Guardiola has built over the past few years has been extraordinary. This City team is arguably the best team this country has ever seen. Three consecutive titles can never go undervalued, it's the biggest reflection of how dominant your team is. Of course, this has been done twice before. Sir Alex Ferguson's Manchester United achieved three successive Premier League title wins between 1999-2001 and 2007-09.
While there is no taking away anything from the Scottish icon's double trebles with the Red Devils, with the insane levels of money thrown around the Premier League now, and not just at City, Guardiola's accomplishment is just as special, if not more so.
The Spaniard's model of total football is exceptional and he didn't tune City into this well-oiled machine instantly. It took him a while to educate his squad to play precisely how he envisioned and let's not forget that the side he inherited from Manuel Pellegrini needed plenty of work. They finished fourth in 2015-16 under the Chilean, their lowest finish since collecting their maiden Premier League trophy in 2012.
Players have come and gone over the past seven years under Guardiola's rule at the Etihad Stadium, but no matter how many changes there were within the squad, the rhythm remains the same. Guardiola is one of the very best coaches the beautiful game has ever seen, and he first came to attention with the brilliant Barcelona side he managed between 2008-12.
The 2008-09 treble winners, featuring Lionel Messi, Andres Iniesta, Xavi and co, is regarded as one of the best teams football has ever seen . And they went on to become European champions again in 2011. With how Guardiola's Manchester City have gone about themselves in the past few years, particularly in the last few months, is arguably on a par with that legendary side that were just as breathtaking to watch.
22/23 PREMIER LEAGUE CHAMPIONS!!! 🏆
3️⃣-IN-A-ROW!!! 🙌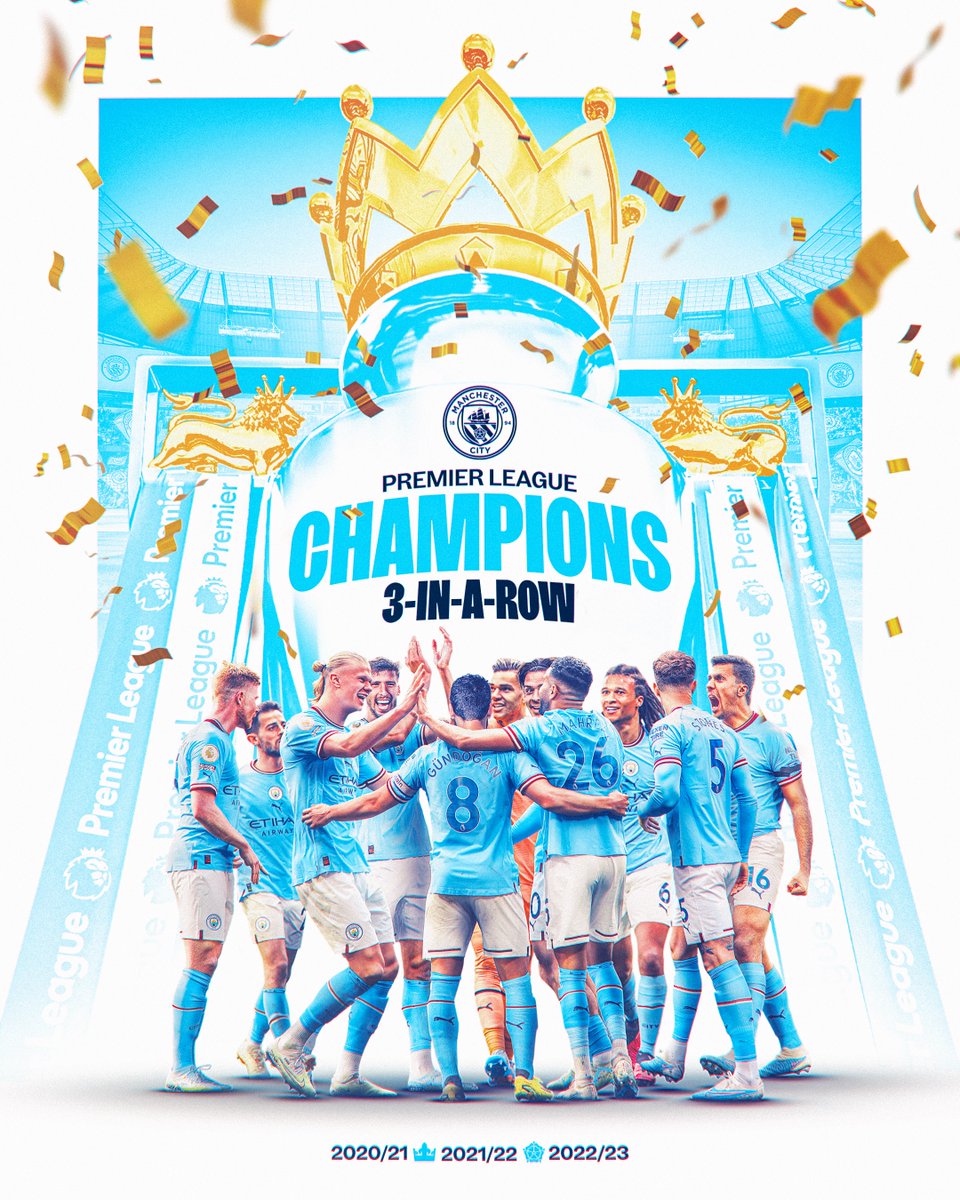 The Cityzens, under Guardiola are looking to do in 2023 what he accomplished with Barca 14 years ago in securing the treble. They have claimed the league title, which Guardiola has often emphasised as the most difficult piece of silverware for his side to win. Next month sees them take on rivals Manchester United in the FA Cup final before facing Inter Milan in search of their first Champions League title - something which their football thoroughly deserves.
Guardiola's stars are on the cusp of history. They are looking to equal Ferguson's Manchester United of 1998-99 in winning this coveted treble, but there is no question that City's accomplishment, should they succeed, will be viewed as far superior due to the art they showcase on the pitch.
Since his arrival in England in 2016, Guardiola has collected five of the seven Premier League titles on offer, which in the modern game is just extraordinary. This latest Premier League triumph will definitely be considered one of the best given how we have only really seen his team in their highest gear in the final months of the campaign. The longer the season went on, the more you thought Mikel Arteta's Arsenal might dethrone them. The Gunners topped the table for 248 days, the most for any team to not win the title in England's top-flight history. Once again, Guardiola and City have done something marvellous.
A few weeks ago, this year's surprising challengers, Arsenal, were eight points clear of them. City have now won the title with four points more than the Gunners with two games in hand - remarkable. It is a testament to the coaching and experience Guardiola has brought to his squad, as well as their own valiant efforts on the pitch.
For players like Kevin De Bruyne and Gundogan, who have been there for all of the titles under Guardiola, this is becoming a formality. But for those players who have been integrated a lot more this term, like Nathan Ake and Jack Grealish, who have really come into their own this year, it further emphasises that the Spanish coach nurtures good players into great ones. This season's success has also been largely down to the majestic goascoring form of Erling Haaland. The Norwegian superstar has netted a record 36 goals in the league in a single campaign, while scoring over 50 goals in all competitions. His acquisition has had a huge impact on the field and he will help Guardiola's team torment the rest of the division in the years to come.
The Etihad Stadium was cause for huge celebration on Wednesday as City overcame European masters Real Madrid to reach their second Champions League final with a resounding 4-0 display. On Sunday, they welcome Chelsea and with the title secured, it gives the manager and the players a chance to celebrate their latest piece of history in front of a sell-out crowd.
Congratulations to Manchester City on yet another mesmerising campaign. And good luck to anyone who tries to stop this iconic team from dominating English football, they are simply sublime.